Auction Schedule
---
Upcoming Auction
The Estate of Helena L. Franklin, Oyster Bay NY
Including items from the collection of Mr. & Mrs. George S. Franklin and
Items descended from Nelson W. Aldrich
January 2018




Our next catalog auction will be held in mid-January and will feature the Estate of Helena L. Franklin, including the collection of Mr. & Mrs. George S. Franklin and items descended from Nelson W. Aldrich (November 6, 1841 – April 16, 1915). Mr. Aldrich was a prominent American politician and a leader of the Republican Party in the United States Senate, where he served from 1881 to 1911 as the Senator from Rhode Island. In the 1890's he was one of the "Big Four" key Republicans who largely controlled the major decisions of the Senate. Because of his impact on national politics and central position on the pivotal Senate Finance Committee, he was referred to by the press and public alike as the "General Manager of the Nation", dominating tariff and monetary policy in the first decade of the 20th century.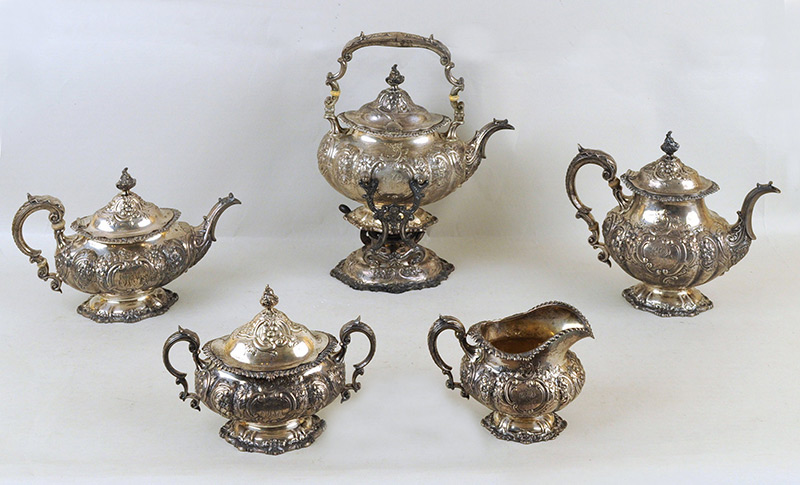 Early Gorham Sterling Five Piece Tea Set in the Cambridge pattern, monogrammed, Gorham marked "#A11451, 52, 53, 54, 56",
comprising tipping water heater with stand, teapot, coffee pot, lidded sugar and creamer. Weight: 149.270 OZT.
---
Past Auctions
---
November Fine Estates Auction
November 16, 2017
Annual Fall Fine Estates Auction
September 27, 2017
Important Connecticut Fine Estates Auction
June 14, 2017
Americana & Folk Art Fine Estates Auction
April 26, 2017
20th Century Design Auction
March 29, 2017
European & Asian Decorative Arts
February 22, 2017
Annual Holiday Fine Estates Auction
December 4, 2016
Connecticut Fine Estates Auction
October 2, 2016 -
View Sale Results
On-Site Connecticut Estate Auction
August 19-20, 2016
June Americana & Fine Estates Auction
June 26, 2016 -
View Sale Results
Connecticut Fine Estates Auction
April 24, 2016
Connecticut Fine Estates Auction
February 28, 2016
Opportunity Online / Holiday Bazaar Auction
December 3, 2015
Annual Holiday Fine Estates Auction
November 22, 2015
Fall Fine Estates Aucton
October 4, 2015
Annual Spring Fine Estates Auction
June 14, 2015
April Connecticut Fine Estates Auction
April 26, 2015
Americana/Native American Arts Auction
March 8, 2015
Annual Holiday Fine Estates Auction
December 7, 2014
Annual Fall Fine Estates Auction
October 5, 2014
Native American, Sterling Silver and Oriental Rug Auction
July 20, 2014
Chinese Antiquities Important Collection
July 20, 2014
Fifth Annual Spring Fine Estates Auction
June 8, 2014
Arts of Asia, Estate Decorative Arts Auction
March 23, 2014 -
View Results
Annual Holiday Fine Estates Auction
December 8, 2013 -
View Results
Annual Fall Fine Estates Auction
September 29, 2013
Opportunity Auction - Connecticut Estates
September 6, 2013
Opportunity Auction - Connecticut Estates
August 15, 2013


Opportunity Estates Auction
July 18, 2013


Spring Anniversary Fine Estates Auction
June 9, 2013


Americana, Folk Art & Decorative Arts Auction
April 21, 2013


Mid-Century, Country & Decorative Arts Auction
February 10, 2013


Second Chance Online Auction
December 19, 2012


Holiday Fine Estates Auction
December 9, 2012


October Fine Estates Auction
October 24, 2012


Early Fall Fine Estates Auction
September 16, 2012


Spring Anniversary Fine Estates Auction
June 17, 2012


Estate, Design & Decorative Arts Auction
February 26, 2012


Holiday Fine Estates Auction
December 3, 2011


Opportunity Estates Auction
November 5, 2011


Opportunity Estates Auction
October 1, 2011


Annual Fall Important Estates Auction
October 1, 2011


Opportunity Auction - Estate & Decorative Arts Sale
June 29, 2011


Second Chance Online Auction
May 31, 2011


Second Anniversary Antique and Fine Art Auction
May 21, 2011


Unreserved Onsite Estate Auction
June 12, 2010


Opportunity Auction - Eclectic Holiday Sale
December 13, 2009


September Online Oriental Rug Auction
September 23, 2009


Important Fall Estates Auction
October 3, 2009


Second Chance Online Auction
June 21, 2009


Inaugural Opportunity Auction
May 30, 2009