Auction Schedule
---
October Fine Estates Auction
Wednesday • October 10th, 2018 • 11AM



We are now accepting consignments for our early October Fine Estates Auction. This auction features multiple estates and collections, including two fine collections of Chinese porcelain and decorative arts. Please email us at consign@woodburyauction.com or call 203-266-0323 if you have items for consideration.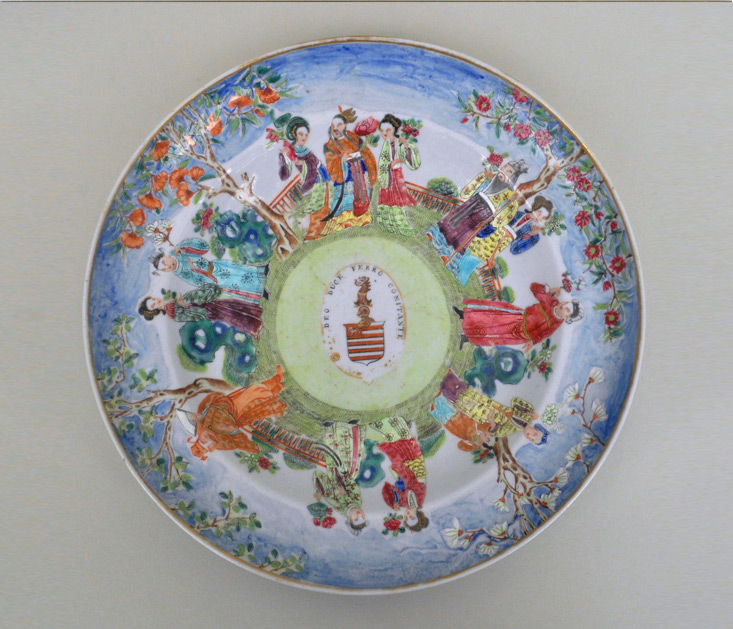 Chinese Export Porcelain Mandarin Armorial Plate
with the arms of Caulfield bordered by alternating male and female figures
under four flowering trees, with the motto "Deo Duce Ferro Comitante":
"By God my leader, my sword companion", 9 3/4" diameter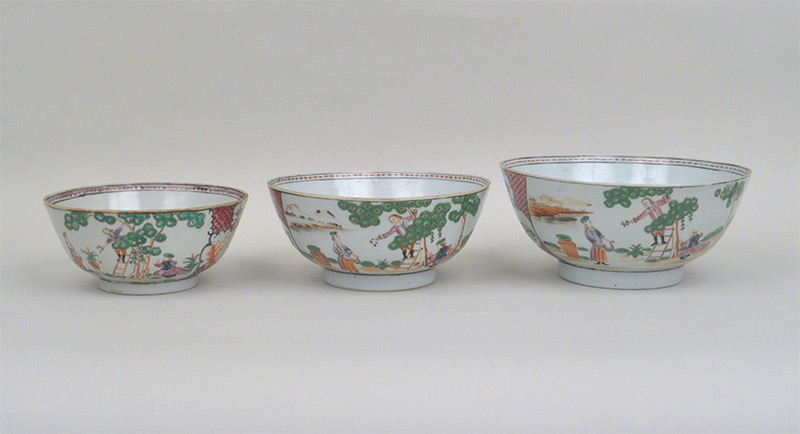 Set Three Chinese Export Porcelain Graduate Bowls
the exteriors with enameled reserves of Europeans picking cherries. Largest: 4" high, 9" diameter.
---
Past Auctions
---
August Fine Estates Auction
August 14, 2018
Old Fashioned On-Site Live Auction
July 6-7, 2018
April Fine Estates Auction
April 11, 2018
January Fine Estates Auction
January 31, 2018
November Fine Estates Auction
November 16, 2017
Annual Fall Fine Estates Auction
September 27, 2017
Important Connecticut Fine Estates Auction
June 14, 2017
Americana & Folk Art Fine Estates Auction
April 26, 2017
20th Century Design Auction
March 29, 2017
European & Asian Decorative Arts
February 22, 2017
Annual Holiday Fine Estates Auction
December 4, 2016
Connecticut Fine Estates Auction
October 2, 2016 -
View Sale Results
On-Site Connecticut Estate Auction
August 19-20, 2016
June Americana & Fine Estates Auction
June 26, 2016 -
View Sale Results
Connecticut Fine Estates Auction
April 24, 2016
Connecticut Fine Estates Auction
February 28, 2016
Opportunity Online / Holiday Bazaar Auction
December 3, 2015
Annual Holiday Fine Estates Auction
November 22, 2015
Fall Fine Estates Aucton
October 4, 2015
Annual Spring Fine Estates Auction
June 14, 2015
April Connecticut Fine Estates Auction
April 26, 2015
Americana/Native American Arts Auction
March 8, 2015
Annual Holiday Fine Estates Auction
December 7, 2014
Annual Fall Fine Estates Auction
October 5, 2014
Native American, Sterling Silver and Oriental Rug Auction
July 20, 2014
Chinese Antiquities Important Collection
July 20, 2014
Fifth Annual Spring Fine Estates Auction
June 8, 2014
Arts of Asia, Estate Decorative Arts Auction
March 23, 2014 -
View Results
Annual Holiday Fine Estates Auction
December 8, 2013 -
View Results
Annual Fall Fine Estates Auction
September 29, 2013
Opportunity Auction - Connecticut Estates
September 6, 2013
Opportunity Auction - Connecticut Estates
August 15, 2013
Opportunity Estates Auction
July 18, 2013
Spring Anniversary Fine Estates Auction
June 9, 2013
Americana, Folk Art & Decorative Arts Auction
April 21, 2013
Mid-Century, Country & Decorative Arts Auction
February 10, 2013
Second Chance Online Auction
December 19, 2012
Holiday Fine Estates Auction
December 9, 2012
October Fine Estates Auction
October 24, 2012
Early Fall Fine Estates Auction
September 16, 2012
Spring Anniversary Fine Estates Auction
June 17, 2012
Estate, Design & Decorative Arts Auction
February 26, 2012
Holiday Fine Estates Auction
December 3, 2011
Opportunity Estates Auction
November 5, 2011
Opportunity Estates Auction
October 1, 2011
Annual Fall Important Estates Auction
October 1, 2011
Opportunity Auction - Estate & Decorative Arts Sale
June 29, 2011
Second Chance Online Auction
May 31, 2011
Second Anniversary Antique and Fine Art Auction
May 21, 2011
Unreserved Onsite Estate Auction
June 12, 2010
Opportunity Auction - Eclectic Holiday Sale
December 13, 2009
September Online Oriental Rug Auction
September 23, 2009
Important Fall Estates Auction
October 3, 2009
Second Chance Online Auction
June 21, 2009
Inaugural Opportunity Auction
May 30, 2009