Auction Blog
---
Americana, Folk Art, Fine Art & Native American Arts Featured at Schwenke Auctioneers March 8th Sale
Posted February 16, 2015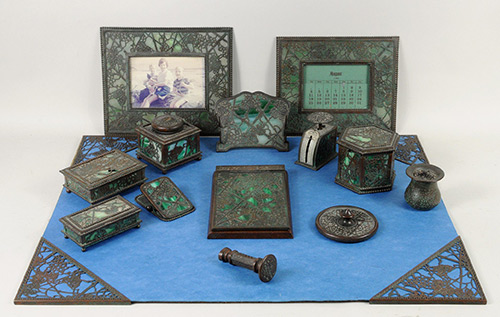 Tiffany Studios Bronze Desk Set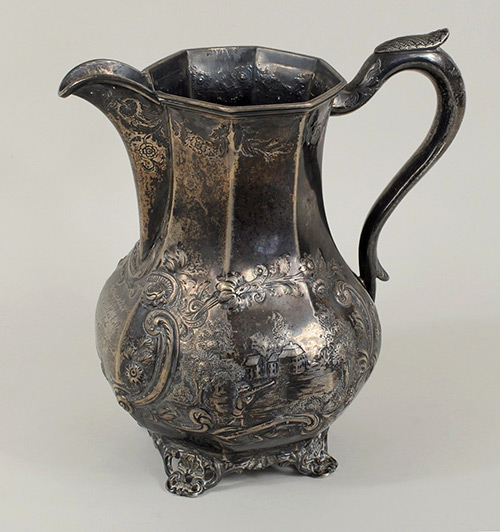 Presentation Coin Silver Pitcher - Jordan Mott NYC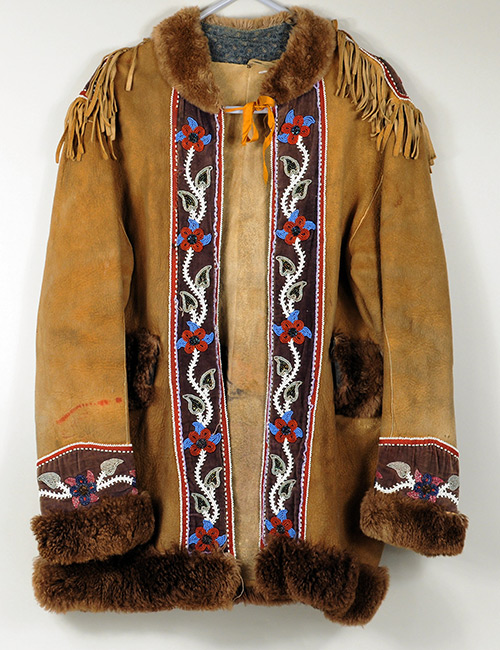 Inuit Beaded Hide Jacket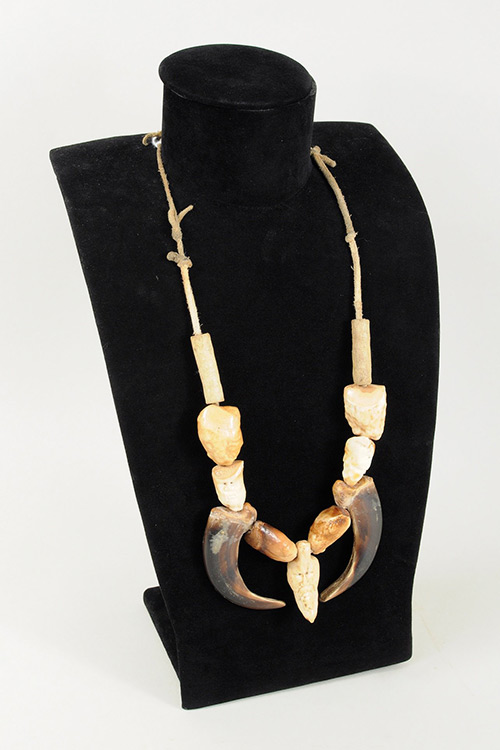 Inuit Grizzly Bear Claw Necklace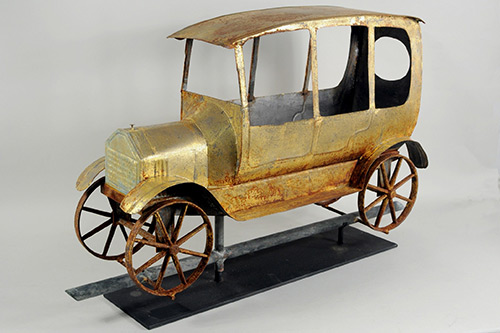 Automobile Weathervane Model T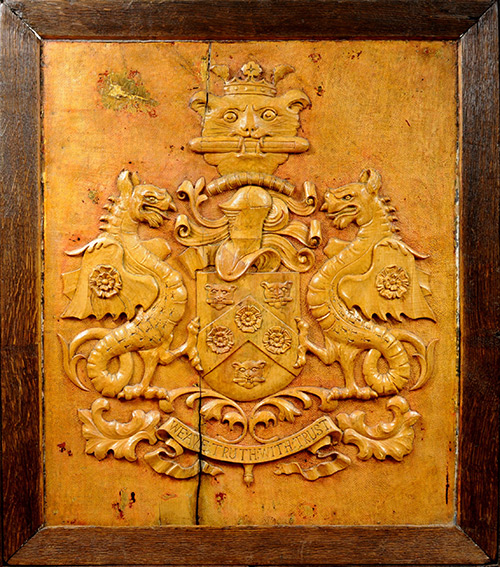 Early English Carved Livery Trade Sign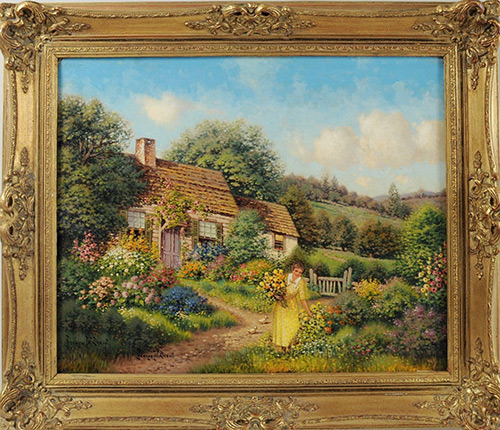 George W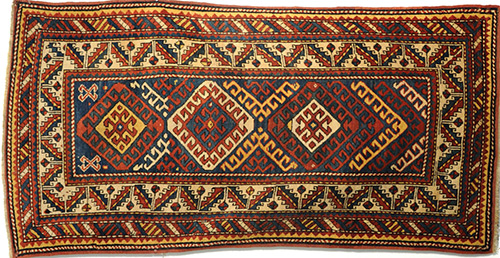 Fine Kazak Caucasian Rug



Including Single Owner Collection of Inuit Alaskan Items, Two Louis Vuitton Steamer Trunks, Tiffany Bronze Desk Set and Numerous American Paintings

Woodbury, CT – On Sunday March 8th at 11am, Schwenke Auctioneers presents an Americana, Folk Art & Native American Decorative Arts Auction, featuring a large single owner collection of Inuit marine decorative arts; American and European fine arts; and fine and decorative arts from estates and consignors in Connecticut, New York and New Jersey. The sale is being held at the firm's auction hall at Middle Quarter Plaza in Woodbury. Preview times are Thursday, March 5th from 10am to 5pm; Friday, March 6th from 10am to 5pm; Saturday, March 7th from 10am to 5pm; and Sunday, March 8th from 8am to sale time at 11am.

A prime lot is a rare Tiffany Studios fourteen piece bronze desk set in the "grapevine pattern", estimated at $4,000 to $6,000. The set includes a mottled green favrile glass calendar, picture frame, notepad, two boxes, stamp box, inkwell, scale, pen tray, pen wipe, cup, monogram stamp and paper weight. There are also two vintage Louis Vuitton steamer trunks in the sale, both from Connecticut estates, as well as many lots of porcelain, American and English silver and glass.

One of the most unique American silver lots being sold is a coin silver water pitcher by New York silversmith Jordan Mott (1768-1840), with engraved and repousse image of hunter and houses, verso with dog, bird and houses, central inscription "Presented to Marcellus Eels by the Officers of the Alms House May 1849", stamped on base "Mott's". Marcellus Eels was the superintendent of the Alms House on Blackwell's Island, home to Blackwell's Island Asylum, the first lunatic asylum for New York City and the first municipal mental hospital in the United States. The pitcher measures 9 1/2" high by 9" wide, and weighs 24.395 OZT.

A substantial private collection of Inuit and Native American decorative arts forms the core of this sale. Over seventy lots are comprised of Alaskan marine arts being sold for a private collector in New York State. Included are a Native American medicine or dance shield painted with designs of sun and moon, earth and stars having a central grass stuffed Ermine drop, three horsehair cones above, flanked by two trade cloth and feather ties, measuring 21" diameter; a Native American crook form coup stick, carved wood under canvas wrapped staff with hide, multicolor bead and feather decoration, 76" long, 10 1/4" wide, provenance: from the Henry Albert Rudkin collection, husband of Margaret Rudkin, founder of Pepperidge Farm; a rare pair of Inuit carved fossil ivory pistol grips for a Model 36 Smith & Wesson pistol, depicting polar bears, both signed "Joe Menauq Pungowiyi 1-93", 3 1/4" long, 1 1/4" wide; a rare Northwest coast or Northwest coast style carved and painted totem, 23 1/2" high, 2 1/2" wide; a very unusual Inuit scrimshaw marine ivory chess set, figures depicting Inuit couple, bears, walrus, seals and igloos, pieces measuring 1 1/4" high, 3/4" wide to 2" high, 1" wide; and a fine Inuit baleen and carved marine ivory basket with whale tail knop, signed and dated in interior "John Omnik Pt. Hope AK 1990", which measures 4" high, 3 1/4" diameter.

The collection includes many marine ivory, walrus tusk and whalebone items, as well as fossilized marine ivory pieces. One interesting group is three Inuit walrus ivory and whalebone carvings of hunters and bears, the largest signed "Gabe Muktoyuk", bears signed "RKS Wales, Alaska", smallest signed "JK Saclamana King Island AK", with dimensions from 2 1/4" high, 2 2/3" long to 4" high, 4 1/2" wide. Another interesting lot is a group of five scrimshawed marine ivory pendants by Peter Mayac (1913-1976), depicting various Alaskan animals, all signed "P. Mayac", and approximately 2 1/2" diameter. Peter Mayac's family originated on King Island. During the summers the residents would move to Nome, Alaska to sell their goods. Mayac learned to carve as a young man and became especially known for his carvings of Alaskan wildlife which have become very collectible.

This sale also features American painted furniture, artwork, quilts weathervanes and accessories. American country furniture lots include a red painted cupboard, a two drawer blanket chest, a long country deacon's bench and various other estate pieces. Included among the weathervanes being offered are a gilded Model "T" automobile weathervane, a patinated copper grasshopper vane, a sheet iron rooster weathervane and a horse and sulky weathervane.

Several English and Continental furniture items are also being offered, including a rare George III game table with lift up writing board section, and an English oak Jacobean style large dining table. An unusual Victorian carved oak sideboard cabinet will also cross the block, estimated at $1200 to $1500. Of special interest is an English or Scottish carved wood double sided trade sign, 19th century or earlier, measuring 42" high, 36 1/2" wide, for the Worshipful Company of Weavers, London displaying the crest and motto "Weave Truth with Trust". This is the oldest recorded London City livery company, which was mentioned in the pipe roll of 1130 and was granted its first charter by Henry II in 1155. At present the company retains a connection to textiles through its contributions to the textile industry.

Several American paintings have been consigned by a New Jersey collector, including a framed oil on board by Jeanette Agnew Lyon, (Ohio, B. 1862), entitled "Sailboats", signed lower right. "Ruth Coulter Galleries Cleveland, Ohio" label verso, sight size: 16 1/2" high, 13 1/2" wide; a work by Connecticut artist Emma Burgess (American, B. 1882), "Flower Garden" oil on board, signed lower right . "New Haven Paint & Clay Exhibition" label verso, sight size: 11 3/4" high, 14 3/4" wide; an oil on Masonite by Winfield Scott Clime (Old Lyme, CT, 1881-1958), "New England Landscape", signed lower left. "Brown Galleries, Hartford, CT" label verso, sight size: 11 1/2" high, 15 3/8" wide; and an oil on canvas board by George W. Drew, (NY, 1875-1968) "Connecticut Garden", signed twice lower left, with "Marbella Gallery NY" label verso, sight size: 15 1/2" high, 19 1/2" wide.

Also included among the fine art lots is an impressionistic view of Central Park by Johann Berthelsen, (NY/Denmark, 1883-1972) titled "Nocturne", oil on canvas board, signed lower right, sight size: 5 1/2" high, 7 1/2" wide; as well as an oil on canvas by Georges Laugee (French, 1853-1928) "The Gleaners", oil on canvas, signed lower left "Georges Laugee", sight size: 21" high, 25" wide.

This sale also will feature several estate oriental carpets including Persian and Caucasian room and scatter sized rugs, including a very fine and brilliantly colored geometric Kazak rug, turn of the century, measuring 5' 11" long by 3' 1" wide.

The catalog for the sale is viewable at www.woodburyauction.com. Absentee and phone bidding are available for this live gallery auction by registering directly with Schwenke Auctioneers, and the sale will be broadcast live on Live Auctioneers, Invaluable and Auction Zip. To register or arrange for absentee or phone bidding, please call Schwenke Auctioneers at 203-266-0323.