Auction Blog
---
Alexander Calder Bracelet Fetches $73,200 – Top Lot At Schwenke Auctioneers April Connecticut Fine Estates Auction
Posted April 27, 2015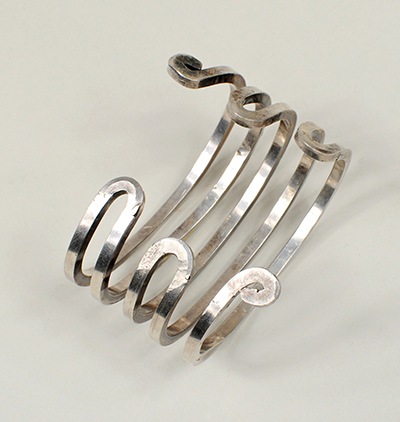 Calder Sterling Bracelet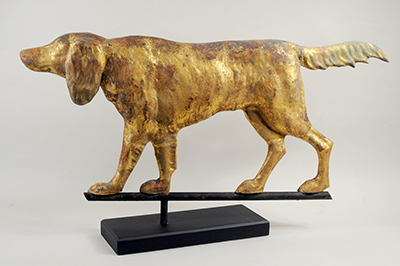 Washburn Setter Weathervane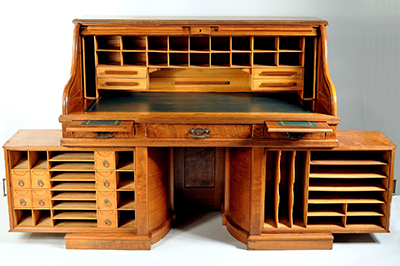 Wooten Desk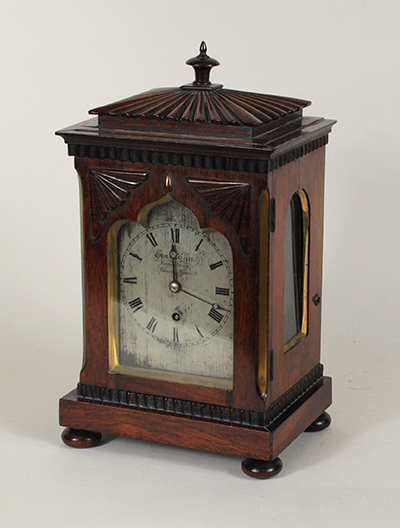 English Bracket Clock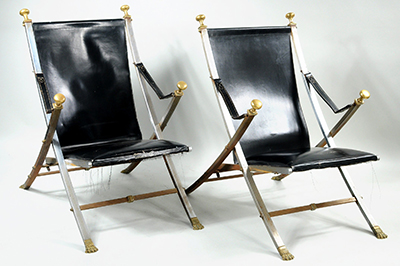 Pair Steel & Leather Chairs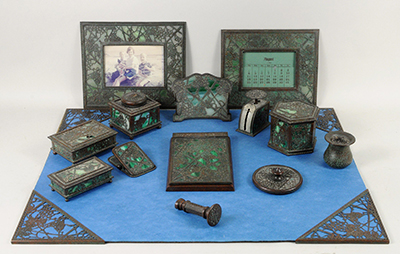 Tiffany Studios Bronze Desk Set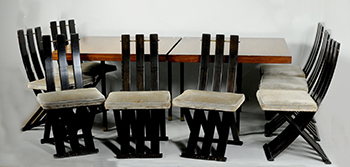 Harvey Probber Walnut Dining Table and Eight Chairs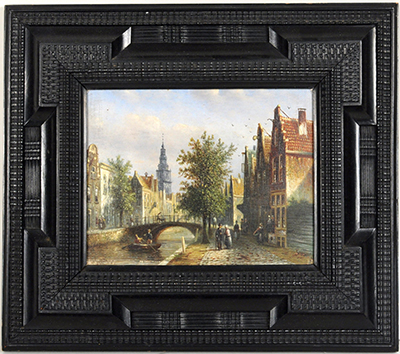 Dutch Canal Scene



American Folk Art and Mid-Century Decorative Arts Also Perform

Woodbury, CT – Schwenke Auctioneers conducted its April Connecticut Fine Estates Auction on Sunday, April 26th at 11am. The sale featured over 450 lots of estate property including Mid-Century Modern decorative arts, American, English and Continental decorative arts, Inuit and tribal decorative arts, English & other sterling silver, fine art, miscellaneous decorative arts, a single owner collection of over twenty five clocks, and many estate oriental rugs.

The top lot of the sale was a classic silver hand hammered cuff form openwork scrolled bracelet by Alexander S. Calder (Am. 1898-1976, circa 1966. The bracelet measured 2" high, 2 3/8" inner width, 2 3/4" outer width, 1 1/2" deep. The piece, which has been assigned registration #A16841 by the Calder Foundation, had been acquired directly from the artist as a gift from the artist to the owner which was given on November 10, 1976 to celebrate the opening of the Calder exhibit at the Whitney Museum and the owner's birthday on November 11,1976. This may well be the last gift made by Calder, as his untimely and unexpected death occurred on the next day, November 11, 1976. The bracelet was sold together with a photo and description card from Perls Gallery, bearing the date 1966 and identification number "47". In 1954 Perls Galleries became Alexander Calder's dealer after the death of Calder's previous dealer, Curt Valentin. Perls explained his inclusion of Calder, a rare American among his stable of European artists, by saying that Calder's roots lay in France and that Calder bridged Europe and America the way Perls felt he did himself. In 1970, Calder designed the terrazzo sidewalk in front of the gallery and often resided in the Perls' home during long visits to New York City. Perls Galleries later handled Calder's estate and functioned as a quasi-archive of Calder's works, holding more than 7,000 negatives depicting Calder's art and preparing a Calder catalogue raisonné. After spirited competition among four determined phone bidders, the bracelet was knocked down by auctioneer Tom Schwenke to the winning phone competitor for $73,200 (est $40,00-50,000).

The second top lot in the sale was a fine gilded copper full bodied setter weathervane manufactured by E.G. Washburn Co., Middleton, MA, c.1880, measuring 13 1/2" high, 31 1/2" long. Vane: 63 1/2" high, 31 1/2" long. The vane belonged to a Massachusetts gentleman who worked for Washburn as an adolescent. Upon leaving at age 20 to join the service, this vane was gifted to him as he had often admired it and it had been in the Washburn workshop for longer than anyone could remember. It was stored at his parents' house until he got out of the service, at which time he bought a house where this high-ranking Shriner enjoyed it for more than 50 years. The lot was claimed by an internet bidder at $9,760 (est $6000-9000).

The top furniture lot of the sale was a Wooten roll top burled walnut rotary desk, with a tambour roll top opening to a fitted interior and writing surface, above three drawers and a pair of pull out writing surfaces over rotary side cabinets opening to further small drawers and compartments, measuring 49 1/2" high, 59" wide, 33 1/2" deep. The desk, consigned by a Connecticut estate, crossed the block to a phone bidder at $3416 (est $4000-6000).

The sale included a single owner collection of clocks from the estate of John Albertine, New Jersey, a member of National Association of Watch & Clock Collectors. The top selling clock lot was a New Jersey walnut tall case clock, movement by Isaac Brokaw of Hillsborough Township, NJ, circa 1777, with a brass and pewter dial having an eight day movement. The case was attributed to Matthew Egerton of New Brunswick, New Jersey, and the clock measured 96" high, 20" wide, 10" deep. The tall clock was hammered down to a bidder in the room at $2440 (est $4000-5000).

Also from the Albertine collection was a quite fine English Regency mahogany bracket clock with brass inlaid pewter dial by Grant and Terry, Prince Street, Leicester Square, measuring 12 1/4" high, 7 1/4" wide. The clock, which had a fusee escapement movement, went out at $1,708 (est $600-700) to an absentee bidder from California.

The sale included many estate pieces of 1950's and 1960's decorative arts. Several mid-century modern lots fared well. Among them was a pair of mid-century Maison Jansen brass, chrome and leather campaign chairs, with a folding X frame with leather seats, brass finials and paw feet. The classic chairs, measuring 36" high, 24" wide, 35" deep, were claimed by an internet bidder at $4,575 (est $3000-5000).

A phone bidder claimed a Tiffany Studios grapevine pattern patinated bronze desk set featuring mottled green favrile glass calendar, picture frame, notepad, two boxes, stamp box, inkwell, scale, pen tray, pen wipe, cup, monogram stamp and paper weight, 14 items total, for $3000 (est $4000-5000).

A group of Henry Probber dining room furniture also performed well, with a Harvey Probber mid-century walnut dining table with two leaves and chrome "H" form base, measuring 44" wide, 29 1/4" high, 80 1/4" long, selling to an internet bidder for $4,375 (est $1500-2000). A set of eight Harvey Probber scissor form dining chairs, 1950's Modernist recreations of the Sedia a Tenaglia of the Renaissance period, with interlaced mahogany slats with dark finish and upholstered seat cushions, lacking hanging back cushions, measuring 32" high, 20" wide, 26" deep, also went to an internet bidder at $3,150 (est $3000-3500). A Harvey Probber credenza form breakfront having two pair of walnut paneled cupboard doors in darkened mahogany and brass reeded frame, three shelves in interior over two long drawers, two pair of cupboard doors below, label in drawer interior, 73 1/4" high, 71 1/2" wide, 18" deep, seemed a bargain at $1250 (est $2000-3000) to a phone bidder.

Several fine arts lots were offered, with the top lot being a Dutch school "Village Canal" oil on panel, signed indistinctly lower left, legend verso "Amsterdam Holland 1883"m with sight size 6" high, 7 3/4" wide. The finely executed work had an early frame, and sold to an internet bidder from the Continent for $2200 (est $500-700).

A group of ethnographic and African decorative arts was offered on behalf of a New York estate, with the top lots being a Caledonian Kanak carved wood bird head club on metal display stand, 31 1/2" high, 13 1/2" wide, with provenance from a French collection, which went out at $3,175 to an internet bidder (est $2500-3500). An African Senufu rythym pounder, carved wood figure, dimensions 30" high, 10" wide, was sold to another internet bidder at $1395 (est 300-500), and a New Guinea carved wood female figure on display stand, 32 1/2" high, 8 1/2" wide, fetched $1590 (est $400-600) from the internet with the same buyer claiming an African carved wood axe form club, 52" long, 11 1/2" wide, at $1725 (est $300-500).

Among the more interesting lots in the sale was a pair of wrought iron gates with scrolled heart and applied foliate decoration, found in Bennington, Vermont, probably 19th century, each section measuring 69" high, 78" wide. The gates were knocked down to an internet bidder at $2000 (est $800-1200).

A large group of estate oriental carpets were offered, including Persian and Caucasian room and scatter sized rugs, and other regional Asian rugs of varying sizes. Top rug lot of the sale was a room size Agra carpet measuring 10' 2" wide, 15' 4" long., claimed by an internet bidder for $2,250 (est $200-400).

Schwenke Auctioneers' next auction is scheduled for Sunday, June 14th at 11:00 am. This sale is the firm's annual spring anniversary sale, and absentee and phone bidding will be available for this live gallery auction, and the sale will be broadcast live on the internet. For more information please visit the firm's website www.woodburyauction.com. To inquire about consigning to this sale, please call Woodbury Auction at 203-266-0323.