Auction Blog
---
Schwenke Auctioneers To Hold Single-Owner On-Site Auction Saturday, August 22nd – Lifetime Collection of David L. Bronson
Posted July 27, 2015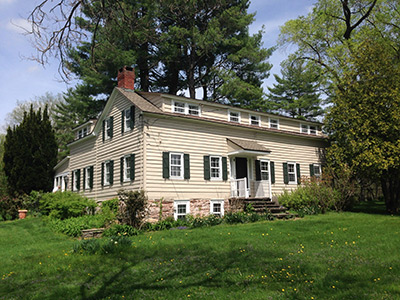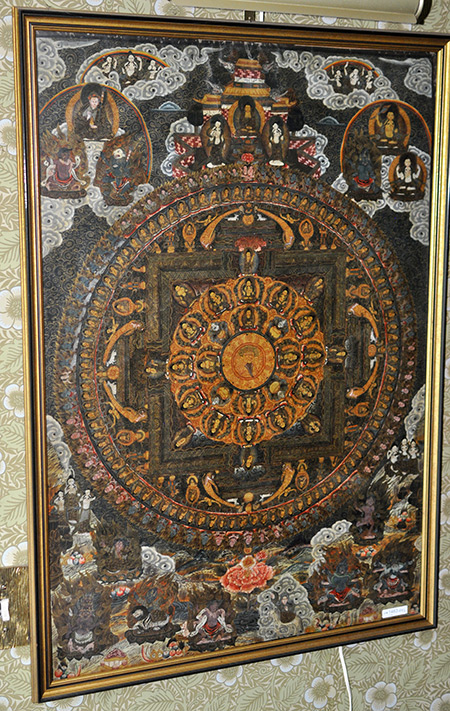 Tibetan Thangka - One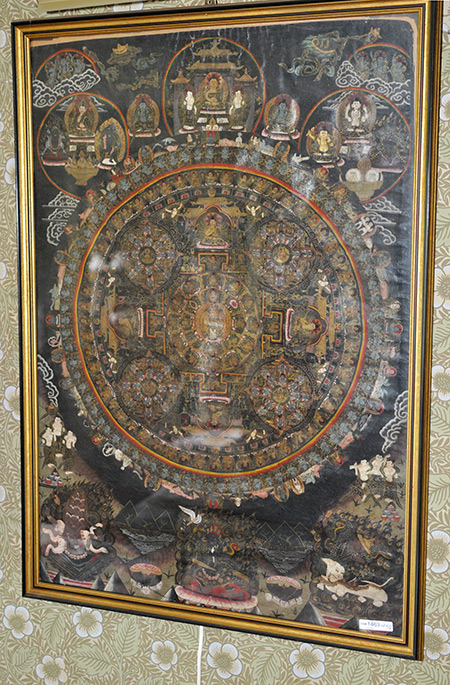 Tibetan Thangka - Two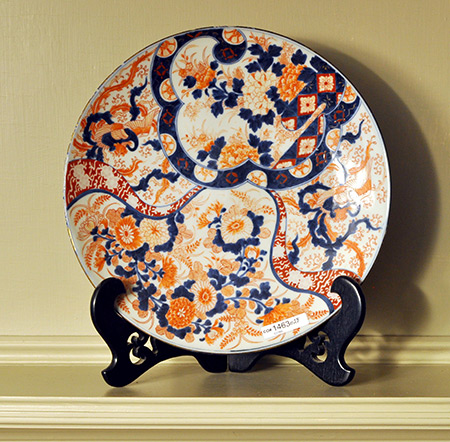 Japanese Imari Charger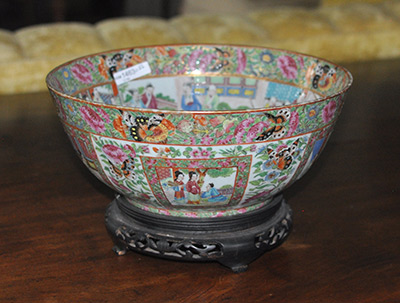 Chinese Mandarin Bowl




Classical Banjo Clock - Dwyer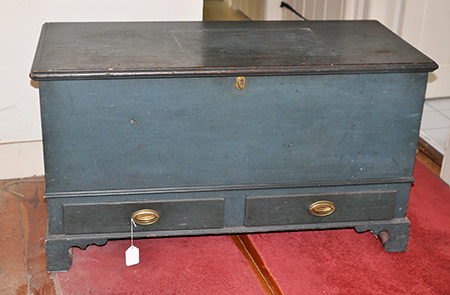 Blue Painted Blanket Chest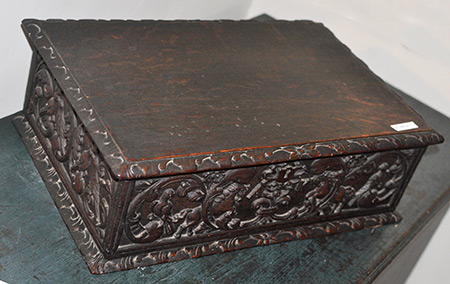 Carved Oak Bible Box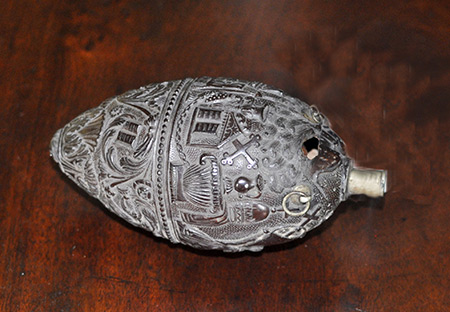 Carved Coconut Powder Flask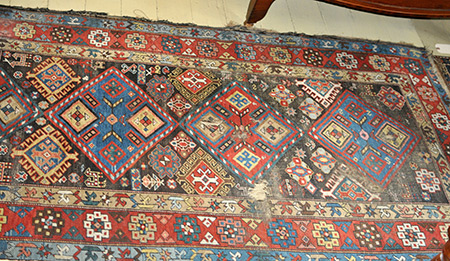 Caucasian Rug



Asian Porcelain, American & English Furniture, Fine Decorative Arts, Sterling Silver, and Oriental Rugs Woodbury, CT – On Saturday, August 22nd, Schwenke Auctioneers will be in Ulster County, New York for a one day single owner auction of the lifetime Lifetime Collection of David L. Bronson. The sale features over 350 lots of Asian and European 18th and 19th century porcelain and decorative arts, American 18th and 19th century formal and country furniture, English and Continental 18th and 19th century furniture and decorations, paintings, prints, banjo and tall clocks, needlework, pottery, stoneware and oriental rugs.

Since the age of twelve, David L. Bronson has been enchanted with antiques and decorative arts. He remembers having been introduced to auctions in his hometown of Jackson, Michigan by a neighboring antique dealer and collector. Walking through her dining room and causing the girandole crystals to "tinkle" is a fond memory. This refined female mentor opened a door to design and decorative art for David, as he went on to complete four years in the Department of Architecture at the University of Michigan. Thereafter, a degree at Yale Divinity School took him to a parish in Surrey, England where he enjoyed cycling to the local country auctions. While buying modestly, he furthered his knowledge of antiques by reading the descriptions in the auction catalogues.

More than 52 years ago, David moved to the Kingston, New York area where he continued to develop his antiques appreciation in discussions with yet another mentor, the well-known and highly respected American antiques dealer, the late Fred J. Johnston. In fact, David for many years conducted guided tours through the Fred J. Johnston Museum in Kingston. David's love for early American architecture and antiques was brought home, quite literally, more than twenty five years ago when he moved to his beloved restored Stone Ridge farmhouse, which is the site of this wonderful late summer auction, located on Cottekill Road, Stone Ridge, Town of Marbletown, Ulster County, New York.

Among the highlights of this 350 lot sale are two framed Tibetan Buddhist Thangkas, one measuring approximately 36" high by 25" wide, and the other 33" high by 24" wide. They were acquired years ago by Mr. Bronson in Kathmandu while touring in India and Nepal, and are offered in two separate lots, estimated at $1000-1500 each.

The sale includes close to 100 additional individual lots of Asian porcelain and decorative arts, including Chinese porcelain, Japanese porcelain, Asian furniture and Japanse woodblock prints. Among the featured Asian porcelain items are a fine Japanese Imari charger, 19th century, measuring 12" diameter, a pair of Chinese decorated porcelain lidded jars, 19th century, a very large Japanese blue and white porcelain bowl, and a Chinese Rose Mandarin gilded bowl, 19th century, and measuring 12" diameter. A group of three framed Japanese woodblock prints will also cross the block that day.

Mr. Bronson's collection includes numerous pieces of American formal and country furniture, as well as American clocks. The country items include a fine Chippendale blue painted blanket chest with two drawers and bracket feet, and a rare Hepplewhite inlaid cherry chest, possibly from Vermont, with the initials "R-C" inlaid in the top drawer. More formal pieces include a New York Chippendale mahogany wing chair, several pembroke and game tables, and both country and formal chest, chairs and tables. A miniature American Sheraton chest is being offered, as well as a Salem Sheraton mahogany sideboard with carved capitals. Two banjo clocks are being sold, one a classical mahogany clock signed "J. Dwyer", the other a gilt and mahogany clock with painted tablets and signed "Hull". There is also a Federal inlaid mahogany tall clock, probably New York or New Jersey, with an arched, scrolled bonnet top and painted sheet iron dial.

English furniture was also acquired by Mr. Bronson, and notable items include a George III carved mahogany chest on chest in the original finish, several side and arm chairs and a fine Sheraton barrel back upholstered chair, as well as an early oak joint stool and a carved oak bible box.

Interesting decorative arts are also on offer from Mr. Bronson's collection, including a rare carved coconut "bugbear" powder flask; a papier mache and mother of pearl inlaid spectacles case which belonged to Joseph Smith, a Civil War general from Kingston, New York; and several fine sterling silver patch boxes and "momento mori" which were collected by Mr. Bronson over the past fifty years.

The sale also includes numerous estate oriental carpets including Persian and Caucasian room and scatter sized rugs, and other regional Asian rugs of varying sizes. Notable among the rugs being sold are a room size Oushak carpet (as is), which measures 10' 10" by 13' 6", and a fine Caucasian rug (as is), measuring 6' 8" by 4' 0".

Directions to the sale, the auction catalog, and other information regarding the sale are available on the Schwenke Auctioneers website at www.woodburyauction.com. There will be no phone bidding for this sale, but there will be absentee bidding available and the sale will be broadcast live on Live Auctioneers. There is preview the morning of the sale from 8:00am to 11:00am, sale time. Good old fashioned country food will be served Saturday before and during the auction by the ladies' auxiliary of Christ the King Episcopal Church in Stone Ridge. To register or arrange for absentee bidding, please call Woodbury Auction at 203-266-0323 or download the forms from the website.