Auction Blog
---
Schwenke Auctioneers Holds On-Site Auction – Lifetime Collection of David L. Bronson
Posted August 27, 2015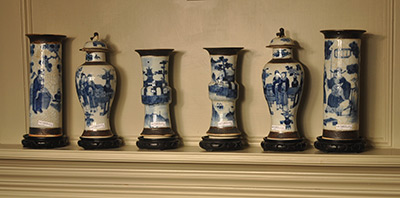 Chinese Garniture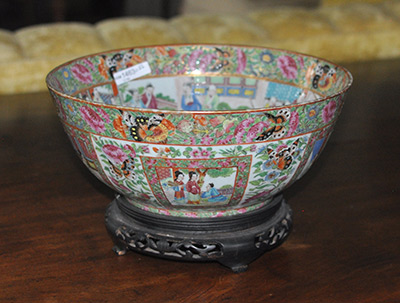 Chinese Mandarin Bowl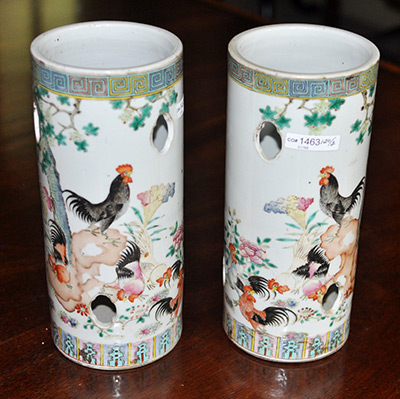 Pair Wig Stands




NY Tall Clock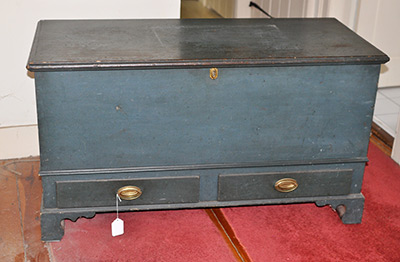 Chipp Blue Painted Blanket Chest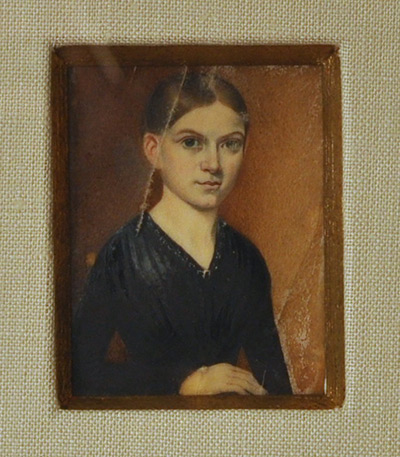 American Miniature



Asian Porcelain, American & English Furniture, Fine Decorative Arts, Sterling Silver, and Oriental Rugs Were Sold

Woodbury, CT – On Saturday, August 22nd, Schwenke Auctioneers set up shop under a tent in Ulster County, New York for a one day single owner auction of the lifetime Lifetime Collection of David L. Bronson. The sale featured over 350 lots of Asian and European 18th and 19th century porcelain and decorative arts, American 18th and 19th century formal and country furniture, English and Continental 18th and 19th century furniture and decorations, paintings, prints, banjo and tall clocks, silver and oriental carpets. The sale was also broadcast on Live Auctioneers, and several hundred registered bidders participated in the sale via the internet. Good old fashioned country food was served on Saturday before and during the auction by the ladies' auxiliary of Christ the King Episcopal Church in Stone Ridge, and an estate tag sale was held concurrently with the auction.

David L. Bronson has lived in Ulster County for over fifty years, and is well known as a collector and historian to many Ulster County residents. Having semi-retired from his position as head of the Christ the King Episcopal Church in Stone Ridge, Mr. Bronson recently decided to move to a local retirement community in New Paltz, New York and put his home and decorative arts collection on the market. Schwenke Auctioneers was selected to market the antiques collection, and catalog work began on-site in late June.

The sale included close to 100 additional individual lots of Asian porcelain and decorative arts, including Chinese porcelain, Japanese porcelain, Asian furniture and Japanese woodblock prints. Among the featured Asian porcelain items were a fine 19th century Japanese Imari charger, measuring 12" diameter; a pair of 19th century Chinese decorated porcelain lidded jars; a very large Japanese blue and white porcelain bowl, and many other lots of Chinese domestic and export porcelain wares. The top lot from among the Chinese porcelain offerings was a pair of porcelain drum form wig stands, selling to a bidder from China on the internet for $1,500. Another notable lot was a fine 19th century Chinese Rose Mandarin gilded bowl, measuring 12" in diameter, which crossed the block to an internet bidder at $1,250. An assembled six piece Chinese blue and white garniture set also sold to the internet, fetching $1,175.

Mr. Bronson's collection included numerous pieces of American formal and country furniture, as well as American clocks. The country items included a rare Hepplewhite inlaid cherry chest, possibly from Vermont, with the initials "R-C" inlaid in the top drawer, which sold to an internet bidder for $840. A fine Chippendale blue painted blanket chest with two drawers and bracket feet was claimed by a bidder in the tent for $1,950. More formal pieces included a New York Chippendale mahogany wing chair, several pembroke and game tables, and both country and formal chest, chairs and tables. A fine New York federal inlaid mahogany tall clock was hammered down to the internet for $2,000, and a very nice Sheraton carved mahogany sideboard with carved capital was claimed by an internet bidder for $1,375.

English furniture was also acquired by Mr. Bronson over the years, and notable items included a George III carved mahogany chest on chest in the original finish and having a brushing slide, which sold to a bidder at the sale for $900, several side and arm chairs and a fine Sheraton barrel back upholstered chair, as well as an early oak joint stool and a carved oak bible box.

Interesting decorative arts were also on offer from Mr. Bronson's collection, including a rare carved coconut "bugbear" powder flask; a papier mache and mother of pearl inlaid spectacles case which belonged to Joseph Smith, a Civil War general from Kingston, New York; and several fine sterling silver items which had been collected by Mr. Bronson over the past fifty years. A very nice American portrait miniature, sitter S.E.D. Smith, by John Vanderlyn, sold to a bidder in the crowd for $1,220.

The firm's next auction is scheduled for Sunday, October 4th at 11:00 am, and consignments are being accepted through September 15th. To discuss consignments, please call Woodbury Auction at 203-266-0323 or visit the website at www.woodburyauction.com.