Auction Blog
---
Stevenson Americana/Folk Art Collection Featured With Eclectic Decorative Arts at Schwenke Holiday Fine Estates Auction
Posted November 19, 2015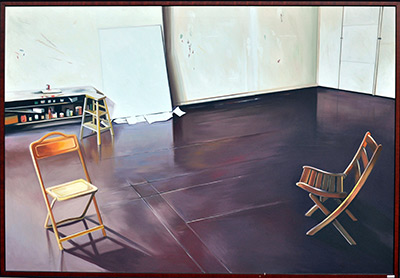 L.Nesbitt Alex Katz's Studio '72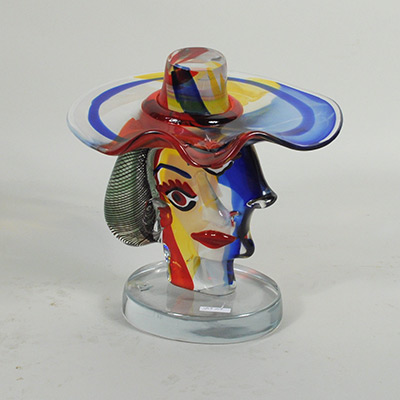 Walter Furlan - Omaggio a Picasso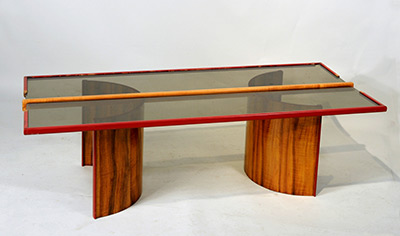 Modernist Coffee Table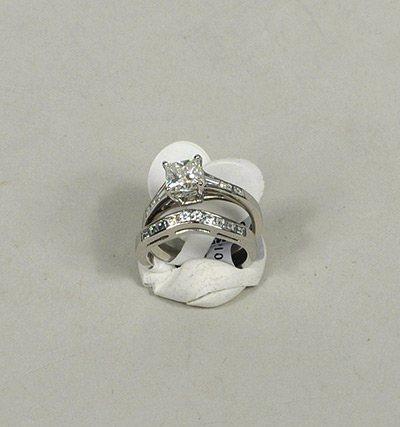 Platinum-Diamond-Rings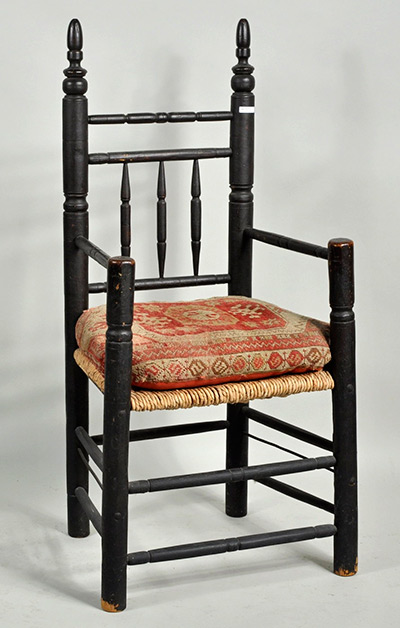 Pilgrim Century Great Chair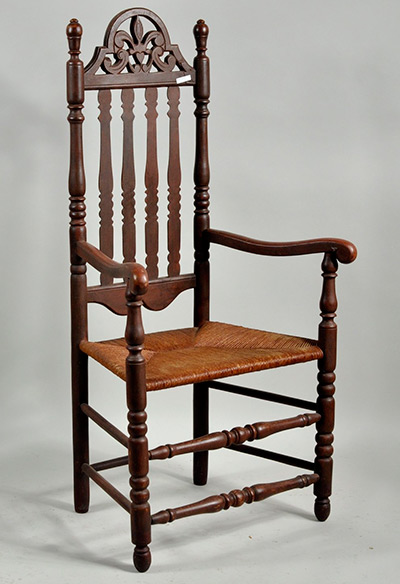 William & Mary Crested Bannister Back Arm Chair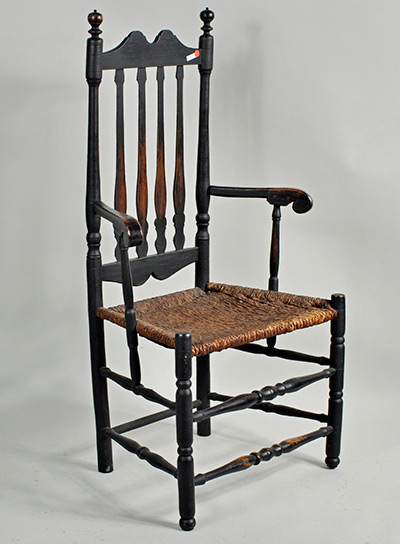 Crested Bannister Back Arm Chair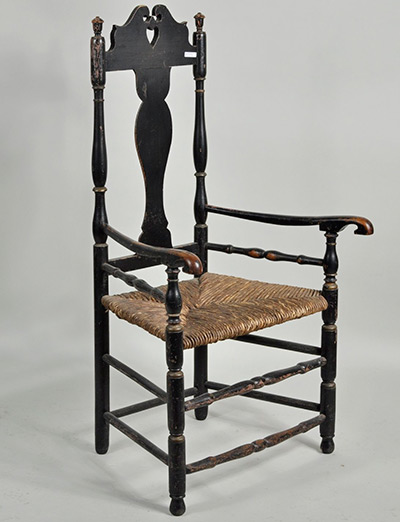 Queen Anne Heart & Crown Armchair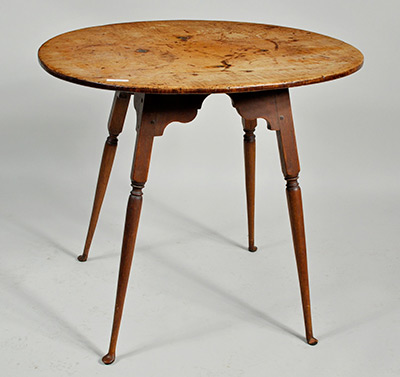 Queen Anne Splay Leg Maple Tea Table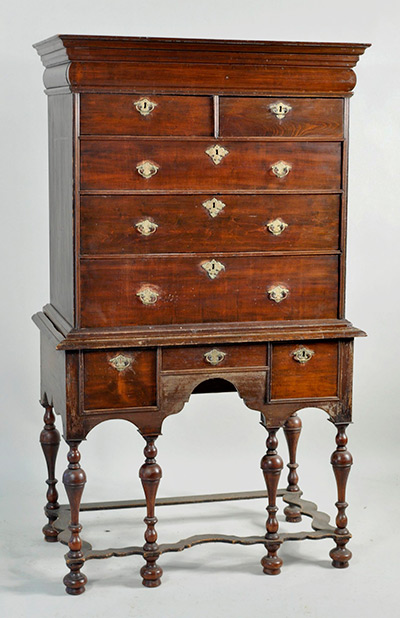 William & Mary Highboy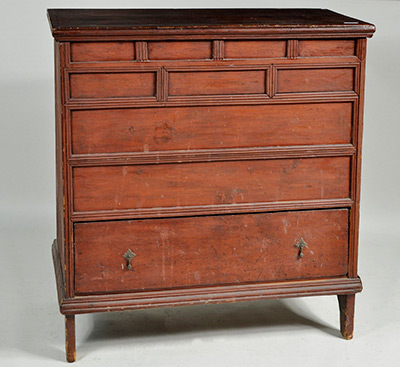 William & Mary Blanket Chest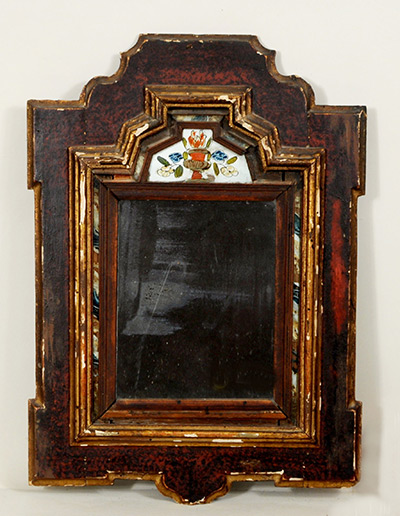 Early Eglomise Courting Mirror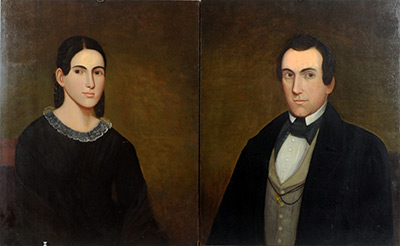 Pair Belknap Folk Art Portraits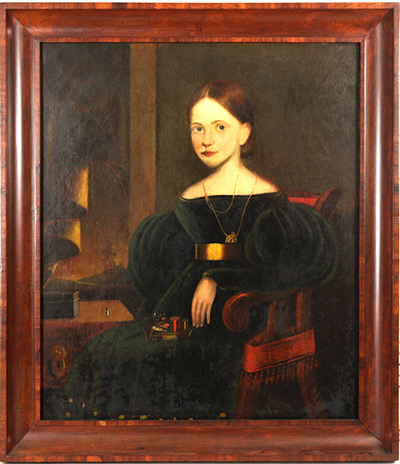 Folk Art Portrait Girl Sewing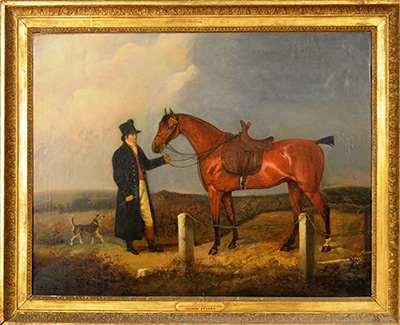 George Stubbs Oil Painting



Many Fine Artworks Offered, To Include Rare Group of Seven Leonard Tsuguharu Foujita Gouaches

Woodbury, CT – On Sunday November 22nd Schwenke Auctioneers will sell over 430 lots in its Holiday Fine Estates Auction. The sale begins at 11:00 am with an eclectic and diverse offering of 235 lots of Mid Century Modern, American, English, Continental and Asian decorative arts, consigned from estates and consignors from Connecticut, New York, New Jersey, and Massachusetts. Beginning at 2:00pm the Stevenson Americana/Folk Art Collection will be sold. The Stevenson Collection includes over 200 lots of fine 17th and 18th century American furniture, primitive and folk art paintings and portraits, and a variety of other fine and decorative American arts.

This sale is being held in the firm's auction hall at 710 Main Street South, Middle Quarter Plaza, in Woodbury. Preview times are Thursday, November 19th through Saturday, November 21st from 10:00am to 5:00pm, and Sunday, November 22nd from 9:00am to 11:00 am.

Part One - Various Owners & Consignors

Fine art lots are headed by a group of seven individual Leonard Tsuguharu Foujita (1886-1968), original costume designs created in 1928 for a play directed by Fernand Gemier at the Odeon Theatre de l'Europe, Paris, written by Albert Keim and Albert Maybon after the celebrated Japanese drama Chuzenji Monogatari, by Okamoto Kido and translated by Kuni Matsuo. The works, graphite and watercolor on paper, were authenticated by Sylvie Buisson and included in the Foujita Catalogue Raisonne by Sylvie et Dominique Buisson, "La Vie et l'Oeuvre de Léonard-Tsuguharu Foujita", ACR Éditions, Paris, 2001, #28. Provenance listed is Fernande Gemier to a collector in Switzerland; thence to an American private collector.

Other fine art lots include a Josephine "Jerome" Sands (American, B. 1913), "Figures At River" oil on board, signed lower right "Jerome". Sight size: 24 3/4" high, 21 1/4" wide. Frame size: 28 1/2" high, 25" wide; a Robert Natkin (American, 1930-2010) "Benke Series" acrylic on paper, signed in pencil lower center "Natkin", sheet size 26 1/2" high, 36" wide; an untitled oil on canvas by Ernest Briggs (New York, Connecticut, 1923-1984), signed, dated verso "E. Briggs, '55", sight size: 14 1/4" high, 21 1/2" wide; and a large work by Lowell Nesbitt (American, 1933-1993), entitled "Alex Katz's Studio - 72", oil on canvas, signed and titled verso, sight size 65" high, 95" wide.

Noteworthy mid-century modern lots include a Furlan Walter (b. 1931) "Omaggio a Picasso" Murano glass sculpture, abstract head of a woman. Signed and titled on the base and numbered 8/20, the piece measures 16 1/2" high, base 9" wide, 8" deep; a Joseph David Broudo (B. 1920) ceramic sculpture, signed lower right "Broudo", standing 14 1/4" high, 7 1/2" wide; an Italian ceramic mask in the manner of Eugenio Pattarino, numbered verso "45/1 Italy" and measuring 13 1/2" high, 14" wide; an unusual signed Modernist wood and glass coffee table, measuring 17 1/2" high, 61" long, 26" deep; and a Modernist bronze sculpture, cast as five pairs of wrestlers in a series of consecutive poses simulating a Judo throw, mounted on a plexiglass stand, the work sized at 7" high, 39" wide, 4 1/4" deep

Among the several jewelry lots offered are two platinum and diamond rings, the larger stamped "Jeff Cooper Plat" containing one natural diamond of 1.32 carats flanked by two natural tapered baguette cut diamonds totaling .20 carats and four square step cut natural diamonds totaling .16 carats. The lot includes a GIA report for the center diamond certifying carat weight 1.32 carat, color grade J, clarity grade VS1. The band stamped "Plat" containing ten natural diamonds, four round brilliant cut totaling .11 carats and 6 square step cut totaling .40 carats. The lot also includes an appraisal report from the International Gemological Institute.

Many lots of sterling will cross the block, including a fine Gorham sterling silver partial flatware service in the Lansdowne pattern, monogrammed, containing one hundred twelve total pieces, comprising twelve forks, twelve knives, twelve soup spoons, twelve fish forks, eleven teaspoons, ten ice cream forks, ten fruit spoons, ten butter knives, eleven seafood forks, eleven demitasse spoons, serving fork and spoon. Total weighable silver of the lot is 98.50 OZT.

Miscellaneous decorative arts in the sale include a Louis Vuitton steamer trunk, having the original label in the interior, stamped #153691, with tray, hasp plate stamped with New York and London addresses and patent, measuring 12 3/4" high, 31 3/4" wide, 19 1/2" deep; a group of six Russian porcelain plates with depictions of Russian Army soldiers, transfer decorated, 12" diameter; and a Carl Kauba (Austrian/American, 1865-1922) "Indian and Canoe" painted bronze, incised "Kauba" with illegible foundry stamp on canoe side, measuring 5" high, 10" wide.

Several lots of Asian decorative arts are on offer, and the sale also includes several fine estate Persian and Caucasian rugs in scatter and room sizes.

Part Two - The Stevenson Americana/Folk Art Collection

The Stevenson Americana/Folk Art Collection being sold starting at 2:00 pm on sale day offers something for everyone interested in 17th and 18th century American decorative arts. Ranging from a rare small early American carved horn snuff box, with the top engraved "Robt. Morris" to a rare Connecticut cherrywood Queen Anne secretary with high cabriole legs, drop down writing board and blocked interior, the Stevenson Collection comprises two hundred choice lots of early Colonial furniture and decorations sourced from prime New England sources over the course of many years of collecting.

Notable furniture lots include several early bannister back, pilgrim century and windsor side and arm chairs; many early Queen Anne cherry, maple and paint decorated tea, tap and drop leaf tables; case items including a cherry Queen Anne lowboy, a William and Mary walnut highboy, a cherrywood ogee footed four drawer chest, and an early paint decorated blanket chest; and several other early candlestands, side tables, and mirrors.

Choices lots to be offered include several early folk art paintings and portraits. Of significant interest is a pair of pair of oil on poplar panel portraits of a husband and wife, unsigned and unframed, with apparently original brass ring hangers. Attributed to Zedekiah Belknap (American 1781-1858), the works measure approximately 27" high, 22" wide. Belknap worked mainly in New Hampshire, Massachusetts, and Vermont between 1807 and the late 1840s as an itinerant portrait painter, and is known to have painted over 150 portraits, most unsigned but highly attributable.

Folk portraits include an anonymous oil on panel portrait of William Lovejoy, Esquire, noted in an inscription verso as the son of Major Samuel and Lydia Abbot Lovejoy, born Wilton, New Hampshire, died Milford, New Hampshire 1823. The painting is 27 1/2" high by 19 1/2" wide sight; a framed oil on board portrait of a gentleman in a black coat, in the apparently original frame, sight size 29 1/2" high, 22 3/4" wide; and a charming American School folk art painting of a young girl with sewing basket, oil on canvas, unsigned, sight size 32 1/2" high, 27 1/2" wide. Another fine artwork to be sold is an oil on canvas painting in the manner of George Stubbs (English 1724-1806). The work depicts a horse with groom, titled "President - Favorite Mount of Lady Beauclerk". Unsigned, the work is 27 1/2" high, 35 1/2" wide.

Decorations and accessories include many lots of early lighting, textiles, theorems, tinsel art, andirons, delft tiles and chargers, and many folk art paintings and small artworks.

The catalog for the sale is viewable at www.woodburyauction.com. Internet, absentee and phone bidding are available by registering directly with Schwenke Auctioneers. The sale will be broadcast live through Live Auctioneers, Invaluable and Bidsquare. For information please call Schwenke Auctioneers at 203-266-0323.