Auction Blog
---
Fine and Folk Artworks & Furniture Surprise at Schwenke Holiday Fine Estates Auction
Posted November 25, 2015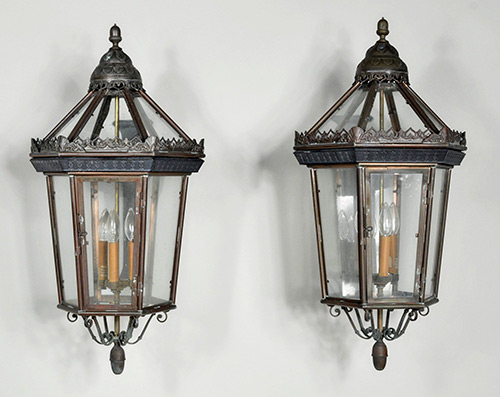 Pair Lantern Sconces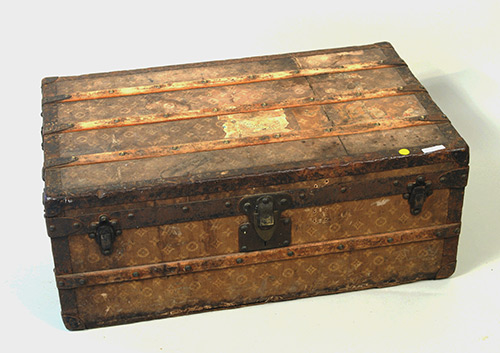 Louis Vuitton Steamer Trunk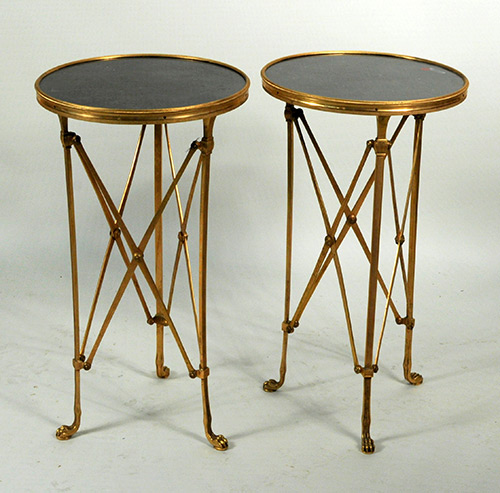 Pair Bronze Gueridons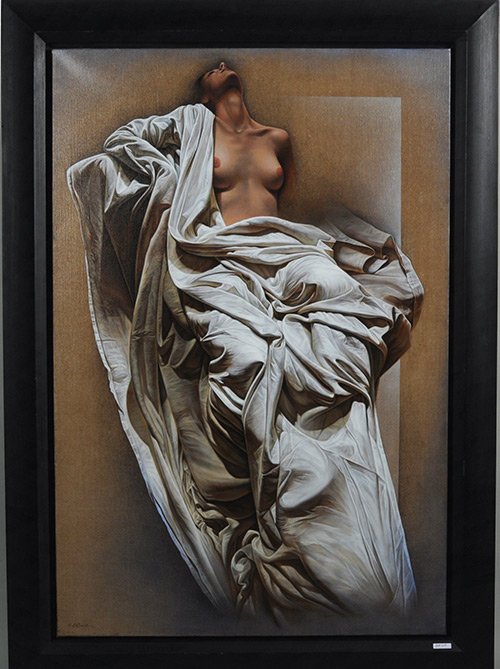 Claude Le Boul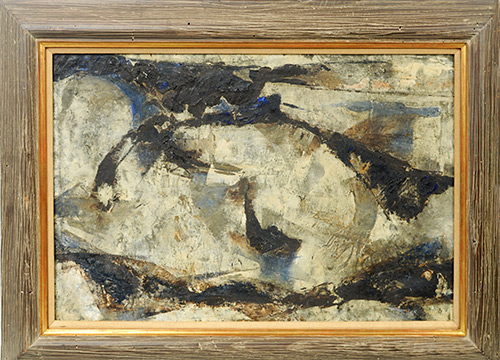 Untitled - Ernest Briggs Oil On Canvas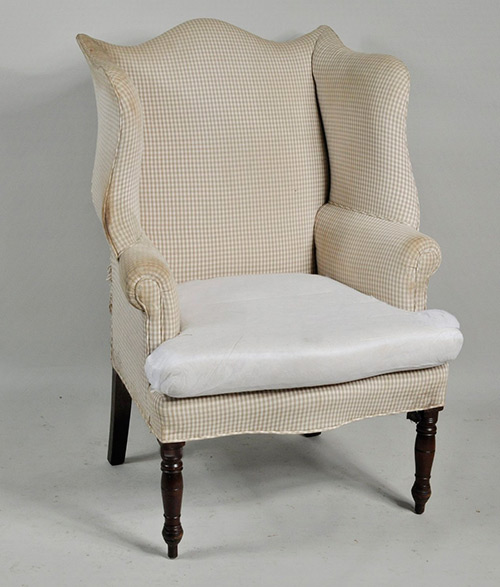 Sheraton Wing Chair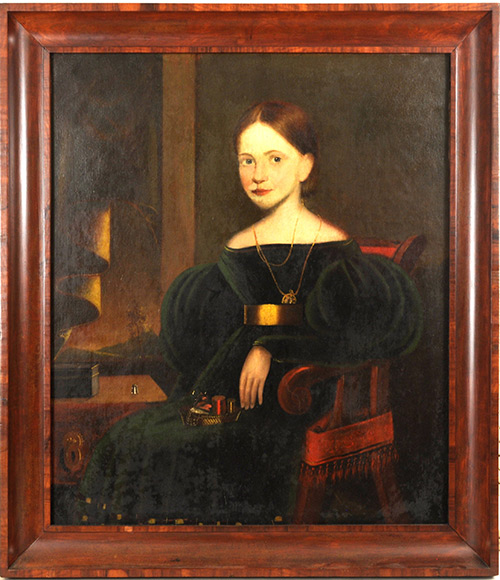 Folk Art Portrait Girl Sewing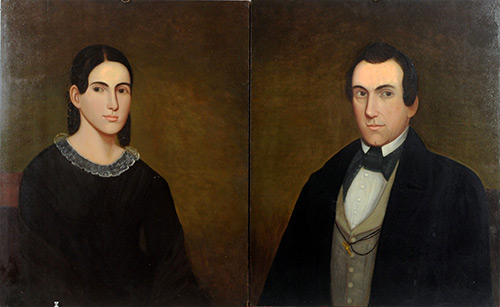 Pair Belknap Folk Art Portraits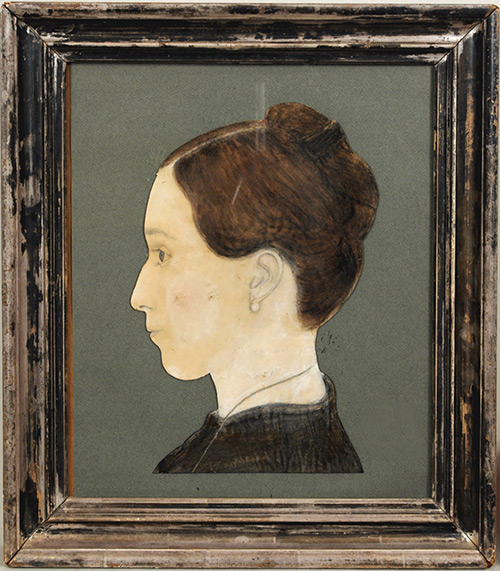 Ruth Bascomb Silhouette



George Stubbs Oil Painting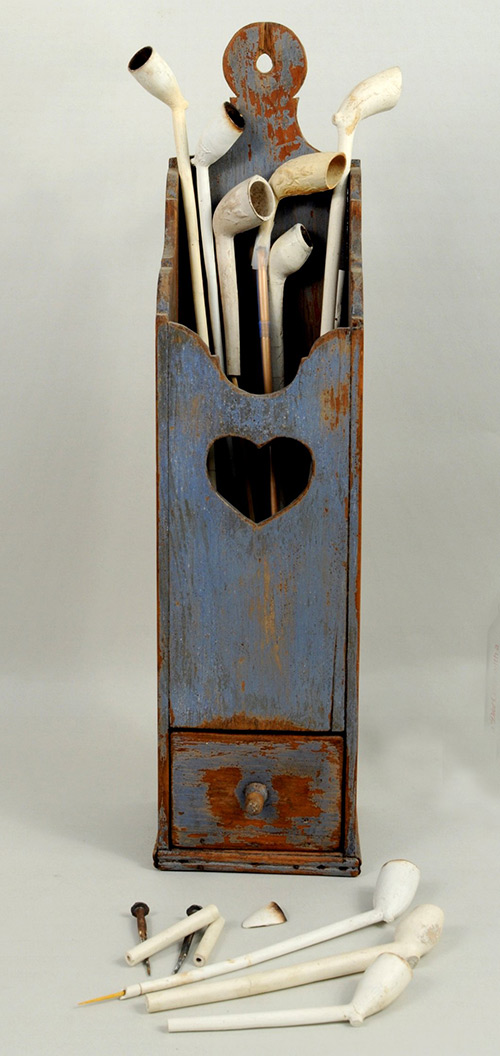 Paint Decorated Pipe Box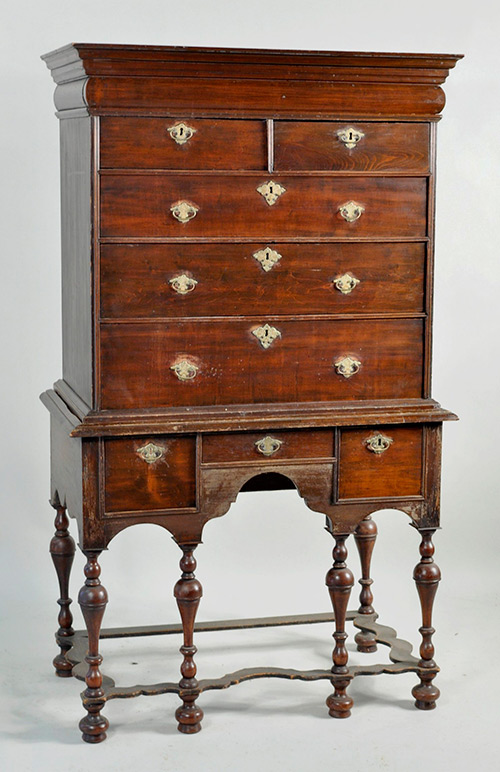 William & Mary Highboy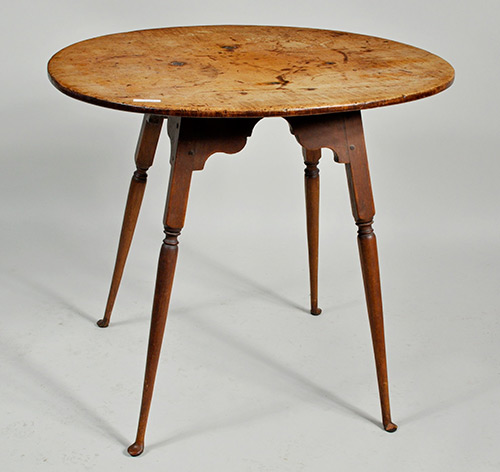 Queen Anne Splay Leg Maple Tea Table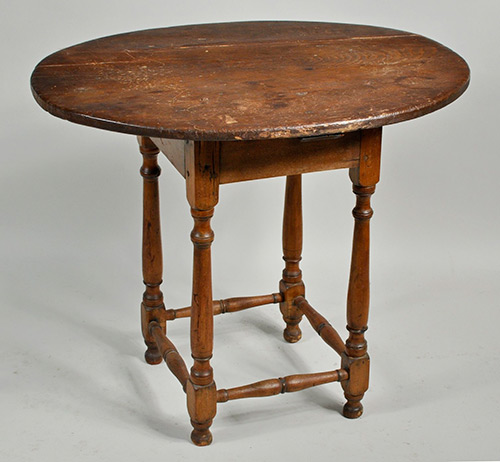 Early Oval Top Tea Table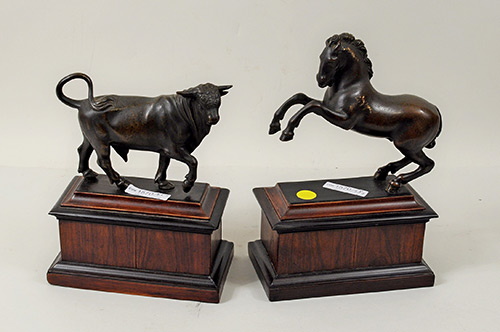 Pair Bronze Animal Sculptures



Folk Art and Americana Sold Well, Many Fine Artworks Were Sold

Woodbury, CT – On Sunday November 22nd Schwenke Auctioneers offered over 430 lots in its Holiday Fine Estates Auction. The sale began at 11:00 am with a Part One eclectic and diverse offering of 235 lots of Mid Century Modern, American, English, Continental and Asian decorative arts, consigned from estates and consignors from Connecticut, New York, New Jersey, and Massachusetts. After a short break, Part Two commenced for the sale of over 200 lots of the Stevenson Americana/Folk Art Collection. A packed saleroom and several thousand internet bidders competed for the lots of fine 17th and 18th century American furniture, primitive and folk art paintings and portraits, and a variety of other fine and decorative American arts, and there were many surprises in the sale.

The first surprise was lot six, a very large pair of copper, brass, and metal exterior lantern sconces with acorn finials, standing 32" high, and 17" wide. With provenance from a circa 1902 Bedford, NY mansion owned by Florence J. Harriman, socialite, suffragist and diplomat, the lights jumped past estimate ($500-600) ultimately selling to an internet bidder for $4375. Another pair of similar but much larger standing lights from the same estate, cataloged as lot 122 and measuring 45" high, sold to a different internet bidder from Atlanta for $3250.

Several nicely framed etchings by Giovanni Battista Piranesi (Italian, 1720-1778) were offered in the first section of the sale, and the first such lot to be knocked down included two etchings, Carceri title plate and plate VI, both matted and framed and measuring approximately 21 1/2" high, 16 1/2" wide. The lot was hammered down by auctioneer Tom Schwenke to another internet bidder for $4575.

Lot 28, a Louis Vuitton steamer trunk with original label in interior, stamped #153691, with tray, hasp plate stamped with New York and London addresses and patent, and measuring 12 3/4" high, 31 3/4" wide, 19 1/2" deep, sold to a Live Auctioneers bidder for $1625.

Another standout lot of decorative arts was a pair of Empire style brass and marble top Gueridon tables, having circular black marble tops set on a brass tripod base with paw feet, measuring 27 1/2" high, 16" diameter. Several phone and internet bidders competed for the lot, with the internet ultimately claiming the tables for $1875.

Among the several artworks offered on behalf of various estate consignors was a Claude Le Boul (French, b. 1947) "Waiting" (En Attendant), oil on canvas, reclining female nude, signed lower left "C. LeBoul", titled verso, and sight size: 57 1/2" high, 38" wide. The striking work sold to an internet bidder for $2125. From the same estate was a framed half-length portrait by Sam McKinnis, entitled "Joe Santos, Class Passing", 2006, signed and titled verso and measuring sight size: 39 1/2" high, 29 1/2" wide. A bidder present in the saleroom claimed the alluring work for $2160 against competition from absentee and internet bidders.

Another artwork which surprised was an abstract work by Ernest Briggs (New York, Connecticut, 1923-1984), "Untitled" oil on canvas, signed, dated verso "E. Briggs, '55", and sight size: 14 1/4" high, 21 1/2" wide. The framed work, estimated $2000-3000, sold to a determined bidder in the room, against an in-house absentee under-bidder, for $6600.

Cataloged separately were seven individual Leonard Tsuguharu Foujita (1886-1968), original costume designs created in 1928 for a play directed by Fernand Gemier at the Odeon Theatre de l'Europe, Paris, written by Albert Keim and Albert Maybon after the celebrated Japanese drama Chuzenji Monogatari, by Okamoto Kido and translated by Kuni Matsuo. The works, graphite and watercolor on paper, were authenticated by Sylvie Buisson and included in the Foujita Catalogue Raisonne by Sylvie et Dominique Buisson, "La Vie et l'Oeuvre de Léonard-Tsuguharu Foujita", ACR Éditions, Paris, 2001, #28. Provenance listed is Fernande Gemier to a collector in Switzerland; thence to an American private collector. Selling to collectors from London, Paris and Massachusetts, the group performed as anticipated fetching a combined $5500.

The Stevenson Americana/Folk Art Collection, sold as part two of the Holiday sale, comprised over two hundred choice lots of early Colonial furniture and decorations sourced from prime New England sources over the course of many years of collecting.

Spirited competition resulted in many lots surprising well above estimate.

Notable items included a Sheraton mahogany upholstered wing chair, with serpentine crest and wings, turned front legs, Portsmouth New Hampshire area, early 19th century, measuring 45" high, 32" wide, 22 1/2" deep, estimated $400-500, which sold to a collector in the room for $3600.

A charming American School folk art painting of young girl with sewing basket, oil on canvas, unsigned, and sight size: 32 1/2" high, 27 1/2" wide, estimated $2000-2500, was claimed by a phone bidder for $7200.

A Massachusetts pilgrim century carver arm chair in old brown paint, measuring 46" high, 21" wide, 17" deep, sold to an internet bidder from New England for $4250, against a pre-sale estimate of $300-500.

Choice other lots include several early folk art paintings and portraits. Of significant interest was a pair of pair of oil on poplar panel portraits of a husband and wife, unsigned and unframed, with apparently original brass ring hangers. Attributed to Zedekiah Belknap (American 1781-1858), the works measure approximately 27" high, 22" wide. Belknap worked mainly in New Hampshire, Massachusetts, and Vermont between 1807 and the late 1840s as an itinerant portrait painter, and is known to have painted over 150 portraits, most unsigned but highly attributable. The pair of paintings were estimated at $3000-5000, and sold to a collector from New Jersey on the internet for $4375.

Surprising at $3375 to an internet bidder was a Ruth Henshaw Bascomb (American, 1772-1848) "Silhouette Portrait" pencil and pastel on paper, unsigned, and estimated at $500-600.

Another fine artwork sold was an oil on canvas painting in the manner of George Stubbs (English 1724-1806). The work depicted a horse with groom, titled "President - Favorite Mount of Lady Beauclerk". Unsigned, the work measured 27 1/2" high, 35 1/2" wide. After spirited competition among the phone, absentee and internet bidders, the lot was claimed by an internet bidder for $6875 (est $800-1000).

A blue early American blue painted pipe box with heart cutout and clay pipes, measuring 18 1/2" high, 4 1/2" wide, went to a phone bidder at $1920 against a pre-sale estimate of $400-500.

Other American furniture sold well, including a William & Mary New England walnut two part highboy, with baluster trumpet form turned leg base and shaped flat stretchers, early 18th century, measuring 68 1/2" high, 40" wide, 22 1/2" deep. The stately high chest sold to a phone bidder at $3000 against a pre-sale estimate of $3000-5000. A New England Queen Anne splay leg maple tea table, with oval top and small pad feet, early 18th century, measuring 27" high, 30 1/2" wide, 24 1/4" deep, was knocked down to a bidder in the room at $3120, well above the $1000-1500 pre-sale estimate. Another country table, a New England maple oval top tea table with stretcher base, mid-18th century and measuring 26" high, 31" long, 24" wide, carried the same pre-sale estimate of $1000-1500 and was sold to another bidder in the room for $3360.

Perhaps the biggest surprise of the sale came at the very end, when lot 431, a pair of bronze animal form sculptures on wood bases, measuring approximately 10" high, 6 3/4" wide and estimated at $400-500, sold to a bidder standing in the room, who claimed the lot against a determined but unsuccessful phone bidder, at a price of $9720.

The next Schwenke Auctioneers cataloged sale is scheduled for early February, 2016, and consignments are being accepted now for that sale. For consignment information please visit the firm's website www.woodburyauction.com or call Schwenke Auctioneers at 203-266-0323.