Auction Blog
---
Amazing Hoard of American Clocks Selling at Schwenke Auctioneers Onsite Estate Auction August 19-20
Posted July 19th, 2016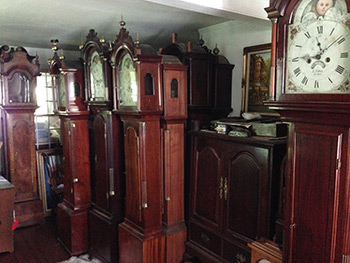 Tall Case Clocks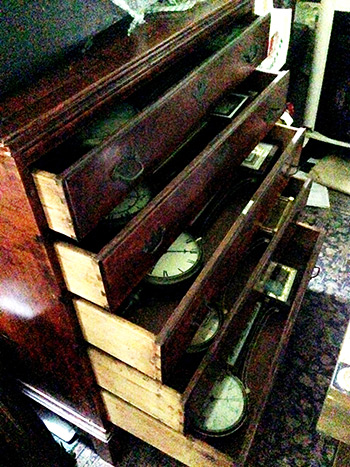 Banjo Chest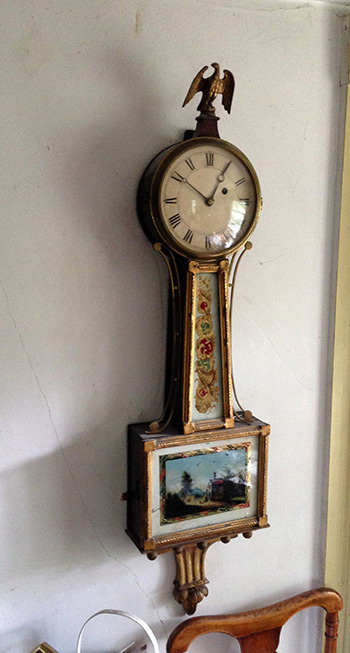 Presentation Banjo Clock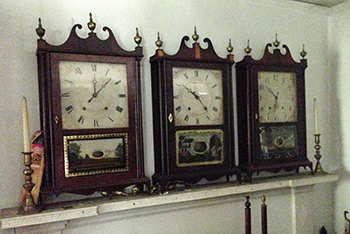 Selection Pillar & Scroll Clocks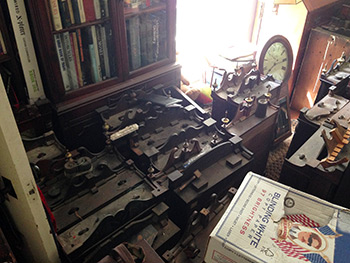 Large Group Mantle Clocks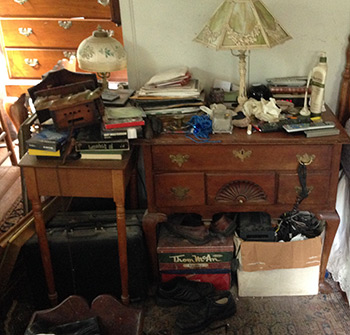 QA Lowboy



Including Hundreds of American Tall, Banjo, Bracket and Mantel Clocks, Vast Collection of Lionel Trains, and American Country Furniture

Woodbury, CT – On Friday and Saturday, August 19th and 20th, Schwenke Auctioneers will offer the entire contents of the estate of a long-time clock collector at an unreserved onsite public auction in Roxbury Connecticut. The sale will be held under tents on both days, and bidders must attend to bid as there is no internet bidding for this amazing sale. The auction will begin at 10 am each day. Absentee and phone bidding will be available for the Saturday session. This sale follows the pattern of previous on-site auctions by Schwenke Auctioneers which include The Estate of James L. Burns, held in Kent CT in June 2010, and The Lifetime Collection of David L. Bronson held in Stone Ridge NY in August 2015.

When interviewed about this upcoming sale, Tom Schwenke said "this is the most unbelievable collection of American clocks I have ever seen or heard of in my forty-five years in the antiques and auction business. Due to circumstances beyond our control, we were not able to begin inventory work on this sale until this past Monday, August 1st. Prior to Monday we had only walked through the house and taken a quick count and some I-phone photographs. We knew there were hundreds of clocks in this classic 18th century Roxbury colonial home, as the many tall clocks were lined up in rows in the first floor rooms, and there were literally stacks of banjo clocks and piles of mantel clocks everywhere. What we did not know is that the dozen or so vehicles on the premises were filled with mantel clocks and that most of the chests and other case pieces in the home were filled with banjo clocks – and good ones.

My long-time friend and fellow auctioneer Jon Lee from Albany signed on to help with the sale, and when he, his wife Nancy and some of our staff started work on the sunporch of the house on Monday August 1st the real adventure we had undertaken began to unfold. By the end of the afternoon, we had uncovered almost fifty additional American clocks which were not visible in that room which was being used for storage and was piled high with boxes. We discovered nine American tall clocks - including a rare Jacob Willard - twenty four banjo clocks – including four L. Curtis examples – and fifteen pillar and scroll and Empire mantel clocks by makers such as E. Terry, Silas Hoadley, Eli Terry Jr. and many others, mostly Connecticut makers. A five drawer New England tall chest in the room had five first-rate banjo clocks "filed away" inside, one in each drawer".

At present, the firm anticipates that the auction will include over 50 American tall clocks, including fine examples by Simon Willard, Aaron Willard, Elnathan Taber, at least 100 pillar and scroll and Empire mantel clocks, and possibly another 100 shelf, bracket and mantel clocks. The massive collection of Lionel trains found in the attic will be sold on the first day, along with selected furniture, clocks and general estate items. The second day Schwenke will focus on the core collection of clocks.

Interested bidders are encouraged to watch the Schwenke Auctioneers website www.woodburyauction.com for photos and updates, as the inventory process is ongoing and only two rooms have been undertaken as of the date of this press release. The remaining rooms will undoubtedly yield many surprises and work will likely not be completed until shortly before the Friday sale session.

There is no internet or online bidding for this sale. Absentee and phone bidding will be available for the Saturday session, and that second session may be previewed on Friday from 8am until 4pm and again from 8am to sale time on Saturday. The auction will begin at 10 am each day. All items are being sold unreserved and must be paid for and removed on the day of sale and no later than Monday, August 22nd. The exact location of the sale, as well as information regarding parking and transportation, will be available on the Schwenke Auctioneers website beginning one week prior to the auction. To register or arrange for absentee or phone bidding, please visit the firm's website, and for additional information please call 203-266-0323.