Auction Blog
---
Schwenke October 2nd Auction Offers 790 Lots of Fine Estate Property – Diverse And Eclectic Collections
Posted September 27th, 2016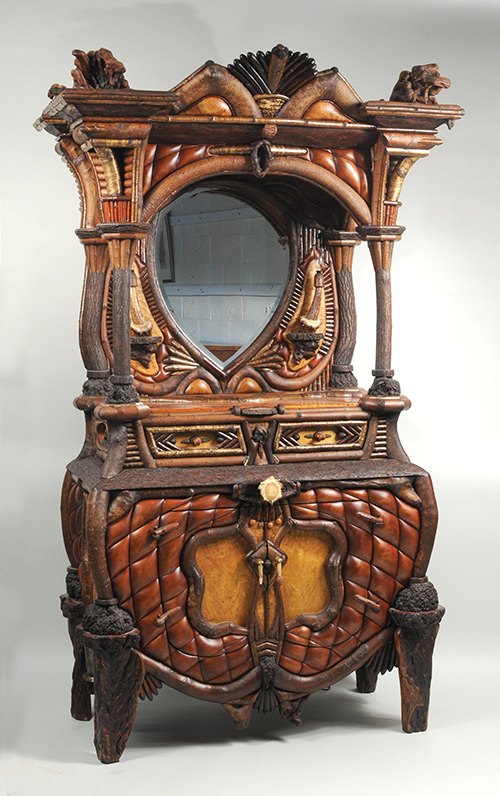 Randy Holden Rustic Andirondack Brandy Cabinet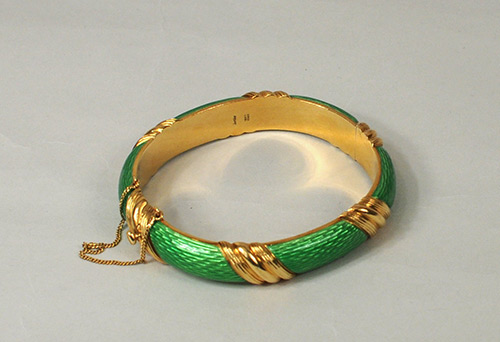 Vintage Cartier 18K Gold & Green Enamel Bracelet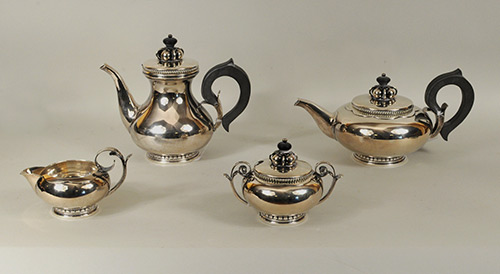 A. La Paglia Sterling Silver Four Piece Service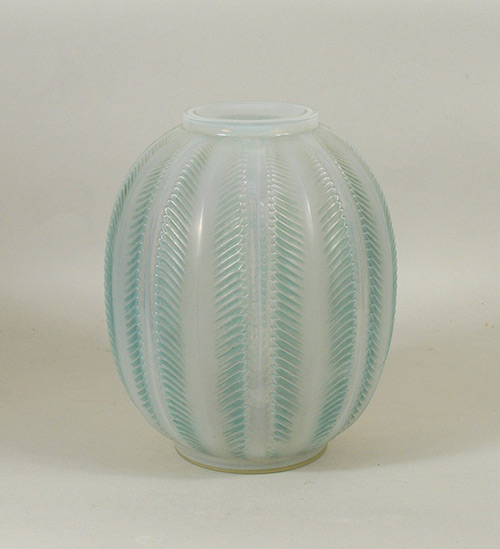 Rene Lalique Vase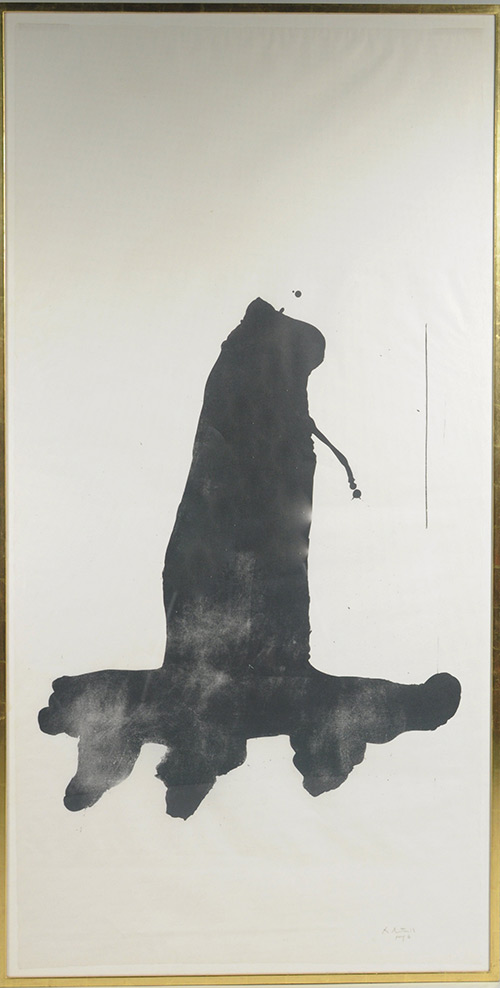 Robert Motherwell Samurai Lithograph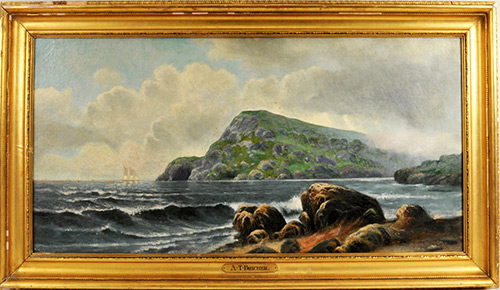 A.T. Bricher Seascape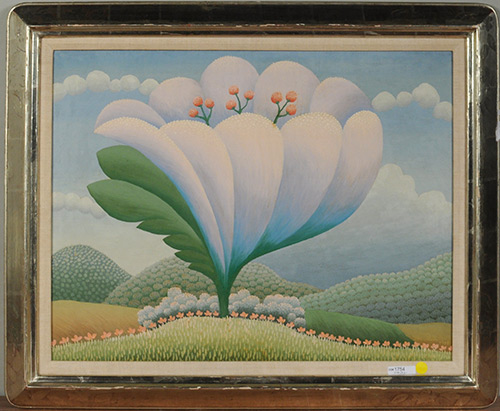 Rabuzin One Huge Flower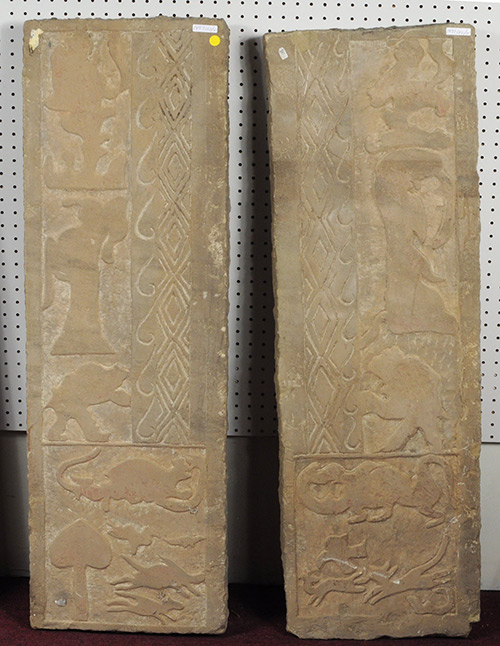 Pair Chinese Carved Stone Tomb Panels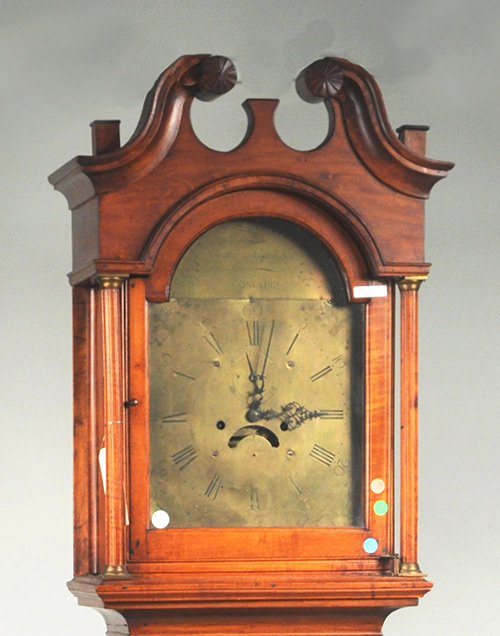 Timothy Chandler Tall Clock, NH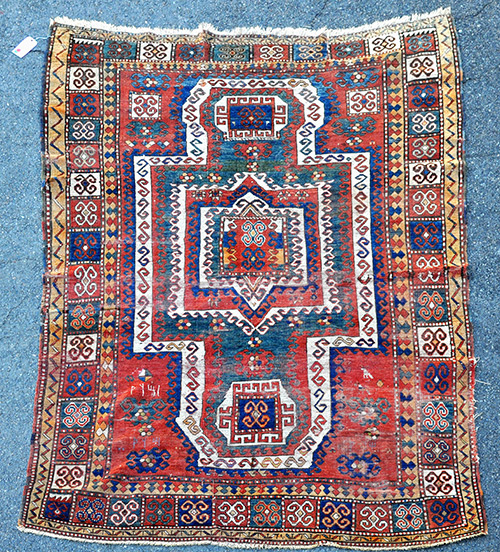 Signed Kazak Rug



Featuring Jewelry, Silver, Asian Decorative Arts, Mid-Century, Fine Art, Eastern European and Ethnographic Arts, American, Continental and English Furniture and Estate Oriental Rugs

Woodbury, CT – On Sunday October 2nd Schwenke Auctioneers will conduct its Connecticut Estates Auction with a remarkable offering of 790 lots consigned from several separate estates and consignors from Connecticut, New York, New Jersey, Pennsylvania, Massachusetts and Missouri. The auction includes several fine groups of American country and formal furniture and decorations, American folk art, Yale memorabilia, Asian decorative arts, Mid-Century Modern decorative arts, English and Continental furniture and decorative arts, English & other sterling silver, jewelry, fine art, miscellaneous decorative arts, and estate oriental rugs.

This sale begins at 11:00 am in the firm's auction hall at 710 Main Street South, Middle Quarter Plaza, in Woodbury. Preview times are Thursday, September 29th through Saturday, October 1st from 10:00am to 5:00pm, and Sunday, October 2nd from 9:00am to 11:00 am sale time.

Specialty Items and Folk Art
One of the lead items in the sale is a remarkable Rustic Adirondack "Brandy Cabinet II" by Randy Holden, crafted in maple, birch and cherry with lighted and mirrored upper section over a pair of cabinet doors, accompanied by a certificate numbered 100 and dated 2005, and measuring 85" high, 50" wide, 33" deep.

Other folk art items include a very fine American Berlin work rug worked with an urn issuing flowering blossoms within a flower and vine border, on a dark blue ground. Signed "Wrought by Priscilla Kepner, January 18(5)0" mounted on a fabric covered frame and measuring 26" high, 59" wide; an American framed needlework sampler, pictorial sampler with homestead within a fruit and vine border, worked by Eleanor Garner, dimensions 24" high, 19" wide; and an American Federal grain painted poplar blanket chest, with fanciful grain painted decoration, on turned feet, sized 28" high, 47" wide, 22 3/4" deep.

Jewelry
Many lots of fine jewelry are on offer, including a men's gold and stainless Rolex date watch #15053, with yellow gold bezel, champagne dial, and gold and stainless band, with box and paperwork. Serial #8395337, 1985, with a 34 mm diameter case; a vintage Cartier 18K gold and green enamel bangle bracelet stamped "Cartier 18K Italy" with inscription "Je Taime Toujours Burt Flurer 1968" measuring 7/16" wide, 2 5/16" inner diameter, 2 5/8" outer diameter, and gross weight: 35 DWT; a sterling silver multi-stone collar mounted with amethyst, citrine, garnet, blue topaz and possibly peridot, 5 1/2" wide, 11" long, gross weight: 4.6 OZT; a Native American sterling silver and amethyst collar stamped "LS" above bow and arrow, second monogram, dated "88", sized 8" long, 4 3/8" inner diameter, and gross weight: 2.97 OZT. Other Native American jewelry includes a large Navajo sterling and amber cuff stamped "Sterling", wrist size approximately 6 1/2; and a Mexican sterling silver and brass grape form pendant and clip earrings stamped "A. Gelos?", gross weight: 1.565 OZT.

Sterling Silver
Sterling silver lots on the block include an Alphonse La Paglia (Italian, 1907-1953), four piece tea and coffee service designed for International Silver Co. comprising teapot, coffee pot, sugar and creamer, bases stamped "La Paglia Designed", gross weight 101.205 OZT; a Chinese export silver teapot with hand hammered lid and body, three hallmarks on base, one "LH" for Luen Hing, Shanghai c. 1910, measuring 5 1/2" high, 10 1/2" wide and gross weight 16.425 OZT; and a pair of Tiffany and Co. sterling silver serving dishes, monogrammed, sized 2 1/4" high, 8 7/8" wide and weight: 26.59 OZT.

Mid-Century Modern
Several lots of Mid-Century Modern are hitting the block in this sale, including an unusual Modernist Lucite chiming grandmother clock with brass and etched metal dial, visible works with 9 chimes, twist turned and pierce carved pendulum, with key, standing 72" high, 17" wide, 11 1/2" deep; a modern round glass table with beveled top and four black enameled metal side chairs with plastic wire wrapped seats, the table 28 1/2" high, 42" diameter, and the chairs 31" high, 18 1/2" wide, 18" deep; and a modern Barcelona style metal chair and ottoman with cushions, the chair 34 1/2" high, 26" wide, 22" deep, and the ottoman 15 1/2" high, 23" wide, 19" deep; and a Gae Aulenti for Knoll maroon enameled steel dining table, 29" high, 58 1/2" wide, 58 1/2" deep.

Another modern lot of interest is a Rene Lalique clear and frosted opalescent glass vase in the Biskra pattern, with teal green patina, model #1078, design circa 1932, signed on base twice with acid etched block signature "R. Lalique France", measuring 11 1/2" high, 9" deep.

Contemporary Fine Art
Several pieces of modern flat art are being sold, including a Robert Motherwell (American, 1915-1991), "Samurai, 1971" lithograph on Japanese Suzuki paper, signed, numbered in pencil lower right "R. Motherwell Proof G", embossed publishers seal to right of signature, sheet size approximately 72" high, 37 1/6" high; a Helen Frankenthaler (American, 1928-2011), "Solarium" lithograph, numbered, signed, dated in pencil lower margin "10/18 I. Frankenthaler '64". Framed, not examined out of frame, image size 17 15/16 high, 13 3/4" wide; and a second Helen Frankenthaler (American, 1928-2011), "Weathervane" aquatint numbered, signed, dated in pencil lower margin "13/23 Frankenthaler 1969-70", paper watermark "LAE" to left of edition number. Framed, not examined out of frame, plate 19 1/8" high, 14 1/8" wide, sheet approximately 29 7/8" high, 22 4/8" wide.

Fine Art
Over 100 lots of traditional fine art will be sold, including an Alfred Thompson Bricher (American, 1837-1908), "Grand Manan Island" oil on canvas, signed lower right "A.T. Bricher", sight size 17 1/2" high, 35 1/2" wide, and frame size 23 1/2" high, 42" wide. Bricher often spent summers in Grand Manan in New Brunswick, Canada and produced several paintings of the area. Other works include James Gale Tyler (American, 1855-1931), "Craft of 1850", Impressionist harbor scene, oil on canvas signed lower left, titled on stretcher and bearing Manhattan Galleries, Pasadena, California gallery label, sight size 14" high, 20" wide, and Brian Coole (British/American, b. 1939), "New York Harbor c. 1887", oil on board signed lower right, sight size 15 1/2" by 19 1/2".

Possibly important fine art items are an English school work, "The Maypole", possibly Thomas Gainsborough (Eng. 1727-1788), oil on canvas, unsigned, 20" high, 15" wide sight, 28 1/2" high, 23 1/2" wide frame; gilt cove molded frame with inscription "T. Gainsborough"; bearing old collection label verso with date "1761". Attribution reference: Armstrong, "Thomas Gainsborough", London, Seeley & Co., 1894, p. 78. Ref: American Art Association "Illustrated Catalogue of Valuable Paintings", New York, 1912, lot 26; and a drawing of a child, chalk on paper, signed lower right "Renoir", 13 3/4" high, 10 3/8" wide.

Eastern European Art
The sale also includes over 50 lots of Croatian and Eastern European naïve/folk art paintings, being sold for the estate of a prominent New York City dealer/collector who specialized in Croatian Naïve art, which is a classification of art that is often characterized by a childlike simplicity in its subject matter and technique. Many works are included in the grouped lots, and include many reverse paintings on glass, silkscreens, and works in other mediums. Typical of the works offered is a piece by Ivan Rabuzin (Croatian, 1921-2008), "One Huge Flower" oil on canvas, signed, dated lower right "Ivan Rabuzin 1971", sight size 21" high, 28" wide.

Asian Decorative Arts
This sale has several lots of Asian decorative arts on offer, including a fine Chinese Jizhou prunus vase with hawksbill glaze, Qing dynasty, 13 3/4" high, 8 1/2" diameter; a Chinese Ming Dynasty, Wanli Period Kraakware blue and white charger depicting various forms of marine life bordered by flowers and various motifs, 18" diameter, and a rare pair of Chinese reverse paintings on glass depicting an emperor and empress, each with gilt inscription at top, in pierce carved hardwood stands, sight size 31 1/4" high, 20 1/4" wide; a Chinese porcelain turquoise glazed bowl enameled with scholar amid waves, crane and bats below flared rim, KangXI mark, 2 3/4" high, 5 1/4" diameter.

The Schwenke firm has become known for upside surprises in the area of Asian decorative arts, ever since the sale a few years ago of a double sided jade panel for a record $392,000. According to Tom Schwenke, this October sale also includes items with potential for surprise. An upstate New York estate yielded a group of extremely rare early Chinese carved stone tomb covers/panels. The panels were just received shortly before the sale was scheduled to be posted to the internet platforms. The group includes two single tomb panels and three pairs of panels, thought to be Han dynasty, which were originally purchased by a collector along with the tomb contents during a trip to China in the early 1900's. The panels average 48" high by 18" wide.

Continental and English Decorative Arts
The sale includes many fine pieces of formal Continental and English furniture and decorations from several New York and Connecticut estates. Among the offerings are a Swedish neoclassical marble top console table, the molded variegated green/blue marble demilune top over painted and trellised pierce carved frieze with garlands and flowers, on fluted tapering legs joined by stretchers with urn finial, 19th century and later, standing 33" high, 56" wide, 23 1/2" deep; a Swedish rococo tragsoffa, painted white with shell carved motifs on short cabriole legs, measuring 36" high, 85" wide, 26" deep; a fine and rare pair of Swedish neoclassical painted and giltwood pier mirrors, having tablets with floral garlands above rectangular mirror plate within a ribbon carved molded frame, 19th century, 56" high, 21 1/2" wide; a French Provincial Louis XV fruitwood vaisselier, the associated upper section with shelves over a buffet with molded panel doors and fluted detail, 58" high, 55" wide, 24" deep; a pair of French empire style parcel gilt candelabra lamps, each three light with figural supports on a plinth base with classical mounts and acanthus detail, dimensions 30" high overall, 9 1/2" wide, the base 4" high, 4" wide; and a Regency rosewood rectangular wall cabinet with two crosshatch brass grillwork doors and plinth base, 35 1/2" high, 48" wide, 14 1/2" deep.

Americana, Formal/Country and Folk Art
This large auction includes a sizable group of American formal and country furniture, decorations and folk art consigned from several estate sources. American lots of interest include a Bucks County, Pennsylvania walnut tall clock, brass dial signed "Benjamin Morris, New Britain", the case 89" high, 20" wide, 11" deep with a molded closed

bonnet, tombstone shaped door and bracket feet. Benjamin Morris (1748-1833), worked in Reading, Hilltown and New Britain Pennsylvania, and was a highly productive clock maker who is estimated to have made at least three hundred tall clocks. Another American tall clock offered is a maple tall case clock with scroll top bonnet and arched tombstone waist door, set on bracket feet, 81 1/2" high, 19 3/4" wide, 8 3/4" deep, with a brass 8-day movement with sheet brass dial inscribed "Timonth Chandler", probably Concord, NH.

American furniture includes a Queen Anne walnut dish top tea table with bird cage support, baluster turned shaft and arched cabriole legs ending in pad feet, Pennsylvania, 18th century. 36" diameter, 28" high; an American Queen Anne figured maple chest, with molded edge top above two short drawers and three graduated long drawers, set on bracket feet, 36" high, 38" wide, 21" deep; a New York or Connecticut Hepplewhite mahogany sideboard with serpentine front having three long drawers over two central cupboard doors flanked by single cupboard doors on straight legs, 42 1/4" high, 69 1/2" wide, 26 1/4" deep; a Pennsylvania Chippendale walnut dower chest having a rectangular hinged top, applied molded edge and original strap iron hinges, the dovetailed case fitted with three drawers on molded base with original bracket feet and hardware, 29" high, 49 1/2" wide, 22" deep; a possibly Southern yellow pine Queen Anne side table with one drawer and four turned legs ending in pad feet, 27 1/2" high, 27" wide, 20" deep; and a fine New England Chippendale cherry chest of drawers, drawer fronts with birdseye maple star inlay, ornate bale brasses, resting on ogee bracket feet, 35 1/2" high, 37" wide, 19" deep, provenance: Pook & Pook September 24th and 25th 2013 auction.

Oriental Carpets
The sale also includes over 35 fine estate oriental carpets including Persian, Caucasian and Turkoman room and scatter sized rugs, and other regional and modern rugs of varying sizes. One example of interest is a Caucasian Kazak, signed lower left, 6' long, 8' 5" wide.

The catalog for the sale is viewable at www.woodburyauction.com. Internet, absentee and phone bidding are available for this live gallery auction by registering directly with Schwenke Auctioneers. The sale will be broadcast live through Live Auctioneers and Invaluable. For information please call Schwenke Auctioneers at 203-266-0323.