Auction Blog
---
Previously Unknown Asahel Powers Portrait Among Fine Americana & Folk Art Featured at Schwenke Auctioneers April 26th Estates Auction
Posted April 25th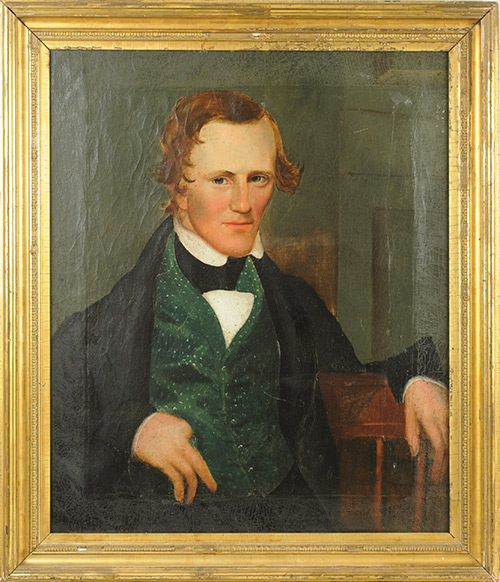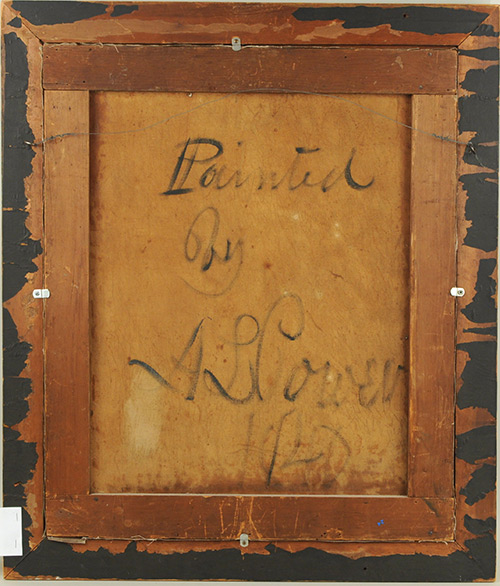 Folk Art Portrait Gentleman - A.L. Powers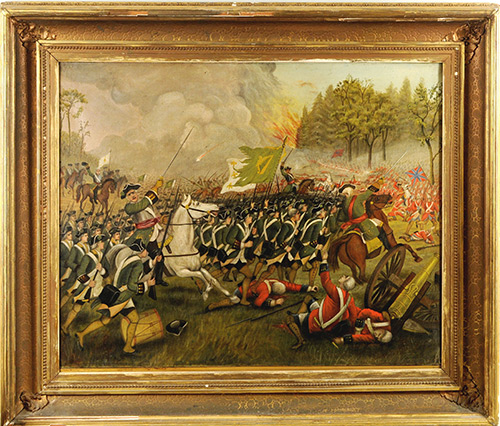 Folk Art Fontenoy Battle Scene O-C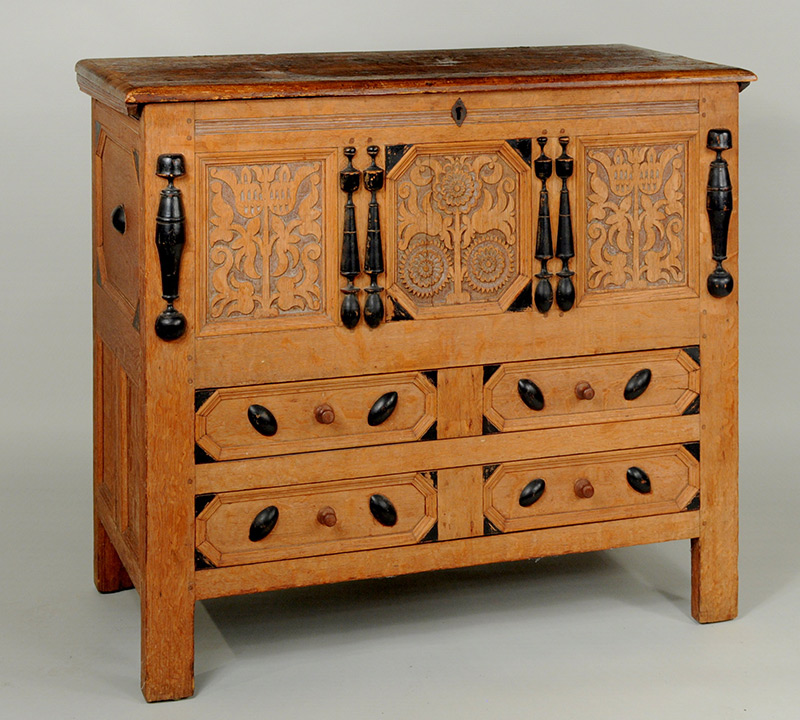 CT Pilgrim Century Oak Sunflower Chest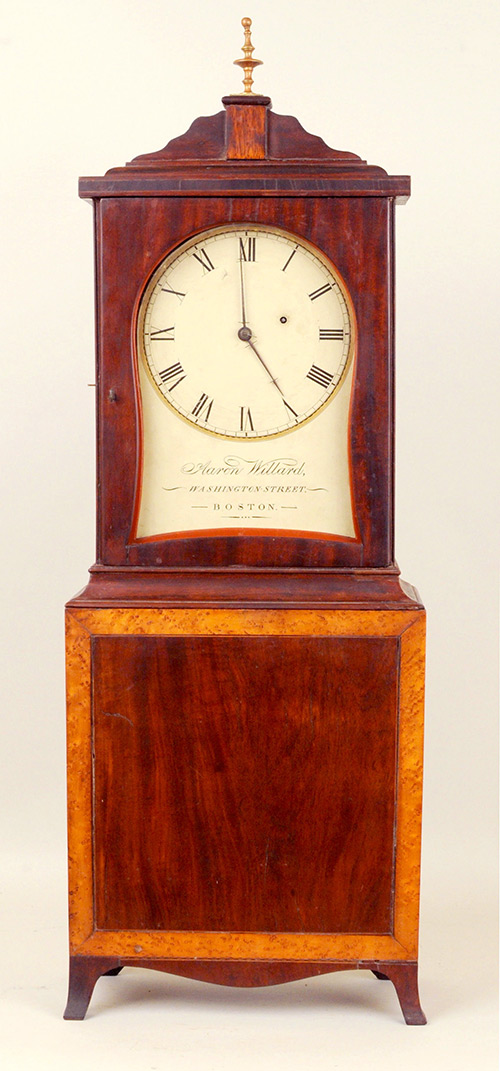 Aaron Willard Federal Shelf Clock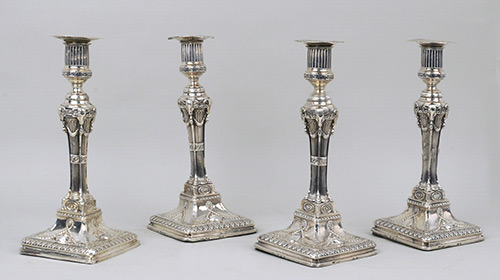 Set Four English Sterling Candlesticks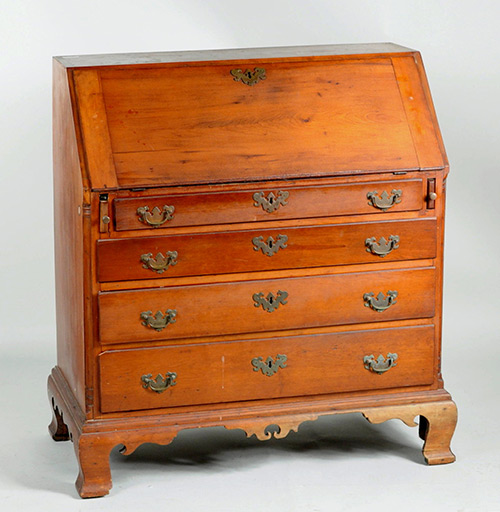 Fine CT Cherry Chippendale Desk



Offering Americana From Several Local Fairfield and Litchfield County Estates

Woodbury, CT – This Wednesday April 26th at 11am, Schwenke Auctioneers will hold an Americana & Folk Art Fine Estates Auction, featuring several local Connecticut estate collections of American country and formal furniture, decorative arts and folk art. The sale is being held at the firm's auction hall at 710 Main Street South, Middle Quarter Plaza in Woodbury. Remaining preview times are Monday, April 24th from 10am to 5pm; Tuesday, April 25th from 10am to 5pm; and Wednesday, April 26th from 9am to sale time at 11am.

One of several prime lots is a recently discovered oil on canvas folk art portrait of a gentleman, signed on the back "Painted by A.L. Powers" with illegible date, for Asahel Lynde Powers, the frame size 34" high, 29 1/2" wide. The portrait was discovered among the property consigned from a Litchfield County Connecticut Estate. Asahel Lynde Powers (1813 - 1843) was an American painter active in New England. Powers was born in Springfield, Vermont, and began his career as an itinerant artist at an early age. At 18 years old, Powers was already well-known. The first portrait attributed to him is of Dr. Joel Green from Rutland, Vermont, dated 1831, now on display in the Springfield Art and Historical Society. Like many contemporary paintings, Powers' early works were oil on wood panel. During the 1830s, Powers traveled through Vermont, Massachusetts, and New Hampshire. From 1839-1841 he worked in New York's Clinton and Franklin counties. In the early 1840s, he moved to Olney, Illinois where he died in 1843.

Numerous folk art portraits and paintings are being offered in the sale, including works by artists of the Prior-Hamblen School and other itinerant and anonymous artists. Among the rarest artworks is a folk art oil on canvas painting depicting Commander Dillon of the Irish Regiment leading his troops in a charge during The Battle of Fontenoy. That battle took place in 1745 and was a major engagement of the War of the Austrian Succession, fought between the forces of the Pragmatic Allies – comprising mainly Dutch, British, and Hanoverian troops under the command of the Duke of Cumberland – and a French army under Maurice de Saxe, commander of King Louis XV's forces in the Low Countries. The battle was one of the most important in the war and considered the masterpiece of Saxe, serving France; Louis XV, and his son, the Dauphin, were present at the battle. This work was also discovered among property consigned from a Litchfield County estate.

American furniture lots of interest include a rare and important pilgrim century joined and carved oak and maple "Tulip/Sunflower" chest with drawers, attributed to the shop of Peter Blin, Wethersfield, Connecticut, circa 1680, 47" wide, 40" high, 21" deep, with provenance from a New Haven, Connecticut estate and purchased many years ago from Nathan Liverant & Son, Colchester CT. Many other lots of American furniture are on offer, ranging from a rare child's Windsor fan back knuckle arm high chair to a Guilford Connecticut area cherrywood slant front desk, which descended in the Parmalee family.

Among the American clocks being offered is a Federal inlaid mahogany bracket clock, kidney shaped painted sheet iron dial signed "Aaron Willard - Washington Street - Boston" and in as found condition, 35" high. The clock is part of the property of a local Southbury, Connecticut estate.

Other categories of property being offered include English and American sterling silver, comprising for example a rare set of eight Tiffany & Co. German silver stag horn cups, as well as a fine set of four English sterling candlesticks made in Sheffield in 1775 by John Winter & Company.

This sale also features American painted furniture, artwork, quilts weathervanes and accessories. American country furniture lots include several cupboards, many blanket chest, windsor chairs, bannister back and slat back chairs, chests, desks, drop leaf and pembroke tables, candlestands, mirrors and a variety of other forms. Decorative items include quilts, candlesticks, accessories and a variety of Americana.

This sale also will feature several estate oriental carpets including Persian and Caucasian room and scatter sized rugs.

The catalog for the sale is viewable at www.woodburyauction.com. Absentee and phone bidding are available for this live gallery auction by registering directly with Schwenke Auctioneers, and the sale will be broadcast live on Live Auctioneers, Invaluable and Auction Zip. To register or arrange for absentee or phone bidding, please call Schwenke Auctioneers at 203-266-0323.