Auction Blog
---
Standing Room Only Crowd Attends A Lively Schwenke Auctioneers April 26th Americana Fine Estates Auction
Posted May 1st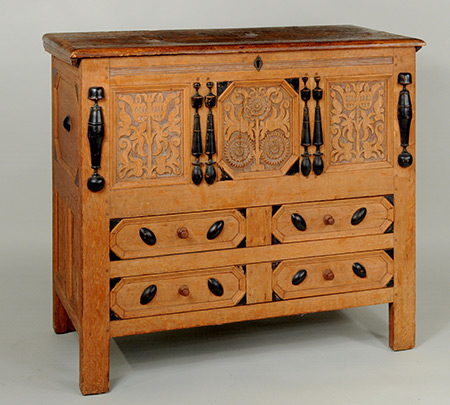 CT Pilgrim Century Oak Sunflower Chest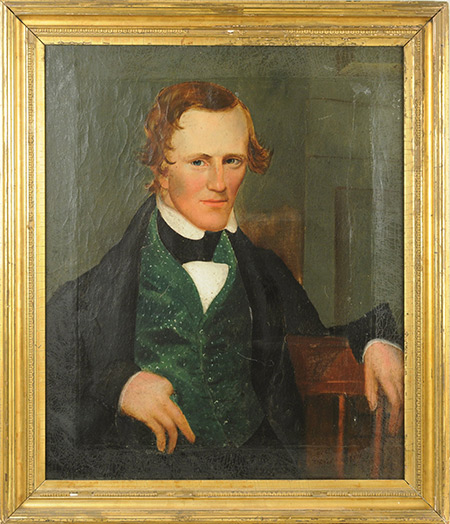 Folk Art Portrait Gentleman - A.L. Powers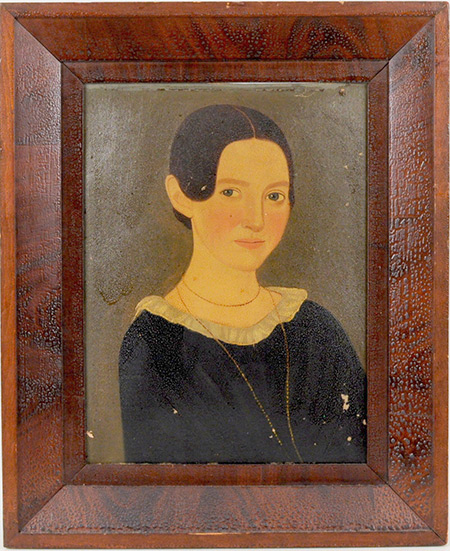 Prior Hamblen School Portrait Young Girl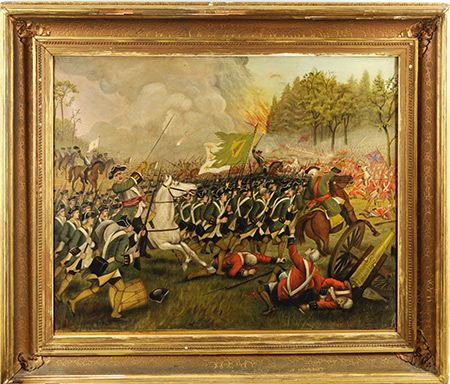 Folk Art Revolutionary War Battle Scene O-C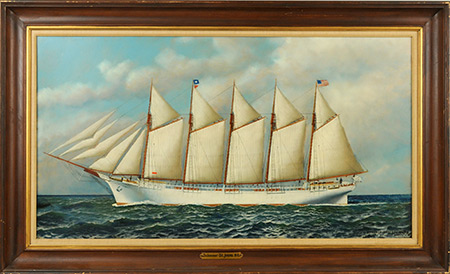 Antonio Jacobsen O-C Schooner St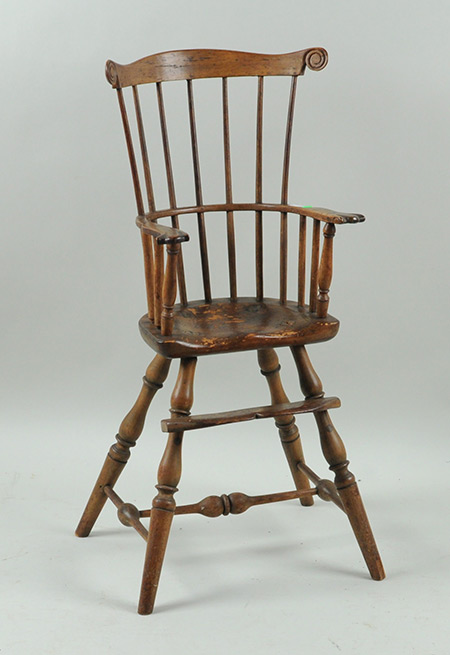 Child's Knuckle Arm Fan Back Windsor High Chair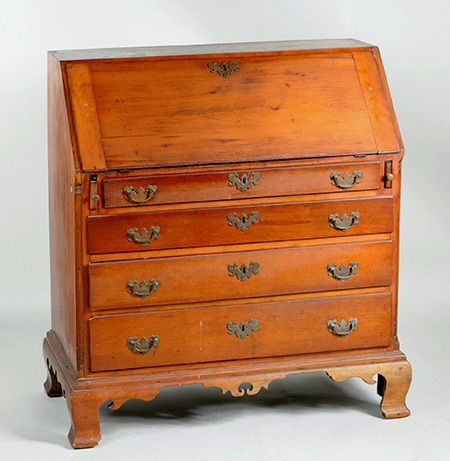 Fine CT Cherry Chippendale Desk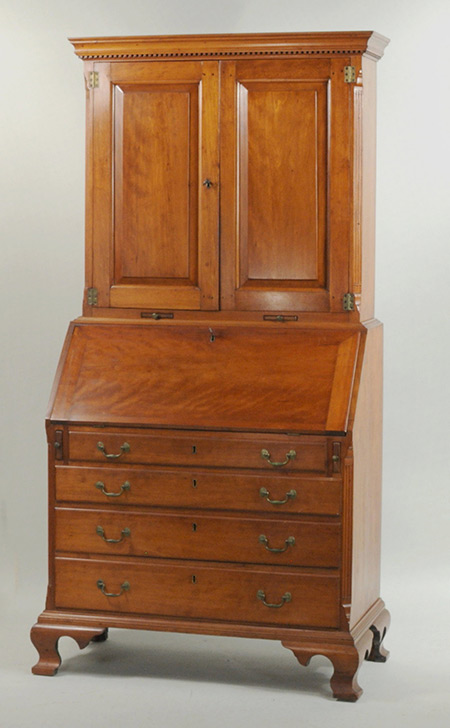 CT Chippendale Cherrywood Secretary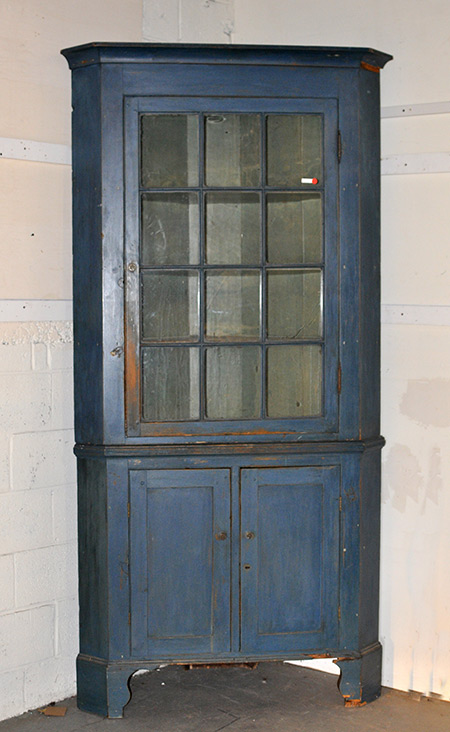 Chippendale Blue Cupboard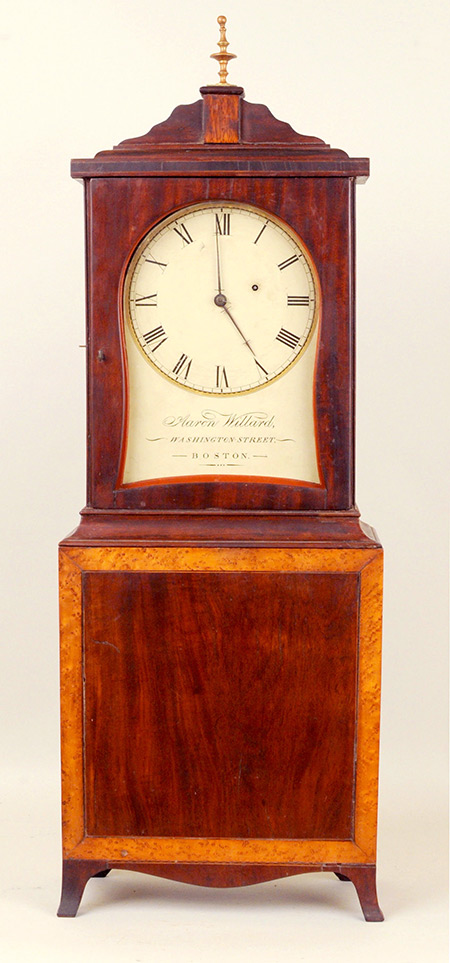 Aaron Willard Federal Shelf Clock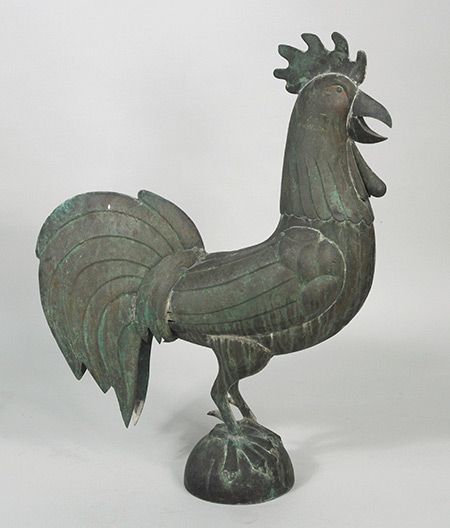 Folk Art Copper Rooster Roof Mount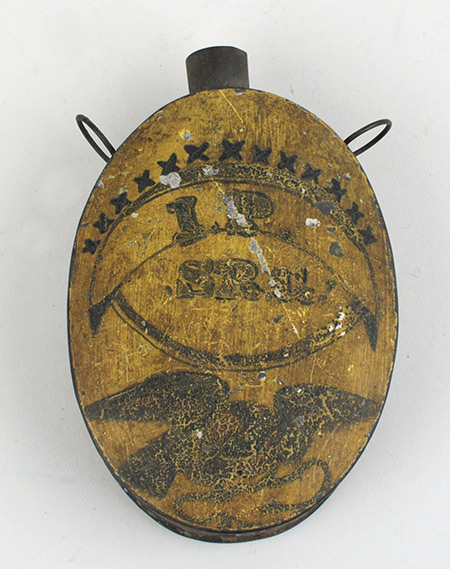 CT Militia Decorated Canteen, 19th C.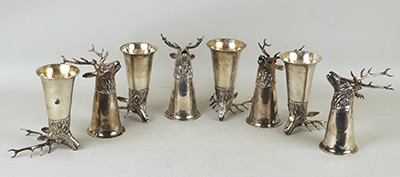 Group Eight German Sterling Tiffany Stag Cups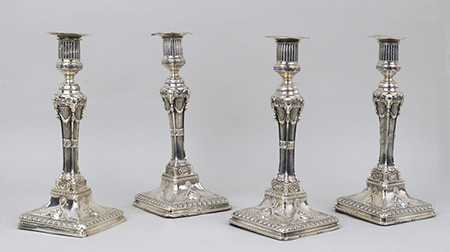 Set Four English Sterling Candlesticks



Strong Results For Americana From Several Local Fairfield and Litchfield County Estates

Woodbury, CT – On Wednesday April 26th at 11am, Schwenke Auctioneers held its spring Americana & Folk Art Fine Estates Auction, featuring several local Connecticut estate collections of American country and formal furniture, decorative arts and folk art. The sale was held at the firm's auction hall at 710 Main Street South, Middle Quarter Plaza in Woodbury. A standing room only crowd was on hand at the start of the sale, and strong prices and a high sell-through rate prevailed according to owner/auctioneer Tom Schwenke.

The top selling lot of the sale was the pilgrim century joined and carved oak and maple "Tulip/Sunflower" chest with drawers, attributed to the shop of Peter Blin, Wethersfield, Connecticut, circa 1680, 47" wide, 40" high, 21" deep, with provenance from a New Haven, Connecticut estate and purchased many years ago from Nathan Liverant & Son, Colchester CT. The rare early chest went to an absentee bidder at $11,400 against competition from the phone and the internet.

A recently discovered oil on canvas folk art portrait of a gentleman, signed on the back "Painted by A.L. Powers" with illegible date, for Asahel Lynde Powers, the frame size 34" high, 29 1/2" wide, was sold for $1,270 to an internet bidder. The portrait was discovered among the property consigned from a Litchfield County Connecticut Estate. Asahel Lynde Powers (1813-1843) was an American painter active in New England. Powers was born in Springfield, Vermont, and began his career as an itinerant artist at an early age. At 18 years old, Powers was already well-known. The first portrait attributed to him is of Dr. Joel Green from Rutland, Vermont, dated 1831, now on display in the Springfield Art and Historical Society. Like many contemporary paintings, Powers' early works were oil on wood panel. During the 1830s, Powers traveled through Vermont, Massachusetts, and New Hampshire. From 1839-1841 he worked in New York's Clinton and Franklin counties. In the early 1840s, he moved to Olney, Illinois where he died in 1843.

A rare folk art oil on canvas painting depicting Commander Dillon of the Irish Regiment leading his troops in a charge during The Battle of Fontenoy sold to a bidder in the room at $1,500. That battle took place in 1745 and was a major engagement of the War of the Austrian Succession, fought between the forces of the Pragmatic Allies – comprising mainly Dutch, British, and Hanoverian troops under the command of the Duke of Cumberland – and a French army under Maurice de Saxe, commander of King Louis XV's forces in the Low Countries. The battle was one of the most important in the war and considered the masterpiece of Saxe, serving France; Louis XV, and his son, the Dauphin, were present at the battle. This work was also discovered among property consigned from a Litchfield County estate.

Selling within estimate was a fine ship painting by Antonio Jacobsen (American, 1850-1921), "The Schooner St. Johns N.F." oil on board signed lower right "Antonio Jacobsen 1918, 31 Palisade Av. West, Hoboken, N.J." The Schooner St. Johns, a five masted coastal schooner was built by Percy and Small, Bath, Maine for the St. Johns Shipping Corporation in 1918. Principal dimensions of LOA: 240 ft., Beam: 43 ft., Depth: 23.5 ft., gross tonnage 2,046. Literature: Harold S. Sniffen, Antonio Jacobsen - The Checklist, New York 1984, pp. 264-254. 25 1/4" high, 41 1/2" wide. Provenance was from a 72nd Street NYC Private Collection, and the painting sold for $8,255 to an internet bidder against competition from the phone and two bidders in the room.

Another fine nautical painting in the sale was an Edouard Adam (Fr. 1847-1929), "The Brigantine Herdis of the American Star Line" oil on canvas, signed, dated lower right "Ed Adam 1919". This ship was owned by the consignors' grandfather. With frame size: 29 1/4" high, 43 3/4" wide and provenance from a 72nd Street NYC Private Collection, the fine work sold to a bidder in the room at $6,000.

Many lots of American furniture, folk art and decorative arts were offered, including a rare child's Windsor fan back knuckle arm high chair, which went out at $1,560 to a gallery bidder. A fine Connecticut cherry Chippendale slant front desk with folder of documentation, and original owner legend on bottom of thin upper prospect drawer, ogee bracket feet and center pendant, in estate condition measuring 37 1/4" wide, 41 3/4" high, 19 3/4" deep, with provenance Estate of Richard S. Eckstrom, Guilford Connecticut and a history of descent in the Parmalee family, sold within estimate at $960 to a bidder in the audience. A Connecticut cherry wood Chippendale two part secretary desk, with paneled door top and slant front base, both sections with flat fluted quarter columns with lamb's tongue terminals, and set on ogee bracket feet, was sold for $2,650 to an internet bidder. The desk had been consigned by a local Southbury Connecticut estate.

A blue painted Chippendale corner cupboard with original light blue under-paint, the upper section with twelve light glazed door, the lower with a pair of cupboard doors on bracket feet and later engraved hinges, with provenance: Pook and Pook 2013, was sold to an internet bidder at $2,285, against a $600-900 pre-sale estimate.

Among the American clocks offered was a Federal inlaid mahogany bracket clock, kidney shaped painted sheet iron dial signed "Aaron Willard - Washington Street - Boston" and in as found condition, 35" high. The clock was part of the property of a local Southbury, Connecticut estate. The clock was hammered to a phone bidder at $5,490.

Of the many folk art lots which were sold, a patinated copper folk art rooster roof cap or weathervane, 34 1/2" high, 27" wide, also with provenance from a 72nd Street NYC Private Collection, was claimed by a bidder in the room at $2,680 against a $500-800 estimate. A Connecticut militia decorated canteen, 19th century tin with early painted decoration and paper label verso "From the Holmes Farm, Middlebury, CT" sold well above estimate of $300-500, going out to an internet bidder at $3,170.

Other categories of property offered included English and American sterling silver, comprising for example a rare set of eight Tiffany & Co. German silver stag horn cups consigned from a Westchester County Estate, which sold for $7,200 to an internet bidder, as well as a fine set of four English sterling candlesticks made in Sheffield in 1775 by John Winter & Company, which also sold to the internet at $2,900 against strong competition from a phone bidder. An English sterling silver oval platter with armorial crest, made in London in 1808 by Paul Storr (1771-1844), 13" high, 17" wide and weight 58.90 OZT, from a New Haven estate, was claimed by an internet bidder at $3,400.

Among the surprises in the sale was a vintage Geib wood cased violin, together with five bows and miscellaneous loose parts, the violin and bows in estate condition and needing restoration. The violin had an interior label "Lor E Tom Carcassi in Firenze Del Anno 1743? Ali insegna Del Giglio", and one bow was faintly stamped "FN Voirin a Paris". Gleaned from the Estate of Richard Jablonski, Southbury Connecticut, the lot was estimated at $100-200, but was claimed by an internet bidder at $6,985.

Another surprise was a group of fine English books including first editions of "Browning's Paracelsus (1835)", "Swift's Travels Into Several Remote Nations of the World (Gulliver's Travels) (1726)", and "Johnson's A Journey To The Western Islands of Scotland (1775)", together with an 1822 edition of the "Complete Angler" and other diverse works, 15 volumes in various sizes and bindings. The lot carried a pre-sale estimate of $700-900 but were claimed by a dealer in the room at $2280.

The sale was broadcast live on Live Auctioneers, Invaluable and Auction Zip. The firm's next gallery sale is scheduled for Wednesday, June 14th at 11:00am. To discuss consignments or for additional information, please call Schwenke Auctioneers at 203-266-0323.