Auction Blog
---
Louis Vuitton Executive Trunk From NYC Estate Leads Schwenke Auctioneers June 14th Offering Of Over 800 Estate Lots
Posted June 21st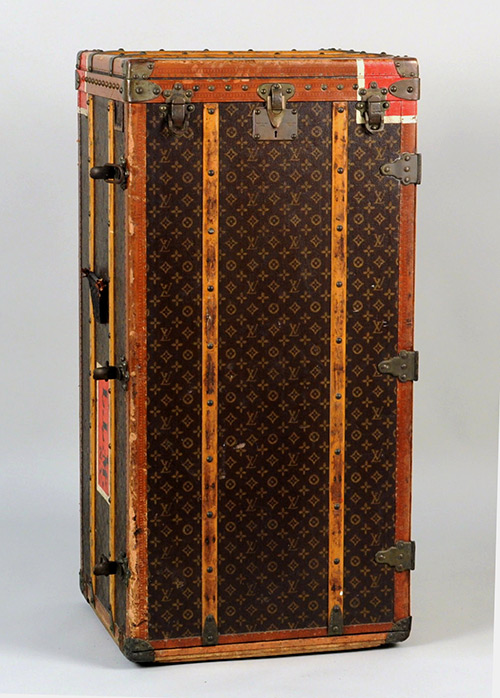 Louis Vuitton Steamer Trunk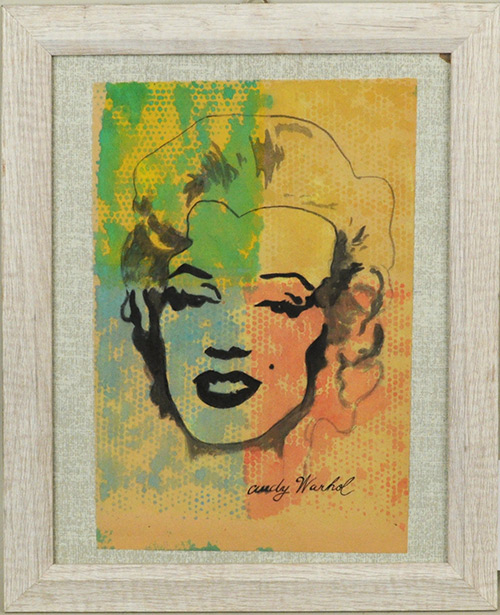 Andy Warhol Marilyn Monroe WC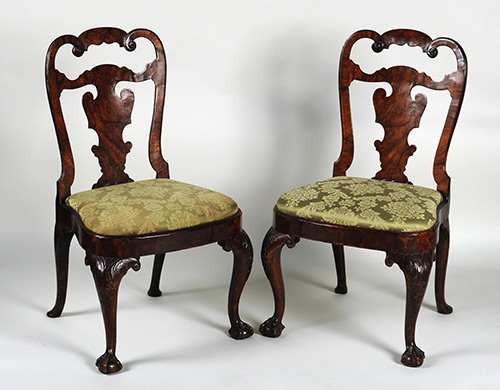 Pair Queen Anne Walnut Veneer Side Chairs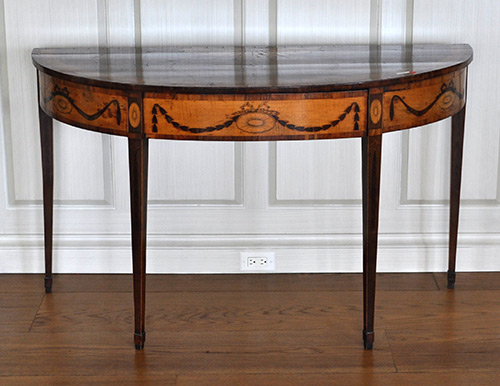 George III Satinwood Console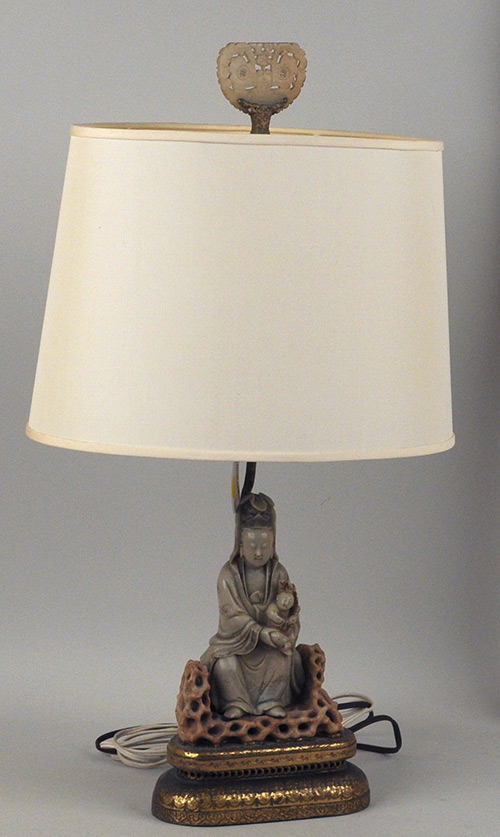 Chinese Hardstone Figure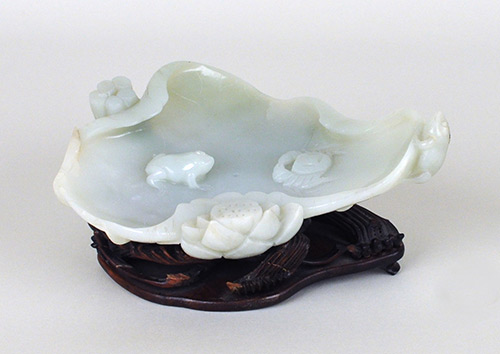 Chinese Carved Jade Dish Stand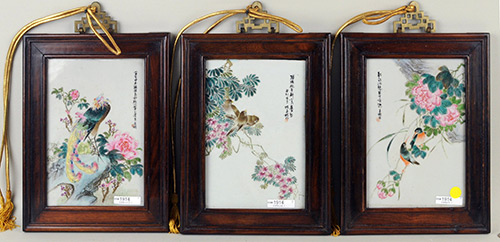 Three Framed Chinese Porcelain Plaques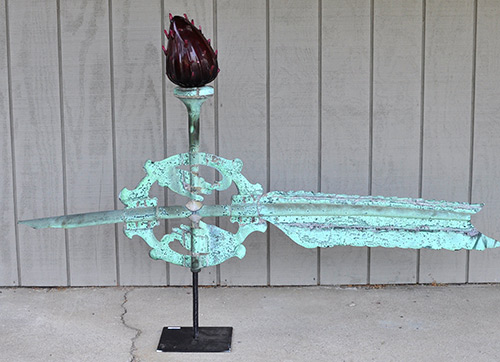 Copper Quill Form Weathervane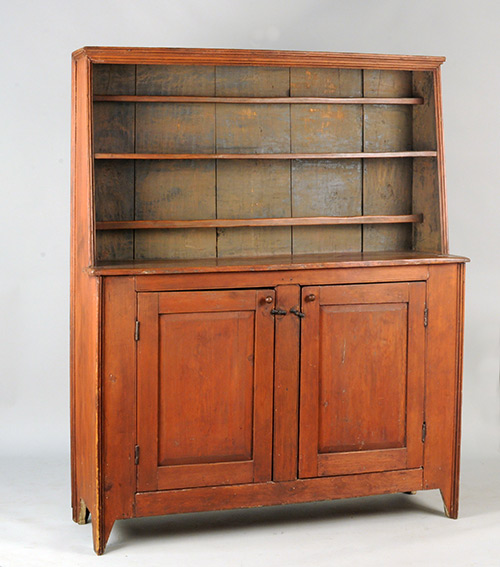 American Red Painted Pewter Cupboard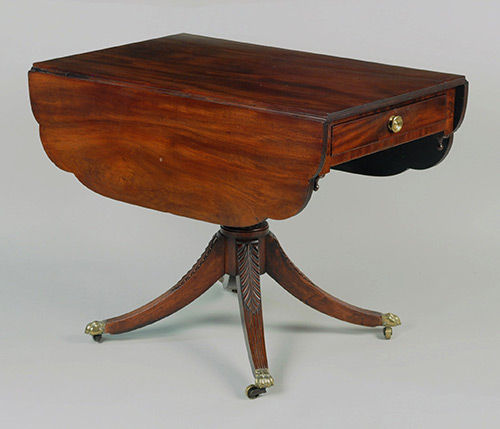 New York Federal Dropleaf Breakfast Table



Strong Results For English Furniture, Fine Art and Asian Arts

Woodbury, CT Ė On Wednesday June 14th at 10am, Schwenke Auctioneers held its Important Connecticut Estates Auction, featuring over 830 lots of estate property from several estates and consignors. The auction included American country and formal furniture and decorations, American folk art, English and Continental furniture and decorative arts, Asian porcelain and decorative arts, English & other sterling silver, Native American arts, erotica, jewelry, fine art, miscellaneous decorative arts, and a large group of estate oriental rugs.

Estate material included items from estates in New Haven, Guilford, Southbury, Woodbury, Westport, New Fairfield, Bloomfield, Hartford, New Canaan and Fairfield, Connecticut.. The sale was held at the firmís auction hall at 710 Main Street South, Middle Quarter Plaza in Woodbury. Due to the large number of lots, the sale began an hour earlier than usual, and the sale generated strong interest and a record number of internet and phone bidders, according to owner/auctioneer Tom Schwenke.

The top selling lot of the sale was the Louis Vuitton rare executive secretary trunk which hammered to a phone bidder at $21,600 against competition from a second phone and the internet. The trunk dated circa 1960's, with interior padded lid, fabric label #78318, over small fitted leather compartments and two small pullout drawers with leather LV tabs, pullout leather writing surface below over two large drawers and four smaller drawers below with two original keys. Exterior latches were stamped "LV Depose", lock stamped "BTE SGIC patent Louis Vuitton made in France, 149 New Bond Street, London 70 Champs Elysees, Paris 082316." Measuring 45" high, 22" wide, 20" deep, the rare trunk bore the monogram "LLM" for Lucy Loeb Marks, who was the original owner. This trunk had never been previously offered and was the property of a New York estate.

The next top lot was the Andy Warhol iconic image watercolor of Marilyn Monroe, which went to a phone bidder at $13,800 against competition from the internet. The work on paper was signed lower right "Andy Warhol", and verso with two estate stamps, indistinct pencil notation "VF231.69 Molly Barnes Gallery Label 631 North La Cienega Boulevard Los Angeles, CA 90069", the sheet size measuring 12 5/8" high, 8 1/2" wide.

The auction included a number of fine English furniture and decorative items, several from a Fairfield Connecticut collection. Selling at $3,450 to a bidder present in the room was a pair of Continental plaster busts depicting finely modeled subjects in 18th century dress, standing 26" high, 17" wide, 10" deep.

Sharing the claim as the top English furniture lot was a very fine pair of walnut and walnut veneer Queen Anne side chairs, with the crests and splats with burled walnut veneers, the front cabriole legs with carved leaves and rosette returns ending in ball and claw feet, the slip seats now covered in silk damask. The chairs measured 38" high, 21" wide, 18" deep, and the lot included the original bill of sale from Frank Partridge, London. The lot was consigned by a New York City estate, and was won by a bidder in the room at $5,795.

Also selling at $5,795 but to an internet bidder was a very fine George III satinwood elliptical bowed front console table, the top and apron with elaborate neoclassical theme inlays with swags and bellflowers, standing 32 1/2" high, 56" wide, 21" deep, with provenance a Fairfield, Connecticut private collection.

The auction featured a large group of fine Asian decorative arts from estates in New York City and Massachusetts. The top Asian lot was a Chinese hardstone carved figure of woman and child on rockwork, which had been converted to a lamp. Measuring 24 3/4" high, 7 1/4" wide, the figure fetched $5,715 from a London internet bidder. From the same estate, a Chinese carved jade dish in the form of a lotus leaf with crab and frogs on a similarly carved stand, measuring 7 1/4" long, 6 1/4" wide, hammered for $2,550 to a bidder present in the room.

From another New York estate was a group of three framed Chinese porcelain plaques, each painted with scenes of birds and blossoms in a molded hardwood frame. The plaques dated later 20th century, measuring 13" high, 9 3/4" wide, and sold for $2,500 to another bidder in the room. Also drawing significant interest during the preview of the sale were two Chinese landscape scrolls, both ink and watercolor on paper, both signed, with red seals. The largest was 68" high, 18 1/2" wide, and the two sold for $2,667 to an internet bidder.

American formal and country furniture and folk art performed well, favorably received by the internet and other absentee bidders. The top Americana lot was a folk art copper quill form weathervane with a blown glass strawberry finial, on stand, standing 45 1/2" high, 66 1/2" long, consigned by a Florida estate. The rare form went out at $8,500 to a phone bidder, besting two other phones and the internet, as well as a bidder in the room.

Consigned by a Danbury Connecticut estate, a very nice American country red painted pewter cupboard, having two shelves and plate rail over two cupboard doors below, sold to a bidder in the room at $1,585. The cupboard measured 67 1/2" high, 54 1/2" wide, 17 1/2" deep.

Going to a New York State collector at $2,500 was a very fine New York Federal drop leaf breakfast table attributed to the shop of Duncan Phyfe, with cloverleaf drop leaf top with reeded edge, one working drawer, acanthus carved central column and four acanthus carved and reeded legs ending in brass paw casters, measuring 28 1/2" high, 36" long, 24 1/2" wide, 46" wide open. The table was being sold for a Fairfield County Connecticut collector.

Claimed by a bidder in the room at $2,040 was a serpentine inlaid mahogany sideboard, in the Baltimore tradition, with hollow front, signed "Cohen", and with provenance Edwin Ahlberg antiques with a label in drawer. The sideboard was quite a desirable size, measuring 37" high, 50 1/4" wide, 21" deep.

Among the surprises in the sale was an Asian ephemera lot from a New York estate, entitled "Pictures Of Peking" 3 Volumes, Donald Mennu, comprising oblong folios of early 20th century photogravures, by publisher R. S. Watson & Co. Shanghai, and together with six loose colored plates from a related series and the original bill of sale. The largest folio was 10" high, 14" wide, and the lot hammered for $3,925 to a phone bidder from England, winning out over numerous other in-house and internet bidders.

The sale was broadcast live on Live Auctioneers, Invaluable and Auction Zip. The firmís next gallery sale is scheduled for Wednesday, October 4th at 11:00am. To discuss consignments or for additional information, please call Schwenke Auctioneers at 203-266-0323.