Auction Blog
---
Fine Art Surprises at Schwenke November Fine Estates Auction
Posted November 21st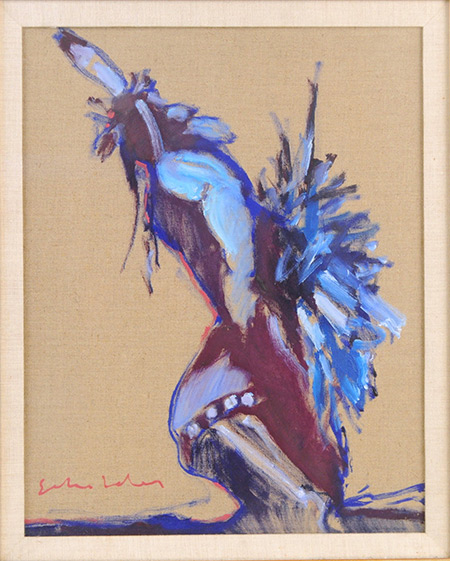 Framed Fritz Scholder OilLinen Of A Native Dancer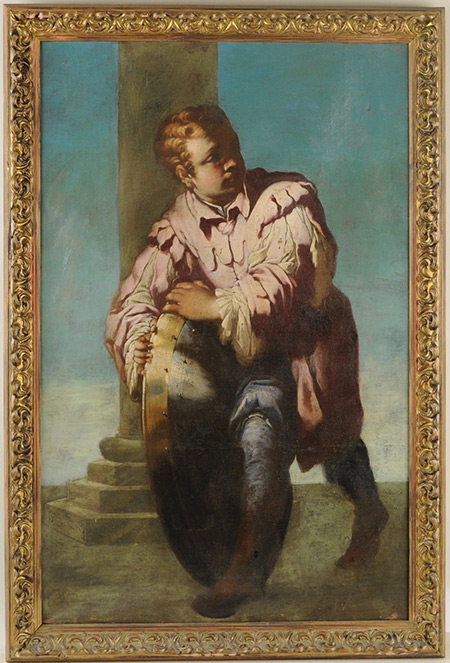 In The Manner Of Paolo Veronese Boy With Shield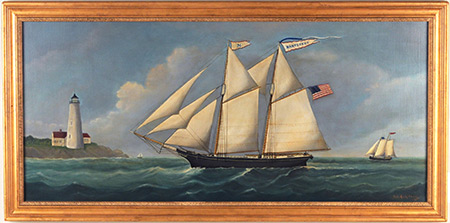 R. Nickerson, Nautical Scene OC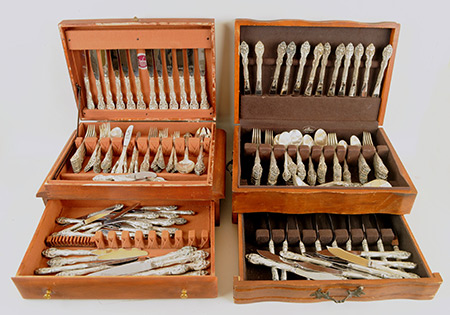 Large Gorham Sterling Flatware Service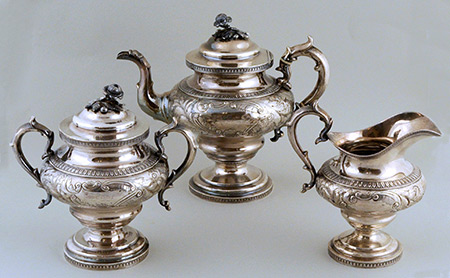 W. Thompson Coin Silver Tea Service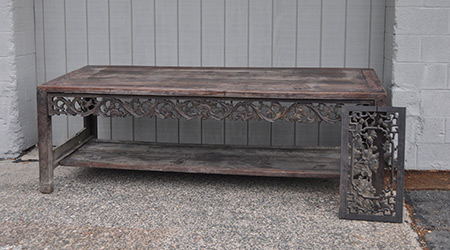 Large Chinese Carved Hardwood Palace Table




18C Dutch Marquetry Inlaid Tall Case Clock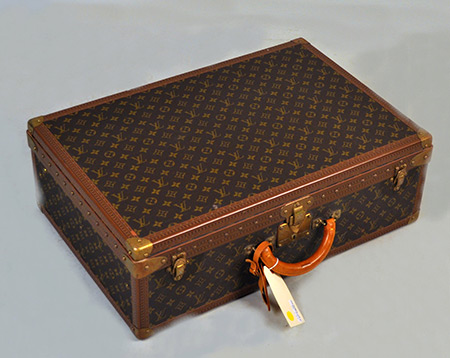 Louis Vuitton Luggage Case



Woodbury, CT – On Thursday November 16th, Schwenke Auctioneers offered over 390 lots of estate property in its November Fine Estates Auction. The auction included a broad selection of Asian decorative arts, American, English and Continental decorative arts, folk art and American country furniture, English & other sterling silver, jewelry, fine art, miscellaneous decorative arts, and estate oriental rugs. This auction was online only with in-house absentee and phone bidding.

Many lots of fine art were on the block, and of special interest were three framed works by Fritz Scholder, (Native American, 1937-2005), which had been consigned by a Connecticut private collector. The top selling lot of the sale was from among that group, a framed oil on linen of a Native American dancer, signed lower left. The work had an Elaine Horwitch Gallery label verso, and measured 23 3/4" high, 19 1/2" wide. The lot sold to a phone bidder from the West Coast at $15,250, with a pre-sale estimate of $2,000-3,000.

Another fine art lot received significant bidder attention, which was an oil on canvas in the manner of Paolo Veronese (Italian, 1528-1588) "Boy With Shield". Selling to a European phone bidder at $10,980, the work boasted a partial Metropolitan Museum label verso with title, artist information and owner "Mrs. H.S. Sanford", and a second label "The Page - Paul Veronese, bequested by her mother to Miss Wilhelmina Sanford". Measuring 45" high, 30" wide, the artwork carried provenance as "Property of a CT Private Collector".

Selling at $1,900 to an internet bidder was a nice framed marine painting by Reginald E. Nickerson (American, 1915-1999), entitled "Nantucket", a nautical scene, oil on canvas, signed lower right. A marine artist and ship painter, Nickerson painted as William C. Trenholm and Thaddeus Bannister before he signed his paintings as Reginald Nickerson. The painting measured 21 1/2" high, 43 1/2" wide, with provenance as Property of a Greenwich CT Estate.

The sale featured many sterling silver lots, and the top lot was a very large assembled set of Gorham sterling flatware in the "LaScala" pattern, comprising thirty five dinner forks (84.608 OZT), thirty two luncheon forks (49.295 OZT), twenty seven soup spoons (44.195 OZT), eighteen fish forks (14.660 OZT), eighteen tablespoons (33.855 OZT), eighteen teaspoons (22.485 OZT), nineteen dinner knives, seventeen luncheon knives, eighteen fish knives, nineteen fruit knives, seventeen butter knives, two serving forks (5.2 OZT), three serving spoons (16.835 OZT), one ladle (2.62 OZT), one pie server, two pickle forks, (1.265 OZT), one pierced server (3.345 OZT), three pierced salad servers (10.396 OZT). Total weighable silver of the lot was 282.859 OZT, with provenance as Property of a CT Private Collector. The lot sold at $5,185 to a phone bidder.

Also selling to a phone bidder at $1035 was an American three piece coin silver tea set, marked "Wm. Thomson-New York", comprising a tea pot, lidded sugar bowl and a creamer, with total weight 70 OZT, and provenance Property of a CT Private Collector.

A local Connecticut collection had yielded a group of rare Steuben crystal sculpture ornaments. Among those lots was a cased Steuben crystal 18K gold vermeil ornament entitled "Partridge In A Pear Tree", designed by Lloyd Atkins 1968, and signed "Steuben" on base, 6" high, 3" wide, 2 1/2" deep, which went to an internet bidder at $1,654.

A large number of Asian decorative arts items were offered, including Chinese and Japanese cloisonné urns and vases, Satsuma porcelains, Chinese export and domestic porcelains, Asian bronzes, Chinese wood carvings, Japanese woodblock prints, Asian folding and hanging screens, and Asian furniture and architectural elements.

Among the Asian top performing lots was a Chinese Yixing clay teapot with blue enameled decoration, measuring 5 1/2" high, 8" wide. The pot had been consigned by a Pennsylvania private collector, and was sold to a California collector bidding on the internet for $2,540, against an estimate of $100 to $200. Another Asian lot of interest was a Republic Period Chinese porcelain vase, square form, landscape decorated with calligraphy and seal mark to underside, standing 10" high, 4 3/4" wide, 4 3/4" deep, which sold to the same buyer at $4,860.

Many lots of Chinese hardwood furniture were offered, with the top two lots being a pair of quite unique and very large Chinese hardwood palace tables. The unusual pair were separated for sale, and each had pierce carved foliate apron, and carved end panels, above a flat shelf form stretcher. Measuring 31" high, 92 1/4" wide, 40 1/2" deep, the tables had provenance as "Property of a Connecticut Private Collector". Combined total for both lots, selling sequentially to the same internet bidder, was $9,200.

Many lots of fine English and European furniture and related decorative arts were featured in the sale, with the top lot a very fine 18th century Dutch marquetry tall case clock, gleaned from a Kingston, New York private collection, which went out to an internet bidder at $2,030. A set of ten Chippendale carved mahogany dining chairs sold well in the current market, fetching $1,150 from an internet bidder.

American furniture lots were also sold, including an Eldred Wheeler bench made Queen Anne style tiger maple highboy, which sold to an internet bidder at $1100. Two Louis Vuitton luggage cases crossed the block, both with original interiors and labels. They were lotted separately in the sale, but sold to the same internet bidder for a grand total of $2,650 for the two.

The firm's next catalog auction will be held in mid-January and will feature the Estate of Helena L. Franklin, including the collection of Mr. & Mrs. George S. Franklin and items descended from Nelson W. Aldrich (November 6, 1841 – April 16, 1915). Mr. Aldrich was a prominent American politician and a leader of the Republican Party in the United States Senate, where he served from 1881 to 1911 as the Senator from Rhode Island. In the 1890's he was one of the "Big Four" key Republicans who largely controlled the major decisions of the Senate. Because of his impact on national politics and central position on the pivotal Senate Finance Committee, he was referred to by the press and public alike as the "General Manager of the Nation", dominating tariff and monetary policy in the first decade of the 20th century.

For additional information regarding this important sale please call the auction hall office at 203-266-0323.