Auction Blog
---
Schwenke Autumn Auction Comprises Over 600 Lots From Multiple Estates, Featuring Property From The Estate of Lucy Jarvis, New York City
Posted September 4th, 2020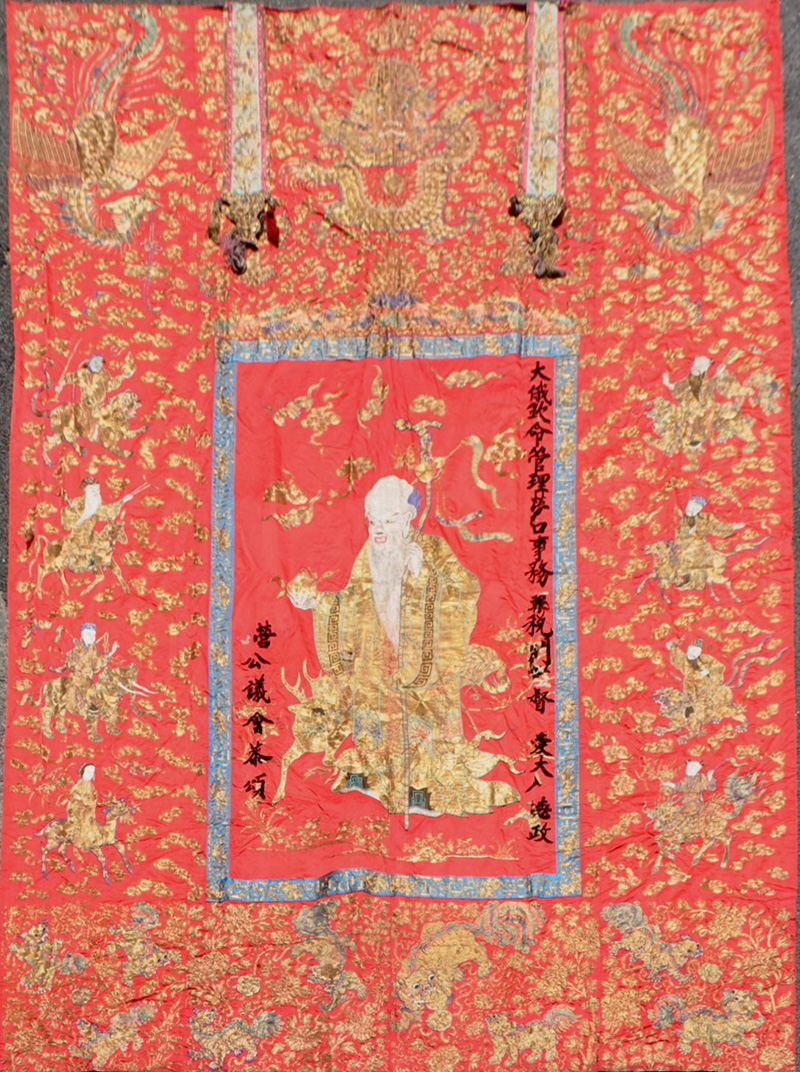 Chinese Palace Size Embroidered Silk Hanging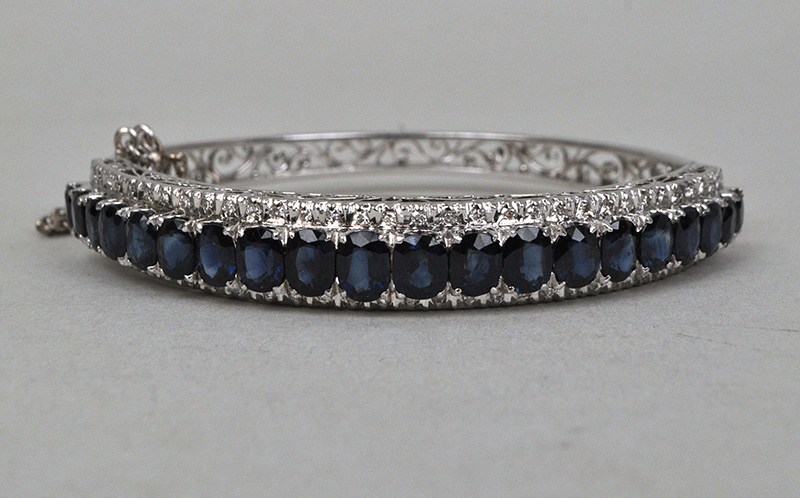 14K White Gold, Sapphire & Diamond Bracelet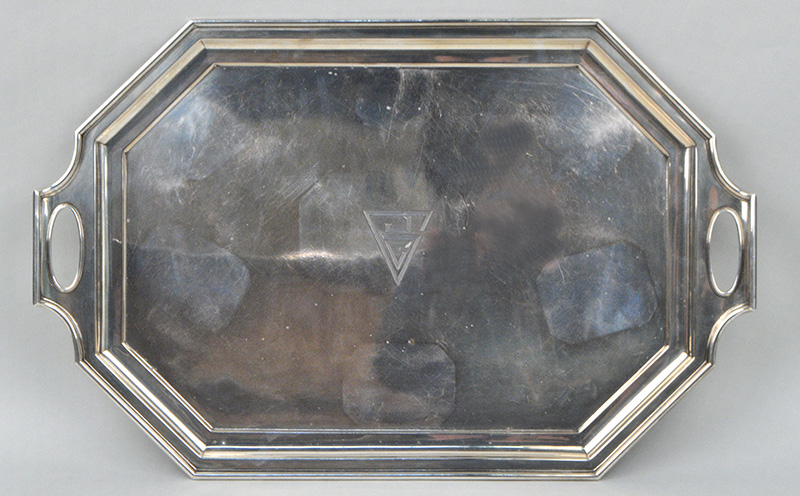 Art Deco Gorham Octagonal Sterling Tray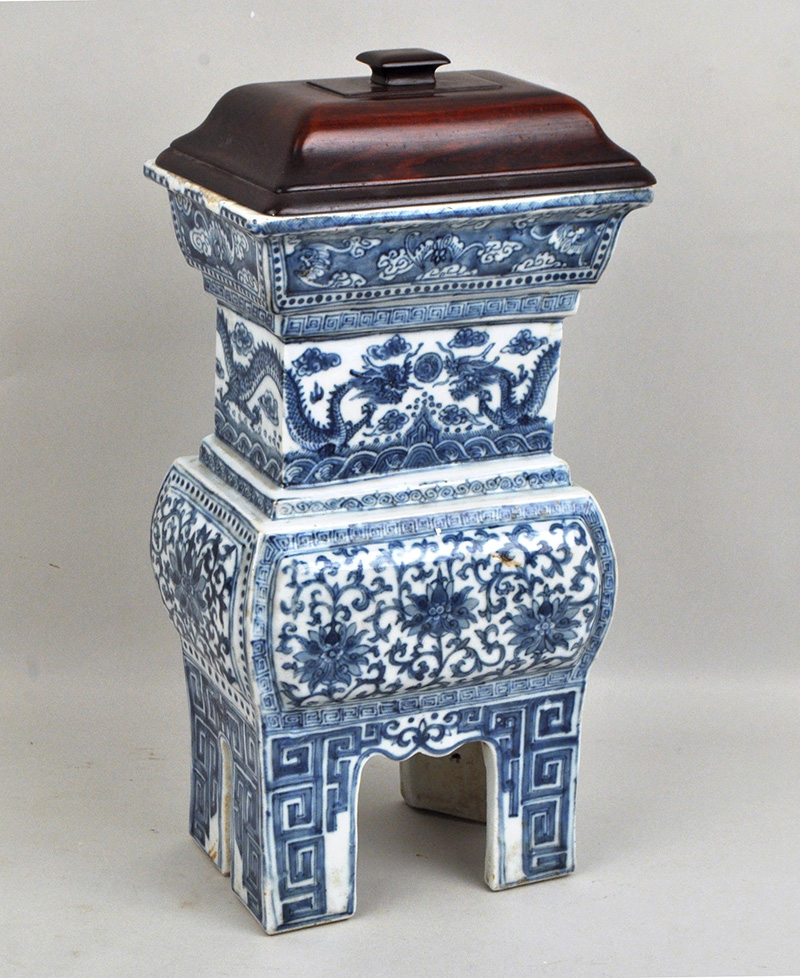 Large Chinese Qing Dynasty BW Porcelain Censer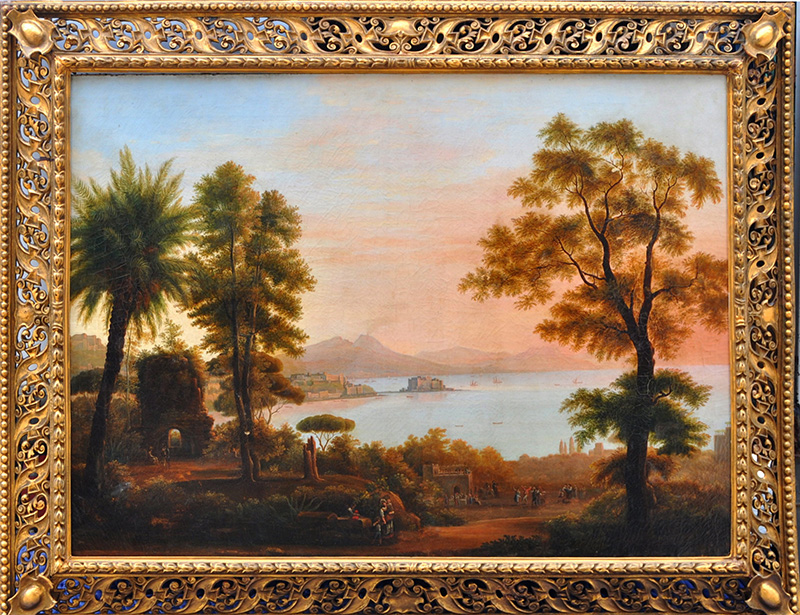 Large O-C View Of Naples & Vesuvius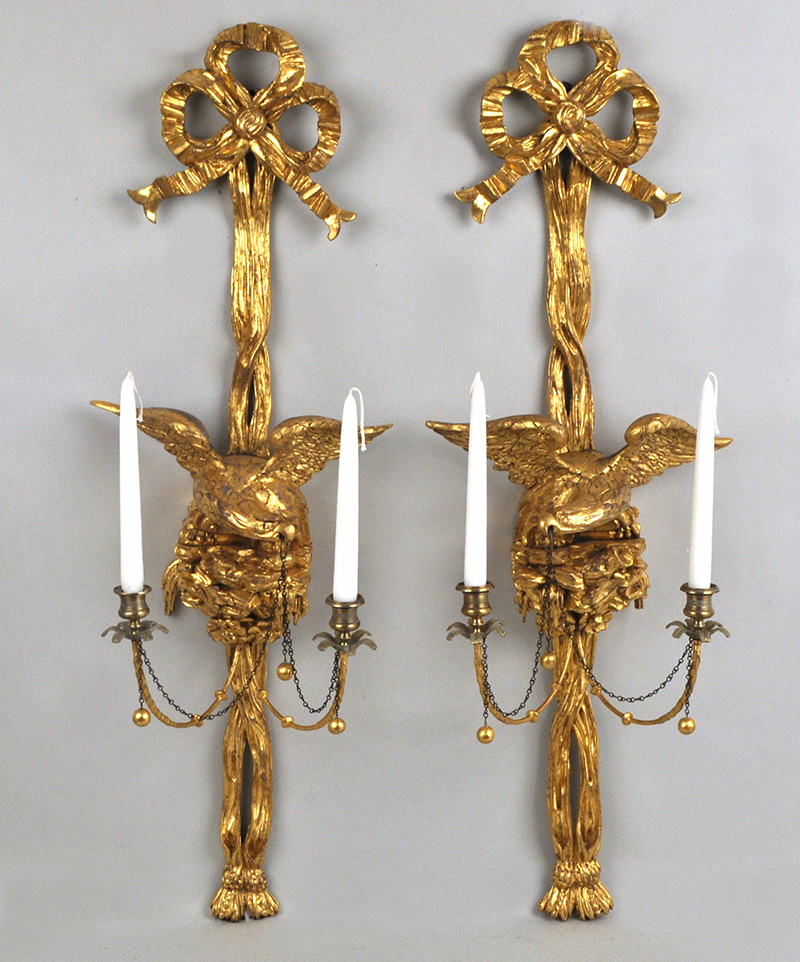 Pair Regency Carved & Gilded Wall Sconce Brackets



Woodbury, CT – On Sunday, September 20th Schwenke Auctioneers will hold its Autumn Fine Estates Auction which comprises over 600 lots of estate and collector items. The sale features over one hundred twenty five lots of fine and decorative arts from the estate of Lucy Jarvis, noted New York television and documentary film producer. The sale also includes over one hundred lots of American and Continental decorative arts from a Madison, Connecticut estate; a selection of American furniture and early toy trains from a New Haven County estate; sterling silver from a Southbury, Connecticut estate; American furniture from an Old Lyme, Connecticut estate; American and English furniture and decorative arts from a Fairfield, Connecticut collector; over one hundred lots of Asian decorative arts from several estates and consignors; fine art and sterling silver from a Stamford, Connecticut collector; fine English furniture and decorations from a Southport, Connecticut collector; a large collection of militaria from a New Haven collector; an American school painting from a Connecticut institution; fine art and sterling silver from two Washington, Connecticut collectors; fine jewelry from a Monroe, Connecticut collector; several lots of fine art from a Litchfield County, Connecticut collector; and other English and Continental furniture and decorative arts; English & other sterling silver, jewelry, Native American decorative arts, fine art, miscellaneous decorative arts, and estate oriental rugs.

Owner Thomas Schwenke noted that "We originally scheduled our 11th Anniversary Auction for Sunday, May 17th, but the Coronavirus epidemic and resulting mandatory business shut down in Connecticut on March 20th forced us to cancel and postpone that event. Now, almost six months later, we are bringing to market a fabulous and diverse offering of fresh estate material in this Autumn Fine Estates Auction, which doubles as a celebration of our eleventh anniversary. We are looking forward to an enthusiastic bidder response to this interesting and eclectic sale."

Estate Property of Lucy Jarvis

Lucy Jarvis was a groundbreaking producer in television and theater who was especially known for her documentary works covering previously uncharted territory. In the late 1950's and early 1960's, when television's top producing ranks included few if any other women, Ms. Jarvis helped bring about some remarkable programming, including gaining access to the Kremlin for a 1963 television special. In 1964 she took television viewers on an extensive tour of the Louvre in France, a documentary that won multiple Emmy Awards. In the early 1970's she was permitted to film in China, giving American viewers an inside look at ancient sites there at a time when that country was still largely sealed off.

Her work in theater was just as internationally adventurous. In 1988 she collaborated with Soviet producers to take a production of "Sophisticated Ladies", the Duke Ellington musical revue, to Moscow. In 1990 she brought the first Soviet rock opera ever seen in the United States, "Junon and Avos: The Hope", to City Center in New York.

In 1957 Ms. Jarvis co-founded and created the long-running radio and television series "Meet the Press." She started a program for the WOR-Mutual Broadcasting System that year called "Capitol Close-Up," which profiled powerful figures. Their first interviews were with President Dwight D. Eisenhower, Vice President Richard M. Nixon and the F.B.I. director J. Edgar Hoover.

In 1959 Ms. Jarvis joined NBC as an associate producer (she later became producer) of a Saturday night debate program, "The Nation's Future." It featured two people on opposite sides of an issue, with the newsman Edwin Newman as moderator. Ms. Jarvis began filming in China in August 1972, becoming "the first American since 1948 to be admitted to China to film news documentaries," one news report said. The documentary, "The Forbidden City," was seen on NBC in January 1973.

During her trips to China and the Soviet Union, she received myriads of gifts from dignitaries and others. Many of those gifts are being sold in this Autumn sale. Of particular interest is a palace size Chinese silk embroidery, with longevity imagery, worked with gold bullion and colors on a crimson ground, with Shou Lao in central panel flanked by the eight immortals, with dragon and phoenix above. The embroidery measures 13' high, 9' wide. Lucy Jarvis may indeed have been imbued with the longevity symbolism of this gift, as she lived a full and active life reaching age 102.

Other Chinese items of interest are a pair of Chinese large square polychrome porcelain vases with scenes of figures at various pursuits, 22 1/4" high, 7 1/2" wide; and a pair of richly carved and inlaid Chinese huanghuali arm chairs, 41" high, 28" wide, 19" deep. Many pieces fine art and decorative arts round out the Jarvis lots.

Jewelry & Sterling Silver

The sale has several jewelry pieces, including a pair of 18K gold and mother of pearl drop earrings, likely Van Cleef & Arpels, in the "Alhambra" pattern. Pattern marked "VCA 750 BL 276373" and measuring 2" long, 5/8" wide, the gross weight is 3.7 DWT.

From another Connecticut estate is a 14K gold, sapphire and diamond bracelet, with faceted oval sapphire at center flanked by nine graduated sapphires enclosed by two rows of small round diamonds, stamped "48" on clasp. From yet another source is a French Boursier 14K gold and enamel diamond pendant watch, circa 1850, the case inset with old mine diamonds in a floral spray, initials flanked by diamonds verso. Marked "Boursier Eleve De Lepaute A Paris", the watch measures 2" high, 1 1/2" wide.

Over 50 lots of sterling silver are on offer, including an Art Deco Gorham octagonal sterling tray, in Fairfield pattern, monogrammed, made by Durgin (part of Gorham) in Concord, New Hampshire, circa 1925, with both Gorham and Durgin marks. Measuring 1 1/4" high, 25 3/4" long, 16 1/2" wide, the weight is 100 OZT. Other sterling lots of note are a vintage Gorham partial sterling flatware service for twelve, in the Chantilly pattern, comprising 25 teaspoons, 12 tablespoons, 3 serving spoons, 9 ice tea spoons, 23 dinner forks, 14 salad forks, 6 pickle forks, 12 dinner knives and 8 luncheon knives, the knives with steel blades. The total of 113 pieces are in a wooden case and total weighable silver is approximately 30 OZT. Also of interest is a pair of Tiffany sterling octagonal trays, monogrammed, marked "Tiffany & Co. 925-1000." Dimensions are 1 7/8" high, 9 1/2" diameter, and the weight is 36.40 OZT. A Connecticut estate sourced a fine early Georgian sterling coffee pot, with marks for Daniel Smith, Robert Sharp, London 1768-1774. Measuring 12" high, 8 3/4" wide, the gross weight 31.375 OZT.

Asian Decorative Arts

The sale has several lots of Asian decorative arts on offer including jades, scrolls, fine Chinese porcelains, textiles, jewelry, and more. Of special interest are a group of four Chinese hardstone water coupe; a large Chinese Qing dynasty blue and white porcelain censer; a large Chinese doucai porcelain jardiniere; a Chinese blue and white porcelain low bowl; a Chinese famille rose porcelain baluster vase; several Chinese stone and porcelain snuff bottles; a Chinese green and russet jade phoenix plaque; and a Chinese jade lotus work open medallion.

Fine Art

This sale has over two hundred lots of fine art in many forms: sculpture, bronzes, engravings, lithographs, other works on paper, and oils on canvas, board and masonite. Antique, vintage and modern periods are represented, and there is fine art at all price levels. Of particular interest is a large American school oil on canvas depicting the Bay of Naples, with ruins in the foreground and Mount Vesuvius in the background. Consigned by a Connecticut institution, the work has been in warehouse storage since 1965. The unsigned painting bears inked notes and a canvas-maker's seal verso. Stretcher size is 40 3/4" high, 56" wide, frame size is 54" high, 58 1/2" wide.

The Lucy Jarvis estate provided many items of fine art, several inscribed as being gifted to Mrs. Jarvis from the artists. Among those items are a Vladimir Velickovic (Serbian/French, 1935-2019) pen and ink drawing of nudes, inscribed to Lucy Jarvis, with personal letter verso. The frame size is 13" high, 15" wide. Another interesting Jarvis lot is by Ernest Azema (French,1888-1970), a very large oil on canvas "Dance Scene", signed and dated 1912, frame size: 66" high, 53 1/2" wide.

Contemporary art from a Stamford, Connecticut collection includes several large works on canvas by Rene Schumacher (American 20th C.), one with an exhibition label from Louis K. Meisel Gallery, as well as a J. A. La Luvein oil on canvas "Terrace Cote D'Azur, 1909", signed and dated lower left, faintly stamped on stretcher verso "The Paris American Art 125 Boulevard de Montparnasse, Paris". The frame size is 23 1/2" high, 26 5/8" wide.

Sculpture of interest includes a bronze bust sculpture of a young African-American male attributed to Augusta Christine Savage (American, 1900-1962), with Roman Bronze Works foundry mark to the reverse of the base. Measuring 12 1/2" high, 6" wide, 8" deep, the bust is being sold for a Connecticut collection.

American Furniture, Folk Art & Decorations

Several estates yielded American furniture and decorative arts. Interesting lots include a folk art decorated pantry box, the lid with colored ink drawing of "New Bedford Fifty Years Ago - William Hall 1857" depicting 1800's street life with houses, animals, horse and carriage and townsfolk. The box, consigned by a Connecticut collector, measures 5" high, 9 3/4" diameter. From the same source is a carved folk art polychrome rooster, and a Pennsylvania birth and baptismal fraktur dating 1842 from the Downingtown area. From an early New Haven county estate is a fine Connecticut cherrywood serpentine chest with molded top and bracket base.

From a Washington, Connecticut collection is a folk art carved and painted spotted horse, 18 1/2" high, 25" wide, 5 3/4" deep purchased from Scudder Smith at the famed Russell Carrell Salisbury Connecticut Flea Market in the early 1970's.

A Fairfield collector's American items include a marble topped Baltimore federal mahogany sideboard, a New York pembroke table in the manner of Duncan Phyfe, an American classical overmantle mirror, a Philadelphia Hepplewhite wing chair, and several other tables and accessories. Of special note is a fine set of twelve American transitional dining chairs with pierced cutout splat in Prince of Wales design, molded front legs with stretchers, slip seats, measuring 38" high, 21" wide, 19" deep. The set comprises ten matching chairs, including two arm chairs, plus two closely matching side chairs. The chairs are attributed to Richard Fosdick, New London CT. See plate 99,100,101, pp 83-4 New London County Furniture 1640-1840, Lyman Allyn Museum. Also being offered is a labeled New York stick barometer, mahogany with ripple molded detail and molded roundel, engraved "B. Pike and Sons, New York", measuring 38 1/2" high, 5 1/2" wide.

English, French & Continental Furniture & Decorations

Several estates yielded European furniture and decorations, also including fine porcelains and other objects. Featured items include a pair of Regency decorated tole chestnut urns; a Queen Anne walnut crook armchair; two George III wine coolers; an English surgeon's mahogany fitted dental cabinet; two George III mahogany secretaries; several tip and occasional tables; a fine Regency carved and gilded convex mirror; a pair of Dutch Queen Anne walnut and marquetry side chairs; and a pair of Regency carved and gilded two light wall sconces, with eagle, chain and ball decoration, measuring 37" high, 10 1/2" wide, 9 1/2" deep. Other offerings include porcelains, glassware and accessories.

Garden & Outdoor Furniture

Among the outdoor and garden items being offered are a pair of naturalistic bamboo cast iron garden benches, several pairs of garden urns, and a cast iron serpentine serving table from a Connecticut estate.

Militaria

Over thirty-five lots of militaria are being offered from a New Haven collection. Among the notable items are a South Carolina confederate sword and belt, a cavalry saber with steel scabbard, the belt with brass South Carolina palmetto buckle. The sword measures 42" long overall. Other items include a 19th century pipe tomahawk, a Chilean officer's dress sword, a Nazi SS dagger in a chained scabbard, and a collection of military headgear including a Nazi Waffen SS helmet and a United Nations helmet.

Oriental Carpets

The sale also includes two dozen estate oriental carpets including Persian, Caucasian and Turkoman room and scatter sized rugs, and other regional and modern rugs of varying sizes. Of particular interest are a Caucasian prayer rug, Kazak design, measuring 3' 11" by 7' 0"; a Persian Bakhtiari room size carpet, measuring 10' 8" by 13' 3"; and a Persian area rug, dimensions 6' 4" by 4' 3 1/2".

The catalog for the sale is viewable at www.woodburyauction.com. Internet, absentee and phone bidding are available for this auction by registering directly with Schwenke Auctioneers. The sale will be broadcast for pre-sale internet absentee bidding on the firm's own site Hibid, and for both absentee and live bidding on Live Auctioneers and Invaluable.

Preview for this auction is limited due to COVID-19 considerations. Bidders are invited to call the gallery at 203-266-0323 or email info@woodburyauction.com to request a preview appointment. Preview appointments will be available first come-first served, and only from 10:00 am Monday, September 14th through 5:00 pm Saturday, September 19th. The firm observes all CDC and CT State health protocols, including mandatory face coverings for entry to the gallery and gloves for handling inventory. Complimentary masks and gloves are provided on-site by the firm. For additional information please call Schwenke Auctioneers at 203-266-0323.