Auction Blog
---
Schwenke Auctioneers March 21st Spring Fine Estates Auction Features Over 600 Lots From Forty-Four Estates And Collectors
Posted March 16, 2023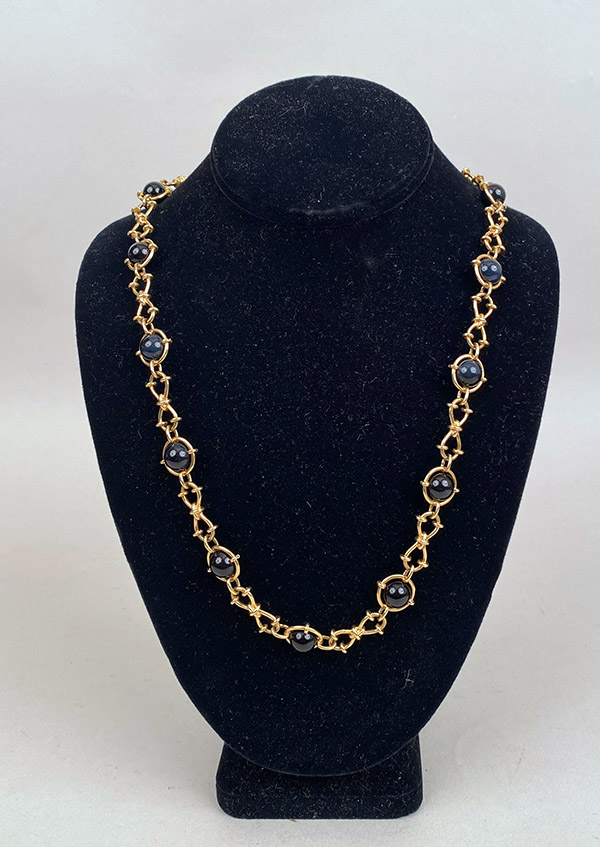 Tiffany & Co. 18K Gold Link Onyx Necklace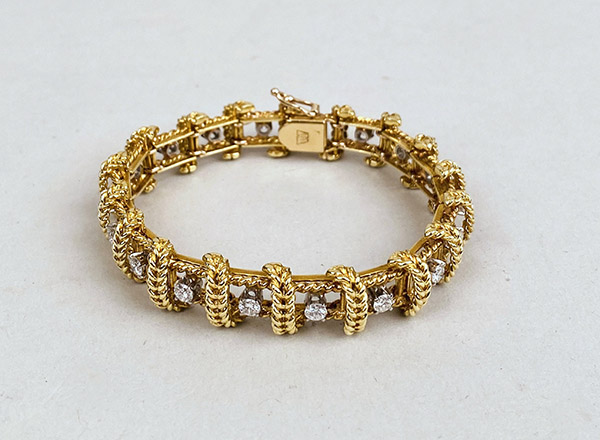 18K Gold & Diamond Bracelet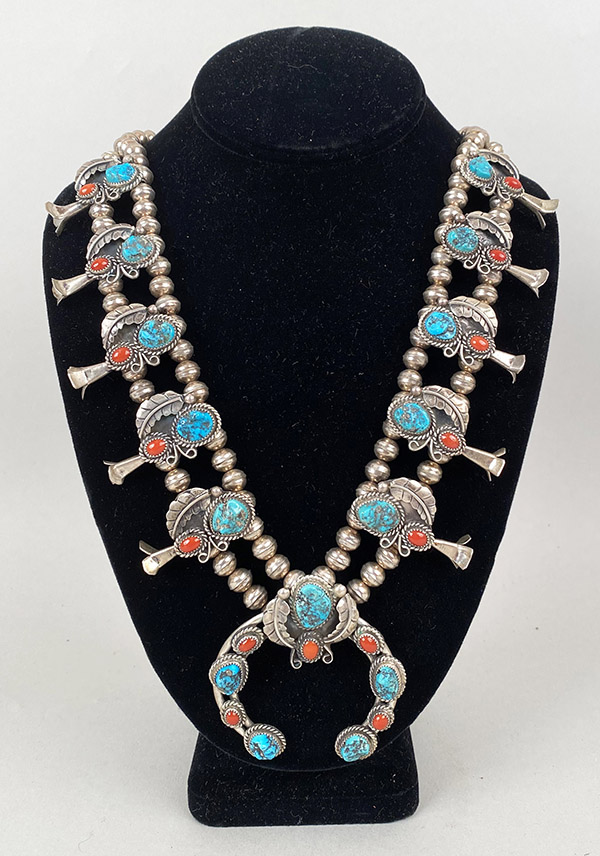 NA Silver, Turquoise, Coral Squash Blossom Necklace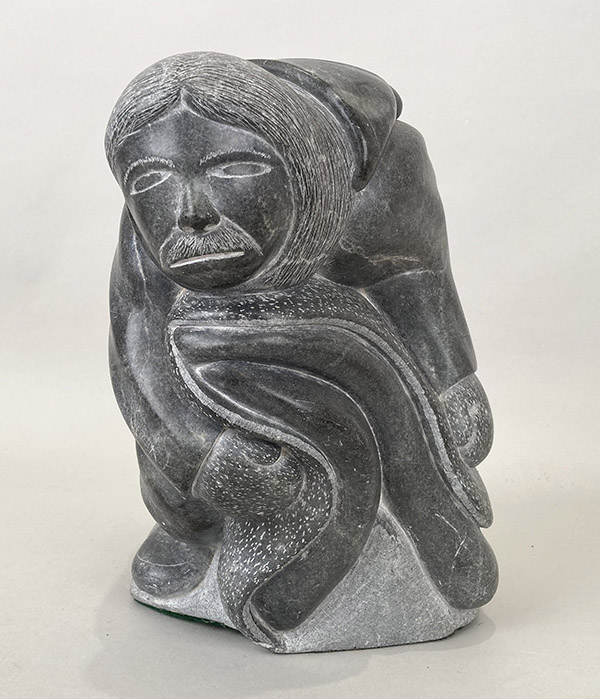 Inuit Carved Soapstone Sculpture - Native American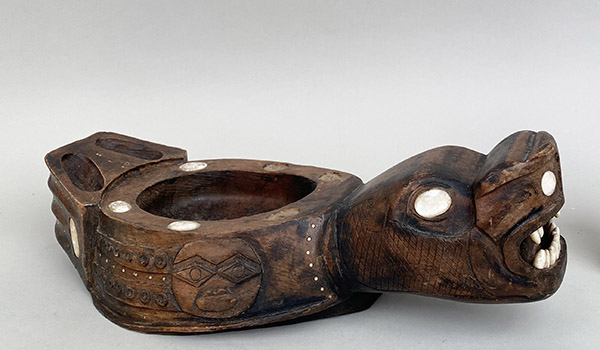 Pacific NW Tlingit Haida Carved Wood Grease Bowl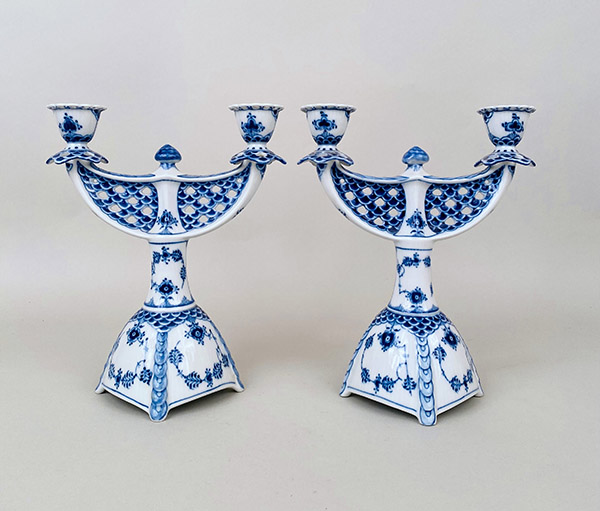 Pair Royal Copenhagen Full Lace Candelabras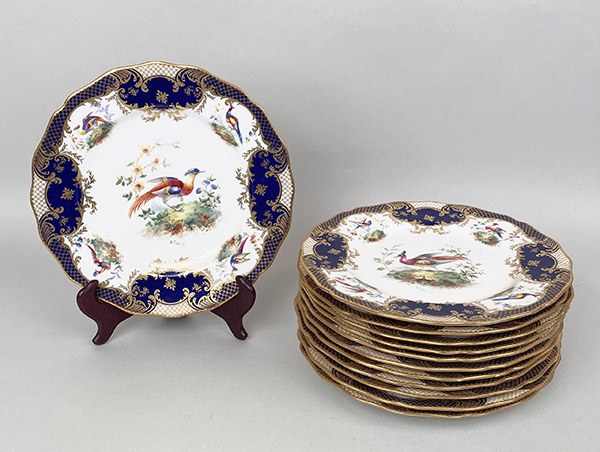 12 Royal Doulton-Tiffany Bird Of Paradise Plates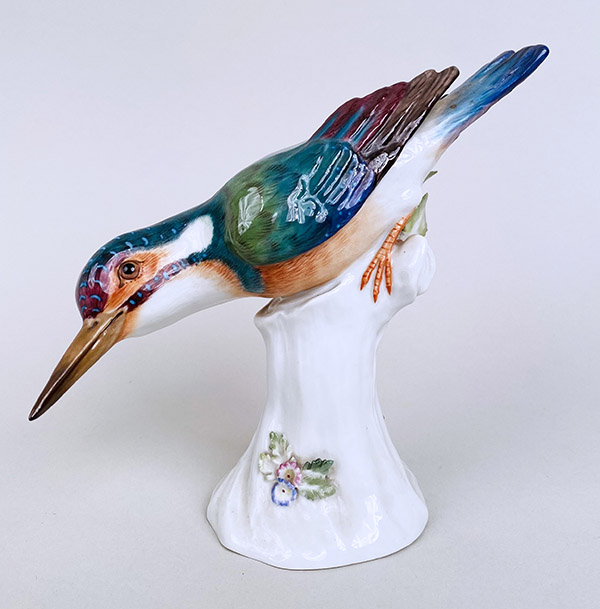 Large German Meissen Porcelain Kingfisher Figure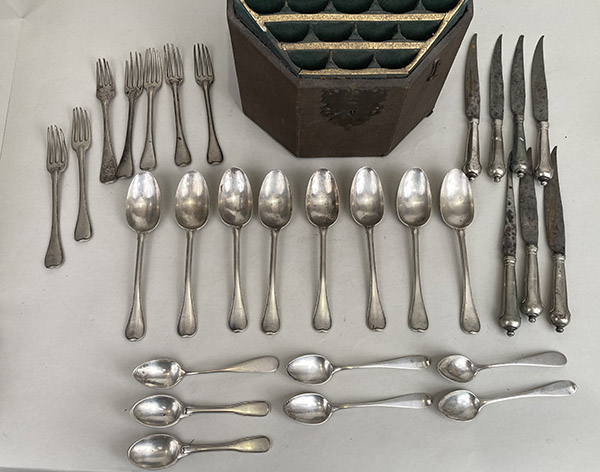 Group Thirty Continental Coin Silver Flatware, Original Box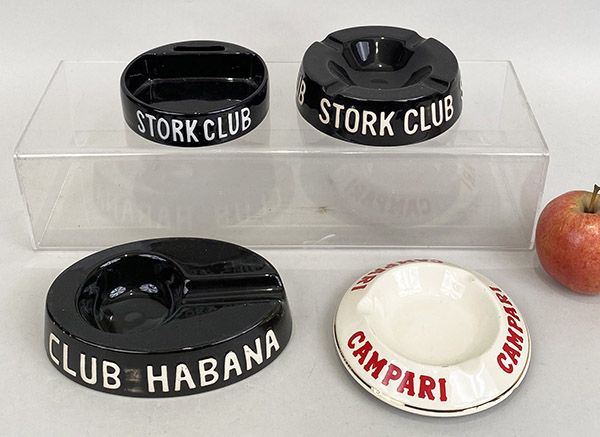 Four VIntage Ashtrays, Stork Club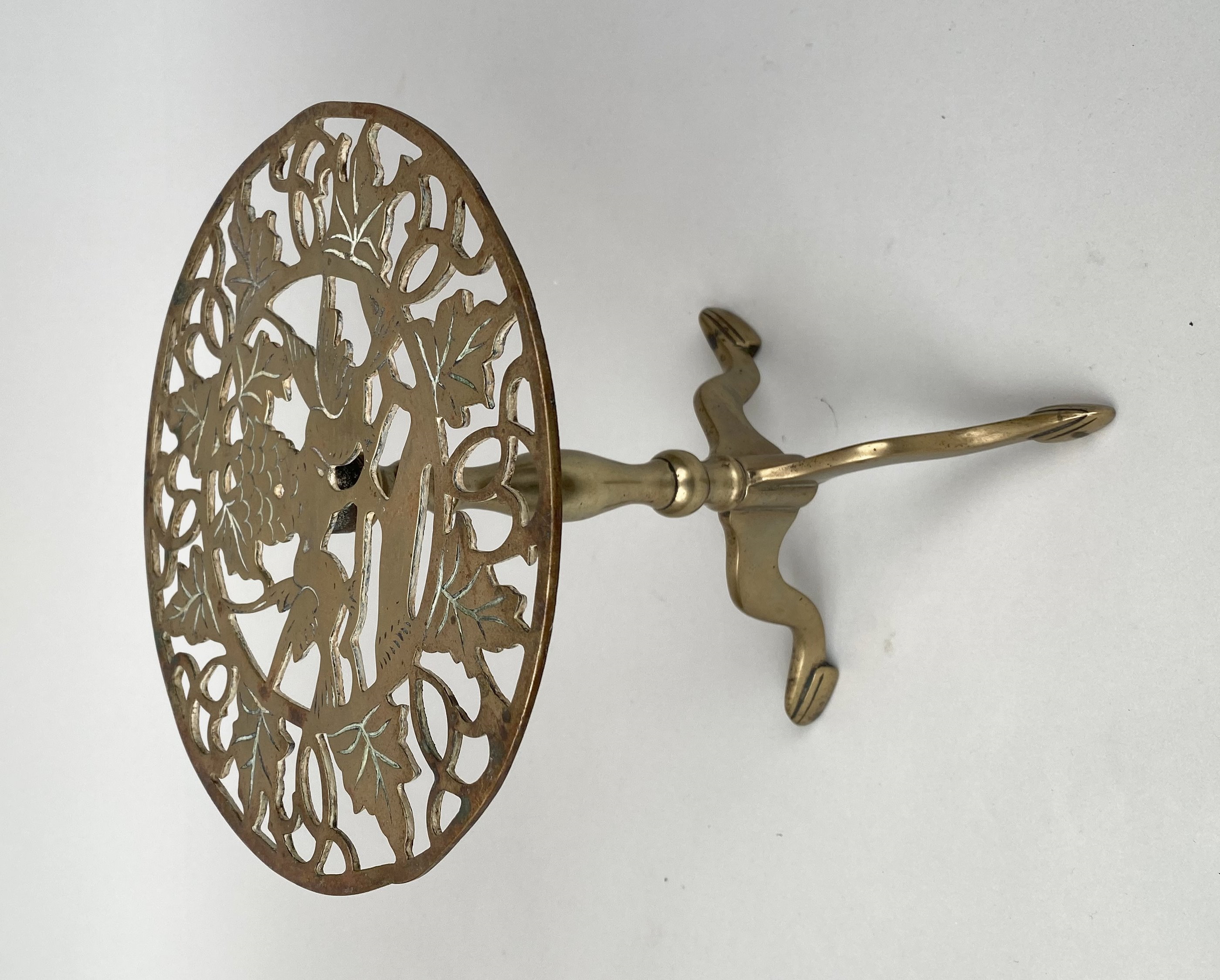 Rare Queen Anne Brass Trivet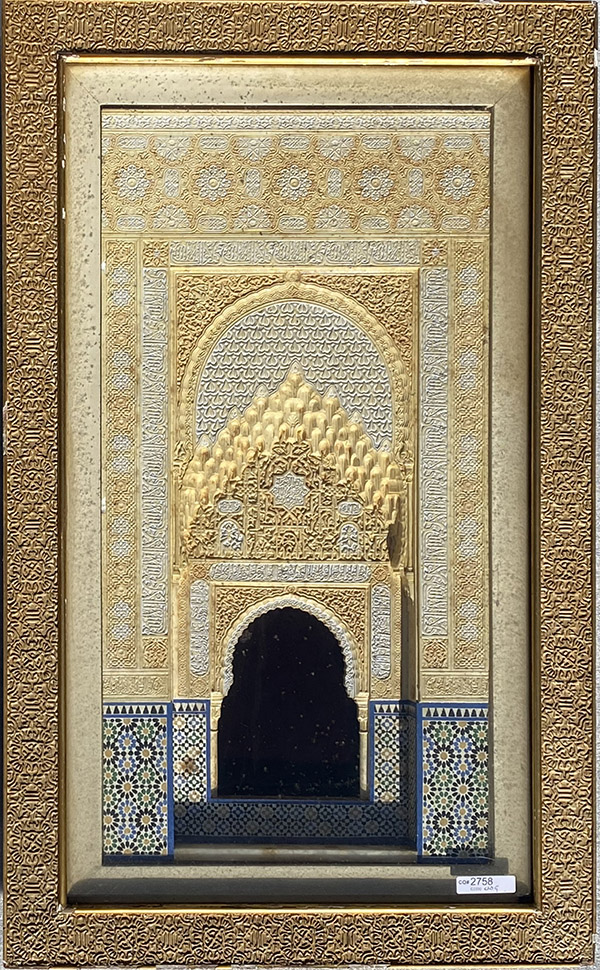 Plaster Arch Model Al Hambra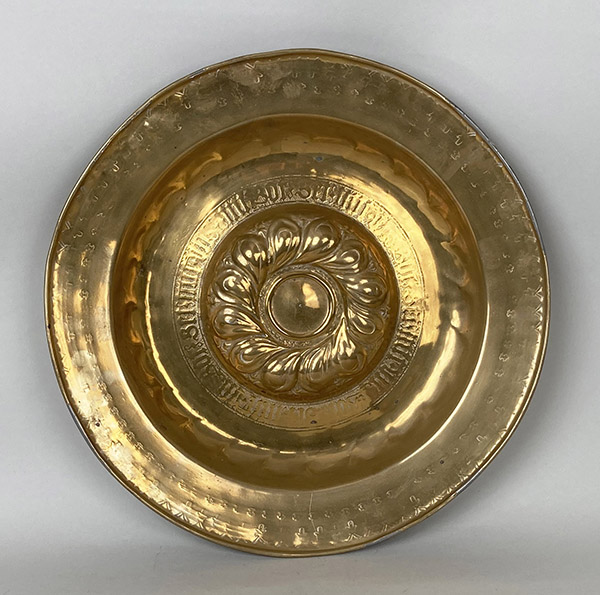 Large Early Continental Brass Alms Dish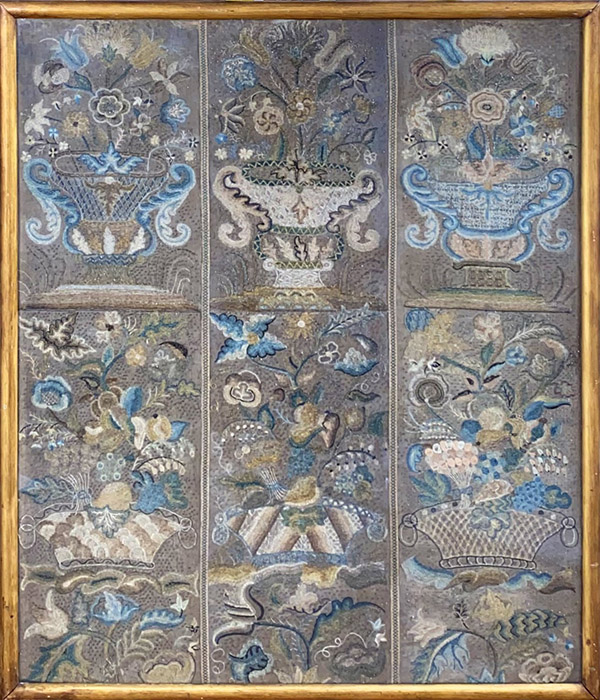 Framed Six Panel Early English Embroidery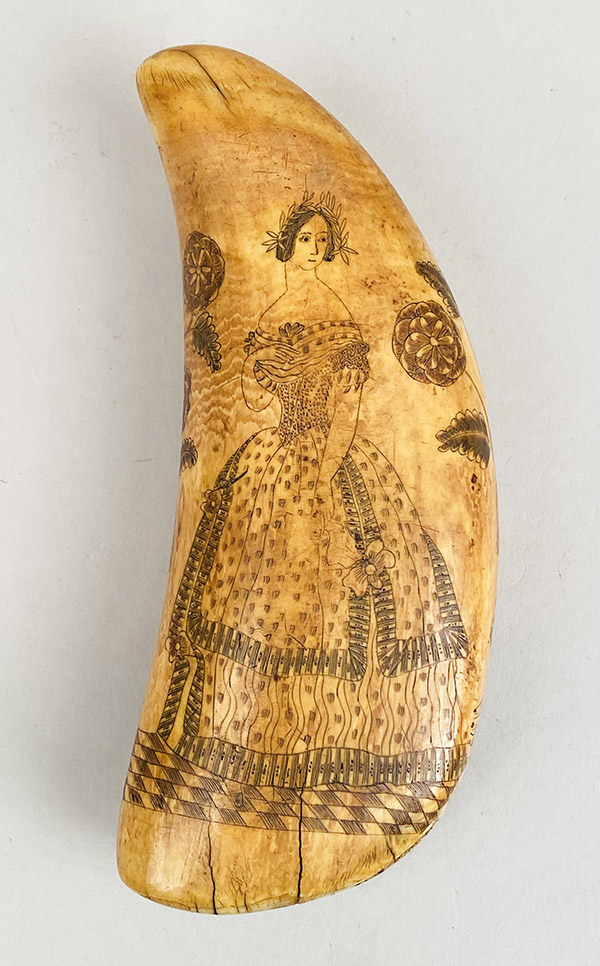 Scrimshaw Whale Tooth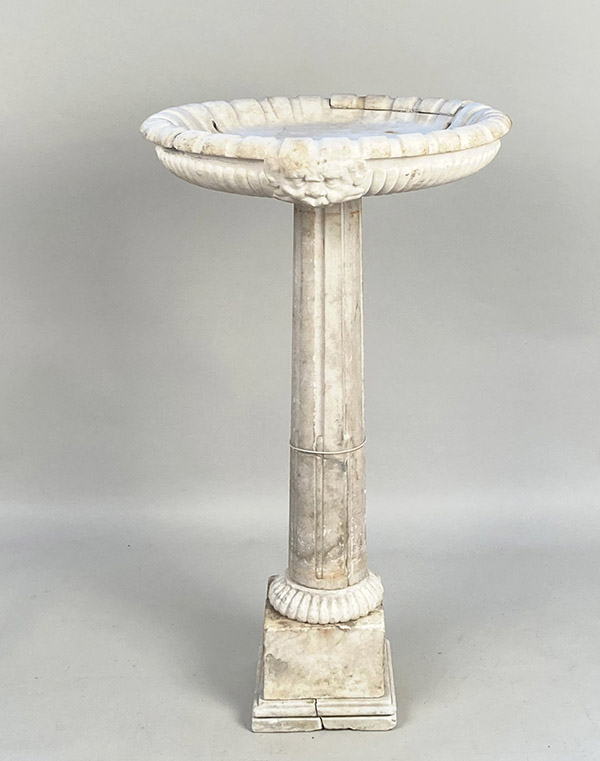 Antique Classical White Marble Fountain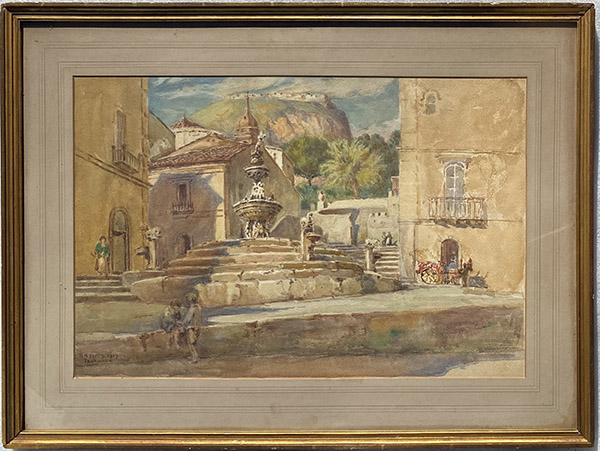 Sides, Watercolor-Paper, View Of Taormina Sicily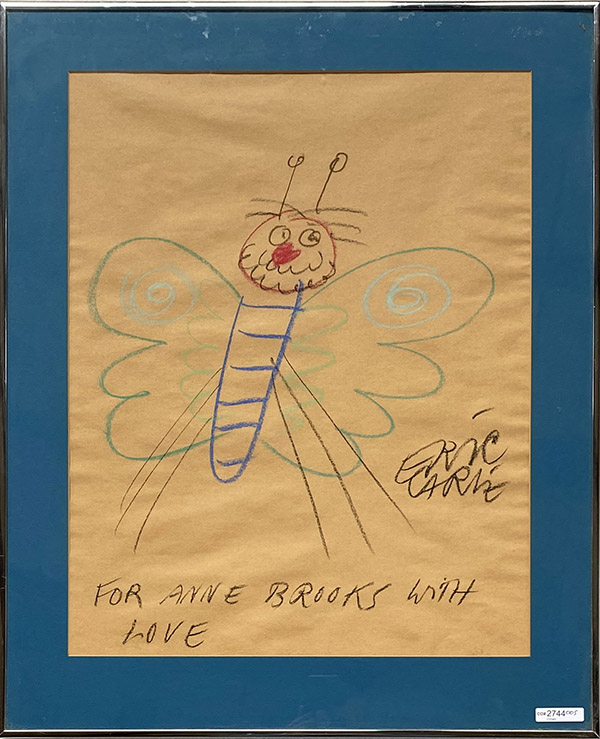 Eric Carle, Fanciful Butterfly Colored Drawing




Rauschenberg, Lithograph In Colors Killdevil Hill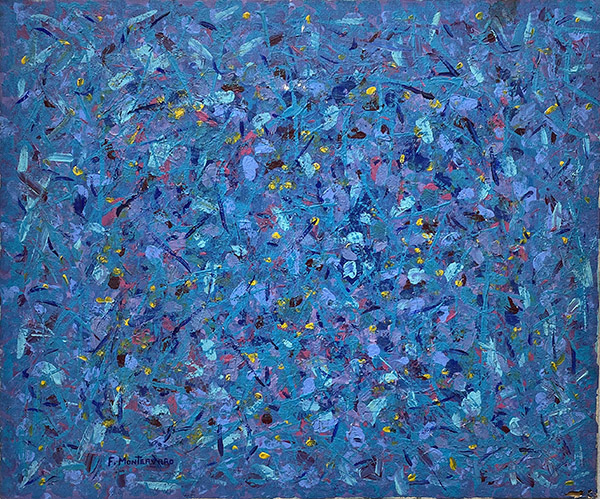 Monteavaro, O-C Abstract Work - Manic Inpression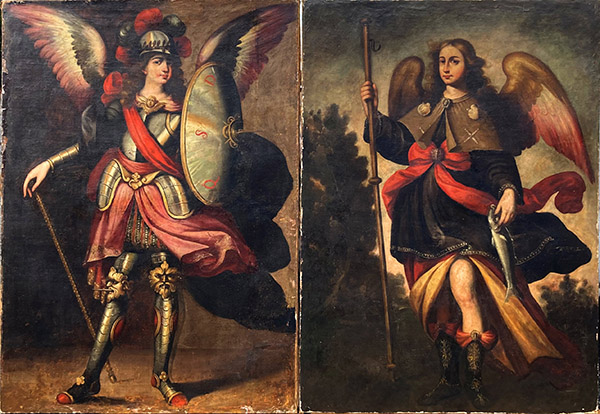 Pair Large Continental Allegorical Portraits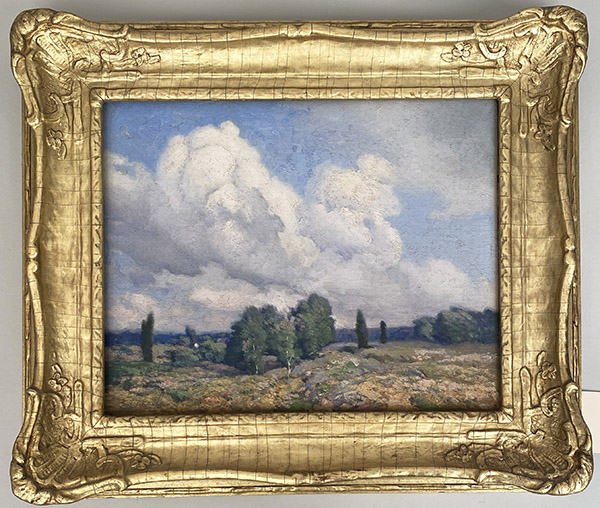 Kaula, Summer In Vermont O-B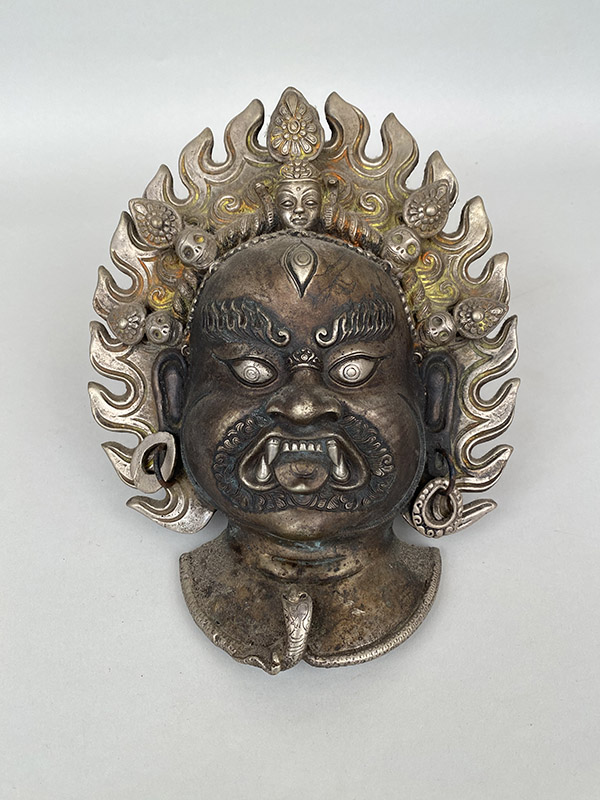 Tibetan Silvered Bronze Mahakala Mask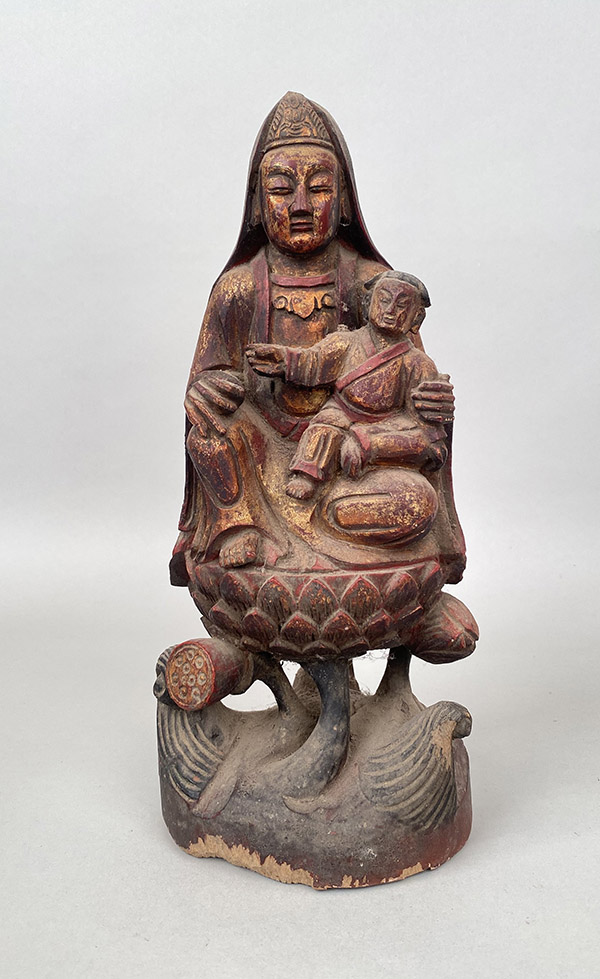 Chinese Carved Wood Guanyin With Child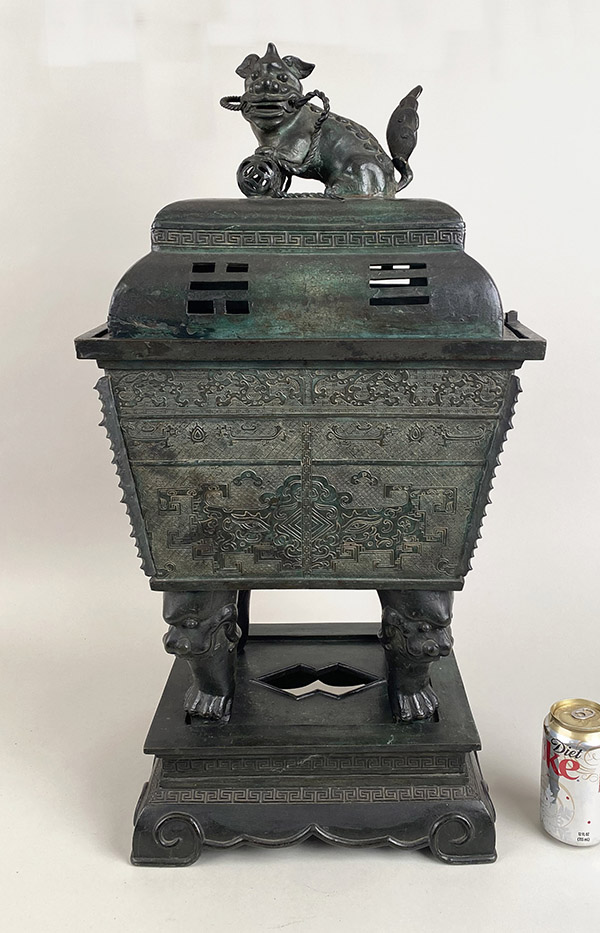 Chinese Archaistic Bronze Three Part Censer


Woodbury, CT – On Tuesday, March 21st Schwenke Auctioneers will hold its Spring Fine Estates Auction comprising over 600 lots of estate property including a choice collection of fine estate jewelry, Native American jewelry and decorative arts, Asian decorative arts, American, English and Continental decorative arts, folk art and American country and formal furniture, a single owner collection of over 100 early baskets, sterling silver, fine art, miscellaneous decorative arts, estate oriental rugs and books.
The auction is a live online sale with absentee and phone bidding in addition to live streamed bidding on Live Auctioneers and Invaluable. The auction begins at 11:00 am on Tuesday, March 21st. Live preview in the gallery will be available from 10am to 5pm by appointment on Friday, Saturday and Monday before the sale.
Fine estate jewelry and Native American jewelry account for over forty lots in the sale.
Included are a Tiffany & Co. 18K gold link and onyx necklace; an 18K gold dogwood flower pin; large turquoise and silver bow pin; group of six 10K gold bangle bracelets; Hans Hensen MCM sterling pin; large estate group of gold jewelry; 14K and 18K gold, diamond and turquoise pin and earrings; 14K gold jade ring; group 10K gold bangles; Victorian 14K gold pearl and diamond bangle; an 18K gold and diamond bracelet; pair 18K gold diamond and pearl earrings; and a 14K yellow gold bangle bracelet.
Native American jewelry selections include four sterling watches; three turquoise necklaces; a vintage sterling and leather concho belt; group of nine sterling jewelry items; sterling and turquoise cuff and three rings; three sterling and turquoise bracelets; a sterling and turquoise three lobed necklace; five sterling pins; signed sterling and turquoise necklace; group of four sterling and turquoise pins and bracelets; a sterling and turquoise naja necklace; group of four sterling and turquoise rings; Zuni sterling and turquoise starburst pin; Navajo sterling and turquoise squash blossom necklace; a sterling and agate leather belt; and a vintage Southwest silver and leather ketoh bow guard.
Other Native American decorative arts include many fine baskets, woven rugs and blankets, and other interesting wares including an Inuit carved soapstone sculpture of an Eskimo with a seal pelt and a Pacific NW Tlingit/Haida carved wood grease bowl.
Fine porcelain lots include several lots of Royal Copenhagen Blue Fluted Lace dinnerware, comprising over 60 pieces. The lots include sets of plates; oval platter and tea service items; set of cups; group of three serving pieces; and a rare pair of double arm candlesticks. Several lots of Roseville and other Arts & Crafts pottery are also on offer, consigned by a Fairfield County collector.
Fine antique Continental porcelain lots include a set of twelve Meissen reticulated gilt/floral plates with hand painted floral reserves and varying blue crossed swords marks verso, 8 1/4" diameter; a set of twelve Limoges 1846 porcelain cabinet plates, each with gilt filigree border and gilt scalloped edge, varying hand painted pastoral/figural scenes, artist signed lower right in cavetto "Debries", backs marked S.46. in green, Sevres 1846 with the King Louis Philippe insignia in blue, Chateau Des Tuileries in red, as well as France in red, 9 1/2" diameter; a set of 12 Royal Doulton/Tiffany bird of paradise plates featuring raised enamel floral clusters and central vignettes of birds, artist signed E. Percy, 10 1/4" diameter.
Gleaned from an estate in Darien, Connecticut are a group of German Meissen porcelain bird figures, over a dozen in all, including a large German Meissen porcelain Kingfisher figure with crossed swords mark, 6" high, 7 1/4" wide, 2 1/4" deep.
Estate sterling silver lots include a Tiffany & Co. sterling partial flatware service in the English King pattern; an interesting group of thirty pieces of Continental coin silver flatware in the original sharkskin box; a large London sterling serving spoon; several pairs of sterling and weighted candlesticks and candelabra; and thirteen Tiffany & Co. demitasse spoons.
Among the eclectic lots being sold is a group of four vintage porcelain ashtrays, including two from the Stork Club, famous New York City nightclub frequented in the mid-20th century by the New York "rich and famous". Other interesting items include several lots of Louis Vuitton luggage, including a vintage LV umbrella.
A Connecticut collector is selling a rare brass surveyor's compass by J. Poole, Easton Massachusetts, signed "J. Poole & Co. Easton MA" on the dial and housed in a painted case, together with a wood cased pocket compass also by Poole. From another Connecticut gentleman is a rare English Queen Anne brass pierced trivet with grape and bird design, three legs, 18th century, measuring 8 7/8" high, 7 3/4" diameter.
A New York City consignor is selling a unique Grand Tour architectural rotunda/dome of carved alabaster, the Baptistry, Pisa Italy, purchased 1979, dimensions 7 1/2" high, 5 3/8" diameter. A Connecticut collector is offering a Spanish, later 19th century. polychrome and gilt stucco architectural scale model of the Alhambra by Rafael Contreras, in a contemporary carved and gilt shadowbox frame, original printed paper label verso "Gran Fachada Restaurada De La Mezquita En La Alhambra". Frame size is 28 1/2" high, 17 5/8" wide.
Another unusual lot from a Maine consignor is a New England "Antique Farmstead" model house, a rambling structure, possibly originally a bird house, now mounted on a wood base, measuring 19" high, 28" wide, 19" deep; the base: 36" wide, 24" deep.
A Hartford County estate is selling a large early Continental brass alms dish, probably German 17th century, possibly Nuremberg, with raised floral embossed center surrounded by circular motto and rolled exterior rim, measuring 18" diameter.
A Steinway 1906 Model O patent grand ebonized piano is being sold "in-situ" for a Darien, Connecticut estate. This model is a golden-era Steinway piano with "window- pane" legs, the largest of the Steinway "small grand" pianos. Serial #122025, being sold together with piano stool. Piano approximate dimensions are 58" wide, 38" high, 72" long.
From the same estate is a rare framed six panel early embroidery, 18th century, featuring embroidered baskets of fruit and flowers in a thin gold leaf frame, frame size 49 1/4" high, 42 1/2" wide.
Another Connecticut estate is selling a large sailor art scrimshaw whale tooth, featuring portraits of female subjects front and back, with leafage and random intricate rosette designs. 19th century. The tooth measures 7" long, 3" wide, 1 3/4" deep.
From a Connecticut gentleman is an antique classical white marble fountain, with ribbed pan featuring classical mask, the two-part column stop-fluted, set between discs, the lower ribbed, and then set on a square block plinth. The fountain measures 46" high, 26 1/2" diameter.

Several items are being sold for the estate of Christopher Clapp of Woodbury. Included is a rare large, framed rubbing of the Walter Hewke bronze plaque in Trinity Hall, Cambridge, done in 1957 by Betsy W. Secor. Walter Hewke was an English priest/academic in the late 15th and early 16th centuries who graduated Bachelor of Canon Law in 1490 and was ordained in 1491. He was Rector of Holywell, Cambridgeshire (then in Huntingdonshire) from 1500 and Master of Trinity Hall, Cambridge from 1512, holding both posts until his death in 1517. Legend of the rubbing is contained verso. A rubbing of Hewke is in the collection of the Spurlock Museum, University of Illinois. The example being sold measures 62 1/2" high, 24 1/2" wide.
Fine art abounds in the sale, with over 200 diverse fine art lots offered. Among the items being sold for a Litchfield County estate is a watercolor on paper by Hilda Mary Sides (Br., b.1871), view of the Fontana di Piazza Duomo, signed, dated 1927 lower left, with provenance from Philip Suval Fine Art, NYC, frame size: 20 1/4" high, 27 1/4" wide. Other fine art includes a work attributed to Gustave Dore, O/B Interior Scene; a fine New England landscape oil on board signed G.L. Noyes (George Loftus Noyes, Am. 1864-1954) in a Carrig-Rohane gilded plein aire frame. Carrig-Rohane was an early 20th century American frame shop founded in Massachusetts by the artist/frame makers Hermann Dudley Murphy and Charles Prendergast and later joined by the talented wood carver, Walfred Thulin. Property of Alfred Pittman label verso. Frame size: 19 3/4" high, 23 3/4" wide; sight size: 11 3/4" high, 15 1/2" wide. Also selling are an oil on board "Sailboat In Full Sail" by C. Hjalmar "Cappy" Amundsen (Am. 1911-2001), signed "Cappy" lower right. Frame size: 22 1/4" high, 18 1/4" wide; and oil on canvas Montmarte scene attributed to Remy Bernard, signed R. Bernard, lower right, signed and titled verso: "'Le Bateau Lavoir' a Montmartre", frame size: 26 3/4" high, 35 1/4" wide; a fanciful drawing of a butterfly by Eric Carle (Am., 1929-2001), personalized "For Anne Brook with Love" signed Eric Carle, a children's book author and illustrator best known for "The Very Hungry Caterpillar". Frame size is 27 1/8" high, 22 1/4" wide.
An important lot is a lithograph in colors by Robert Rauschenberg (Am.,1925-2008) titled "Killdevil Hill", an horizontal diptych lithograph in colors, on two sheets of J. Whatman paper (as issued), 1975, signed and dated in pencil, numbered 41/42, published by Universal Limited Art Editions, West Islip, New York, with their blind-stamp, dimensions 27 1/2" high, 80" wide, frame size: 30" high, 83 1/4" wide.
Another significant lot is an old master Dutch landscape by Abraham von Cuylenborch (Utrecht, 1620-1658), signed verso with wax seals and monogrammed lower left, illegible date. Frame size is 18 1/4" high, 21 1/8" wide. On the more modern tone, there is an abstract oil on canvas by Francisco "Frank" Monteavaro (Cuban American, 20th century) working Miami, Florida. The work is signed lower left; titled "Manic Inpression (sic)", measuring 20" high, 23 3/4" wide.
Eighteenth century art includes a rare set of four allegorical engravings by William Barnard (English 1774-1849), comprising a set of four mezzotints after R. K. Porter of children personifying the nations making up the United Kingdom, published London, March 12, 1800, in reeded ebonized frames, frame size 19 3/4" high, 17 3/4" wide. A pastoral landscape is selling for a Connecticut estate, painted by J.H. Dolph (American, 1835-1903), signed lower right "JH Dolph", presented in a carved giltwood frame measuring 14 1/2" high, 17 1/2" wide. Another artwork being sold for the Darien estate is an oil on board "Summer In Vermont" by William Jurian Kaula (Am. 1871-1953), an impressionist mountain landscape, property label verso, frame size 17 1/2" high, 20 5/8" wide; as well as an oil on canvas board "Ladies Gathering Shellfish" by Pierre Testu (Fr. 1889-1928) signed lower right "P. Testu", in a gilded frame 31 3/4" high, 38 1/2" wide.
Of special note from a New York City consignor are a large pair of Continental oils on canvas of two Archangels, antique near life size depictions of Archangels St. Raphael and St. Michael measuring 69" high, 49" wide.
Several fine Asian lots are being offered, including a large number of Chinese wood carved panels; Chinese porcelain and pottery; a fine Tibetan thangka; and several early Chinese wood carved and bronze figures being sold for a Connecticut collector. Those items include a bronze Buddhist ritual ghanta with lotus handle surmounted by a recumbent caparisoned beast; a Nepalese cast bronze figure of Durgha; a Hindu cast bronze seated Shiva figure; three Chinese carved wood parcel gilt figures of Zhong Kui; a Sino-Tibetan polychrome carved wood seated Guanyin; a Chinese carved and gilded seated Weituo; another large Chinese carved and gilt wood standing Weituo; and a Chinese carved and gilt seated Bodhisattva. Finally, the collection includes a rare Chinese carved wood Guanyin with child, the bodhisattva in relaxed pose with serene downcast gaze and a youth on one knee, on a lotus base raised atop waves, traces of gilding. The carving retains a very rare sealed prayer aperture verso. Carving is 12 1/2" high, 5 1/2" wide, 4 1/2" deep.
Other Asian items include a group of three Chinse porcelain snuff bottles, two blue and white decorated, the smallest pear form with green dragon motif and Qianlong mark, the largest 3 1/2" high, 1" diameter; a group of three Japanese netsukes, all signed, including young Sesshu bound with several rats, the largest excluding base 1 7/8" high, 1 5/8" wide, 1 1/2" deep; a pair of Japanese copper alloy vases, with falconry motif; a Chinese 20th century blue and white porcelain garden seat; a small Chinese bronze censer on stand, square form with fu lion finial and inscriptions in reserves, 6 7/8" high on stepped molded stand; a pair of Chinese Tang style earthenware horses and riders; a pair of Chinese Republic period porcelain vases; a pair of Chinese famille verte porcelain figures of officials holding ruyi scepters, on carved wooden stands, the figures 9 3/4" high, 4 3/8" wide, 2 7/8" deep; a Chinese archaistic bronze three part censer; a Chinese four panel footed folding screen, landscape scenes with pavilions and figures, ink and pigments on paper with stiff backing, black lacquered frame, 20th century, 72" high, 71" wide; a pair of Thai gilt bronze Suphannahong temple birds; and a pair of large Chinese archaistic Gu form vases.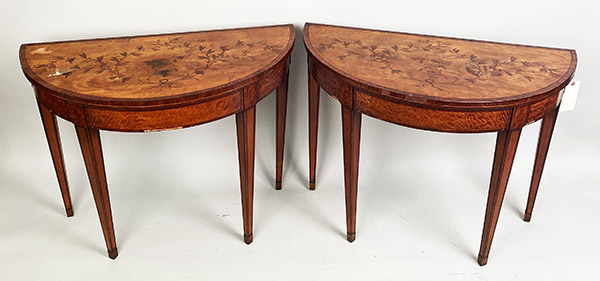 Pair George III Inlaid Satinwood Game Tables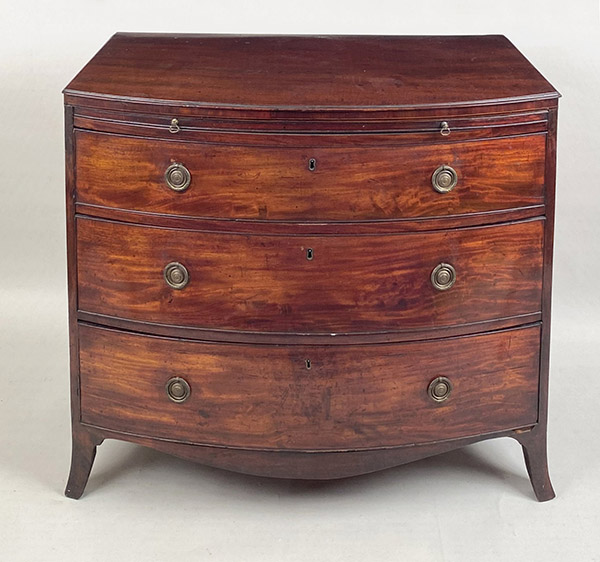 George III Diminutive Swell Front Chest With Brushing Slide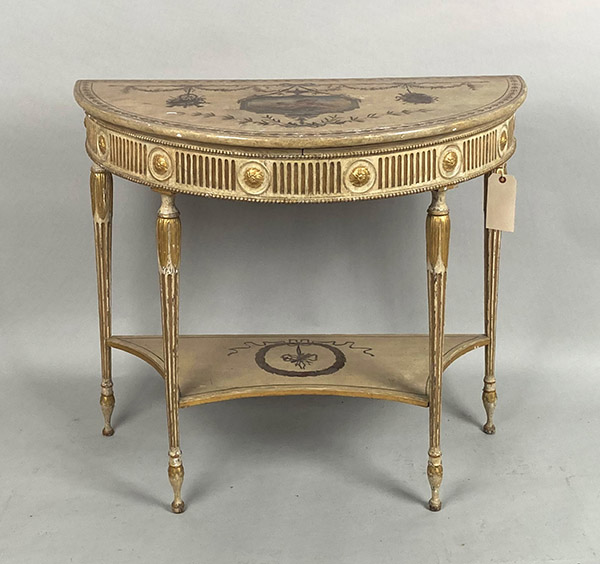 George III Painted Gilded Demilune Console Table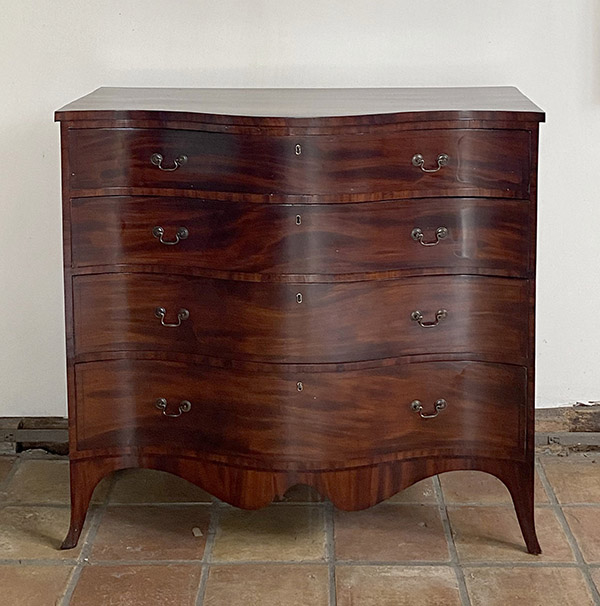 NY Hepplewhite Serpentine Chest - Labeled John Dolan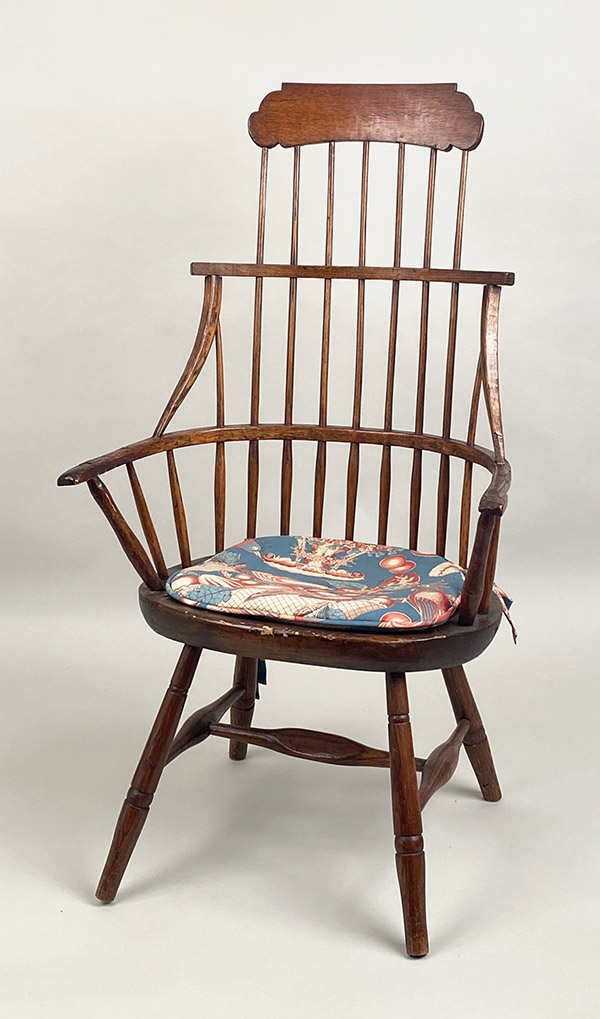 Rare Documented Vermont Windsor Arm Chair - Copy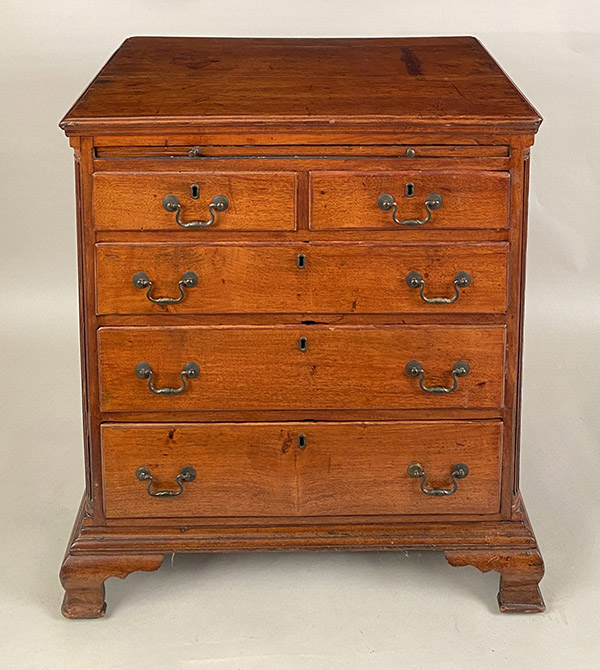 Small Delaware Valley Chippendale Walnut Chest With Brushing Slide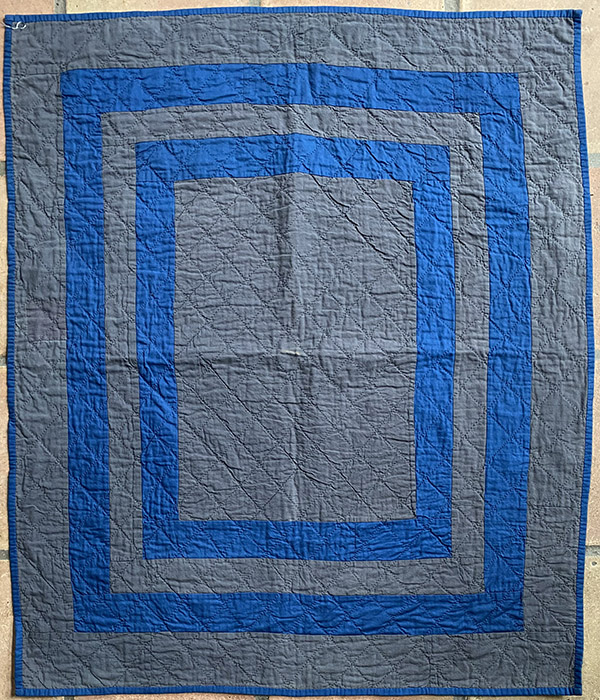 Blue-Gray Amish Childs Crib Quilt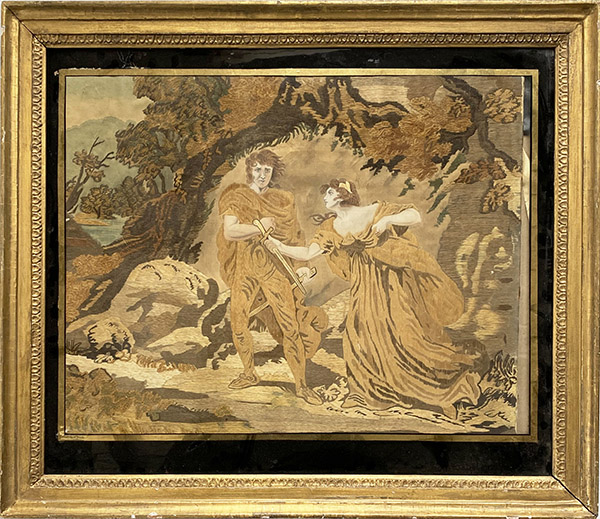 Ann Guyon, Large Silkwork Allegorical Scene 19th C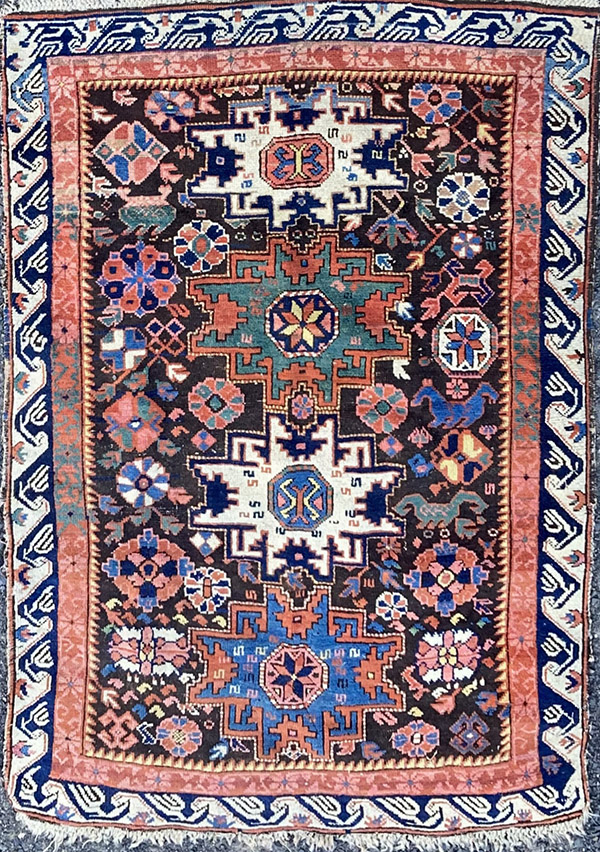 Caucasian Kuba Rug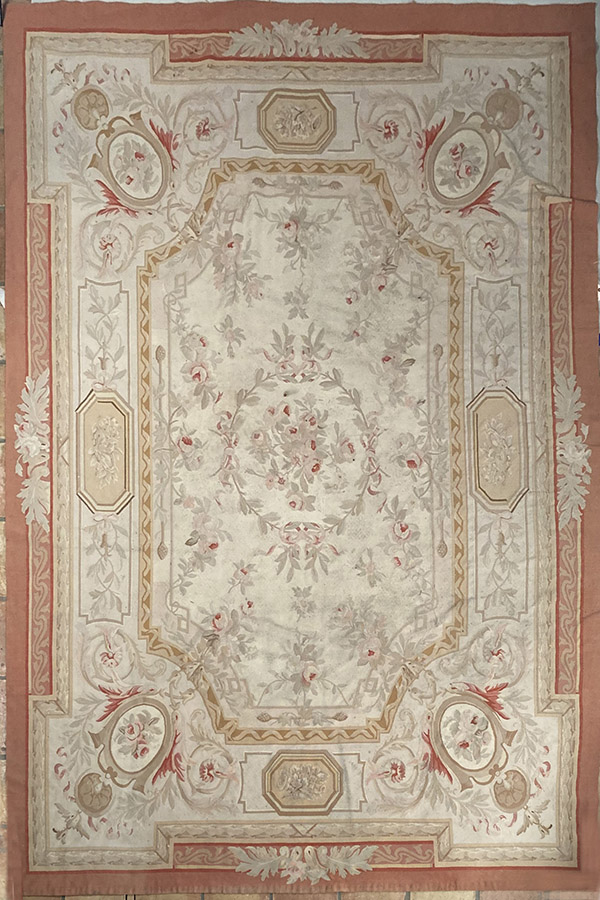 French Aubusson Carpet Neoclassical Design


English and Continental furniture and decorations represent a significant portion of the sale, being present in several of the estate collections. The Darien estate has several, including a large Regency carved and gilded convex girondole mirror with eagle surmount on a conical plinth, cove molding with spherules, ebonized reeded liner, shell base ornament and double light foliate scrolling candle arms, England, 19th century, measuring 56" high, 44" wide. Also of note are a pair of George III inlaid satinwood demi-lune game tables, elaborate floral inlays on top, 29" high, 38" wide, 17 7/8" deep; a Continental carved giltwood marble top console table, with variegated shaped white marble top with molded edge, the base open carved with trellis, garland and shell motifs, on shell carved cabriole legs with scrolled feet, 32" high, 44" wide, 29" deep; a fine small George III swell front bachelor chest with slide; a French provincial walnut and pewter lavabo cabinet; another French provincial lavabo; a French porcelain lavabo; a pair of Louis XVI oval fruitwood stools; a Victorian carved wood and wire birdcage; a 19th century Queen Anne walnut stool; a French Louis XVI parquetry side table; a Queen Anne style chinoiserie cabinet on stand; a George III mahogany drop leaf dining table; an antique French marquetry poudreuse/vanity table; a French Louis XVI marquetry kidney shaped side table; a George III painted and gilded demi-lune console table, with fine neoclassical style decoration, 32 1/2" high, 39" wide, 20" deep; an unusual William IV ebonized tilting armorial reading stand; a French Louis XVI carved walnut low window bench; an antique French upholstered walnut bergère chair; a George III figured mahogany silver table; a French elaborately carved walnut bench, 19th century; three Regency inlaid mahogany drop leaf sofa tables, one with lyre ends; period French trumeau mirror with fine painted oil on canvas upper panel; a Regency carved mahogany leather top ladies writing table; and a French provincial Louis XVI walnut side table.
As always, the sale includes several fine pieces of American formal furniture. Notable among them are a Boston carved rosewood drop leaf sofa table; a set of six Federal classical carved mahogany saber leg side chairs; a Baltimore federal carved mahogany game table, rectangular form with swivel top over a broad reeded urn and four reeded sabre legs with brass casters, School of John Needles or William Camp, early 19th century, dimensions closed: 29 3/4" high, 37 7/8" wide, 18 1/2" deep; open: 28 3/4" high, 37 3/4" wide, 37" deep; a fine New England ovolo corner mahogany tip top candlestand; a rare Southern American cherrywood lift top Sheraton sugar chest; a Connecticut "Heart and Crown" rush seat side chair; a Philadelphia classical mahogany drop leaf breakfast table, School of Haines/Connelly; a rare labeled New York Hepplewhite mahogany chest, with deeply shaped serpentine front, paper label inside one drawer "John T. Dolan's Cabinet & Chair Warehouse, No. 65 Beekman Street, NY", dimensions 42 1/8" high, 46" wide, 22 1/2" deep; an American Federal gilt mahogany banjo clock; a nice Hepplewhite inlaid mahogany four drawer chest; a New York Sheraton mahogany astragal end work table; and a unique Connecticut Chippendale cherrywood chest, with molded top, ogee feet, unique three drawer configuration for blankets, 35" high, 43" wide, 19" deep, with history in the Mead family of Greenwich, Connecticut;
Two more important pieces of Americana being sold include a rare Vermont windsor comb back arm chair, with shaped and raised comb back, sloping back supports and blunt arm terminals, dimensions 43 1/2" high, 23 3/4" wide4, 15" deep, 16" seat height; and a diminutive documented Maryland chippendale walnut chest with a pull-out brushing slide, split top drawer over three graduated long drawers, ogee bracket front feet, plain bracket rear feet, bearing label verso with documentation regarding history of descent in Howes Goldsborough family of Talbot County Maryland, dimensions 34 3/4" high, 34 3/4" wide, 20 1/8" deep. Both items are being sold for the Darien Connecticut estate.
Several lots of American folk art and American country furniture are being sold, including a blue/gray Amish crib quilt, measuring 41 3/4" long, 34 3/4" wide, and a cranberry/yellow Amish crib quilt, measuring 42 1/4" long, 33 1/2" wide; a fine Connecticut sack back painted windsor arm chair from a Darien estate, with fine aspect and old, perhaps original paint, dimensions 36 1/2" high, 25" wide, 16 1/2" deep; seat height: 17"; a framed American theorem painting on velvet depicting King David playing the harp, castle in background, frame size: 22 1/2" high, 26" wide; a New England bannister back child's chair, 18th century, with three slat back, turned finials and splint seat, bold front stretcher, dimensions 27" high, 14" wide, 11 1/2" deep; and a rare American School folk art oval watercolor landscape, painted to appear like embroidery with reverse painted "matting". Sotheby's information, verso "19 century houses and yellow Church on a blue hill with row of trees beside the lake with men rowing", frame size 16 1/4 high, 19 3/4 wide, provenance Sotheby's, NYC.
Among the more than dozen fine needlework items offered in this sale, including several pairs framed in rectangles and ovals, a standout item is a rare documented large American needlework with silk and gold threads mounted in a gilt frame with reverse painted simulated matting surround. The work is signed "Ann B. Guyon" and "Newark, March 4, 18??" on edge area of work now tacked to the edge of the mounting board. The frame size is 24 1/2" high, 28 1/2" wide. The Guyon family was documented to Newark, New Jersey in the eighteenth century.
Over two dozen estate oriental carpets will cross the block, including Persian, Caucasian, Chinese and Turkish room and scatter sized rugs; several MCM shag rugs are also being sold. Expected to lead the group of rugs pricewise are a Chinese Art Deco rug with unusual mostly open floral field, approximately 12' long, 9' wide, being sold for a Connecticut estate; an Oushak room size carpet approximately 10' wide, 14' long, consigned by a Connecticut gentleman; a Kuba Caucasian rug 3' 6" by 4' 11" from a Connecticut estate; an antique Sarouk room size carpet, approximately 9' wide, 12' long; and a Persian area rug with unique central field design, 3' 7" wide, 4' 5" long. .
Of special interest is a wonderful neoclassical design French Aubusson carpet, in pale orange and tan tones, early 20th century measuring 8' 7" long, 11' 3" wide.
The catalog for the sale is viewable at www.woodburyauction.com and absentee and phone bidding is available by registering directly with Schwenke Auctioneers using forms which are available on the firm's website. Absentee and real time live online bidding is available through Live Auctioneers and Invaluable. For additional information please call the auction hall office at 203-266-0323.