Auction Blog
---
Schwenke May 23rd Anniversary Auction Features John & Muriel Gantz Estate Collection, Greenwich CT
Posted May 15, 2023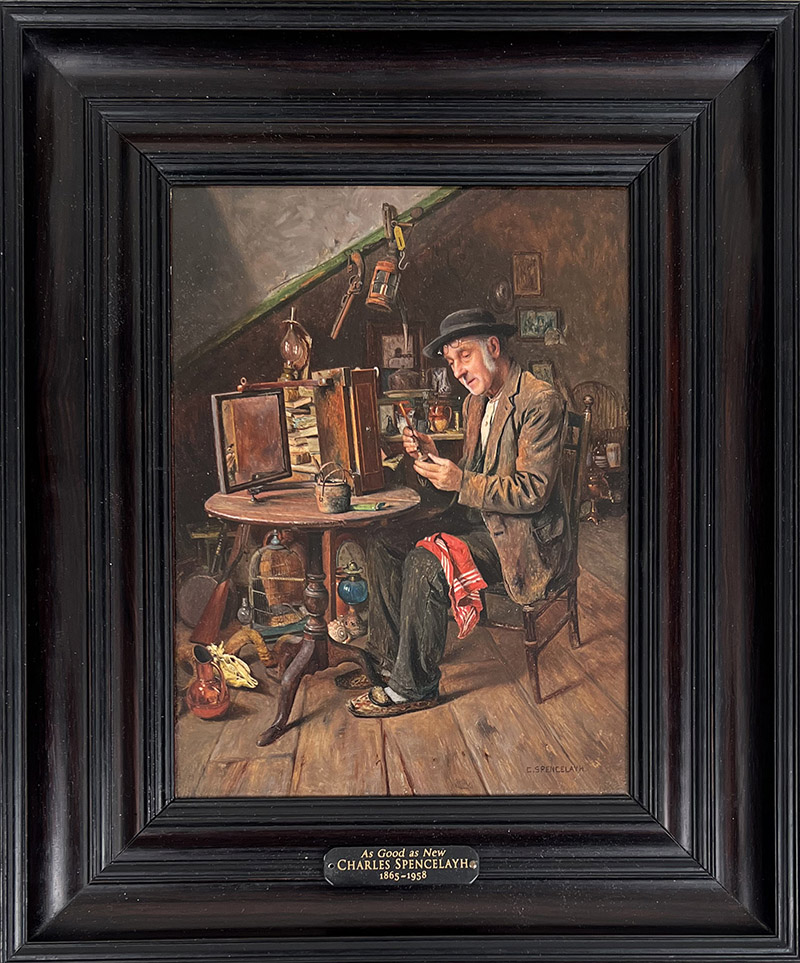 C. Spencelayh, O-C As Good As New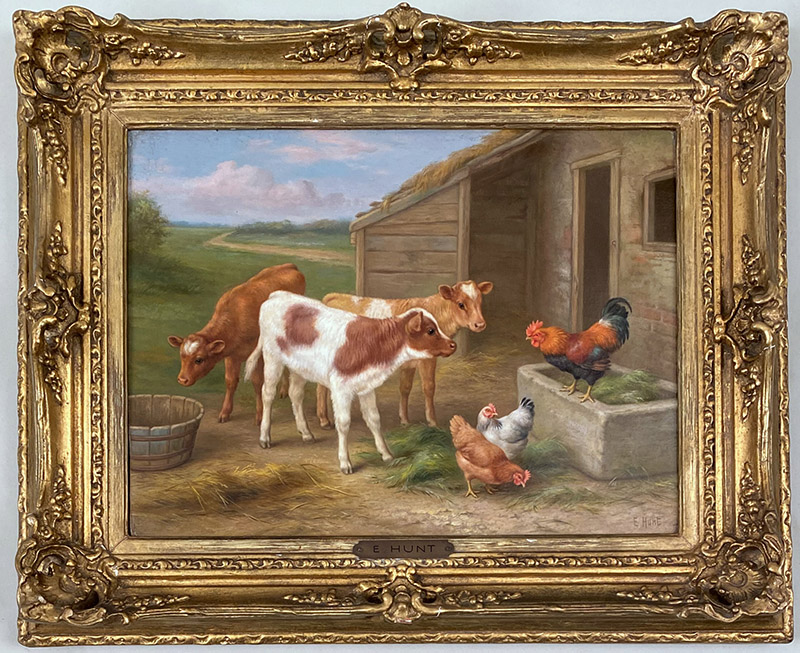 Hunt, O-C In The Barnyard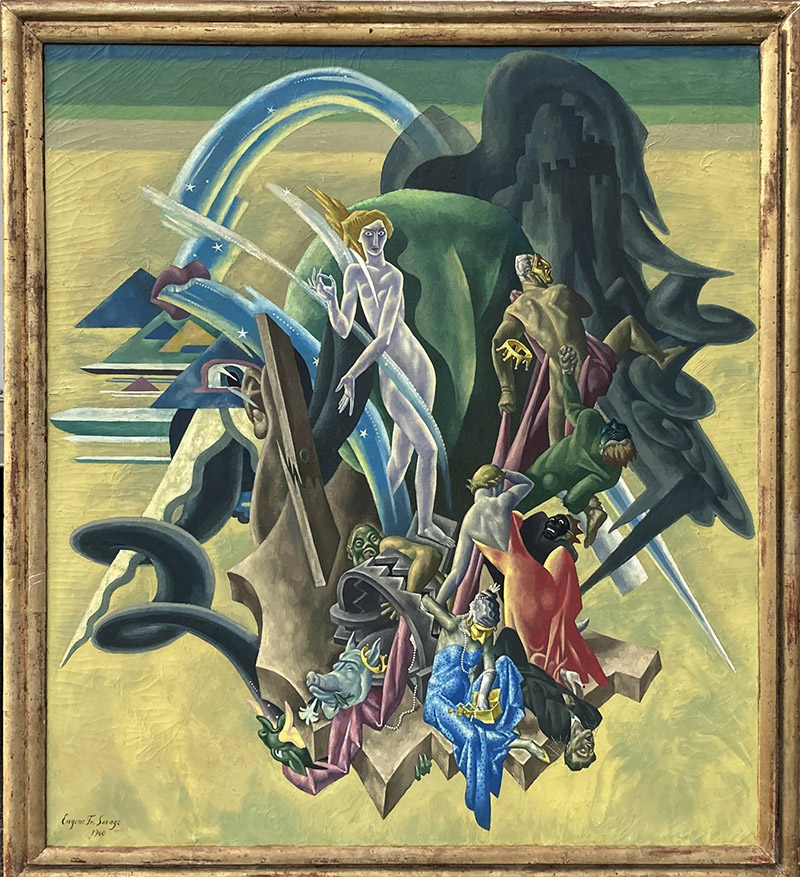 Savage, O-C Truth and The Seven Deadly Sins



Dali, Four Playing Cards Suite Colored Lithographs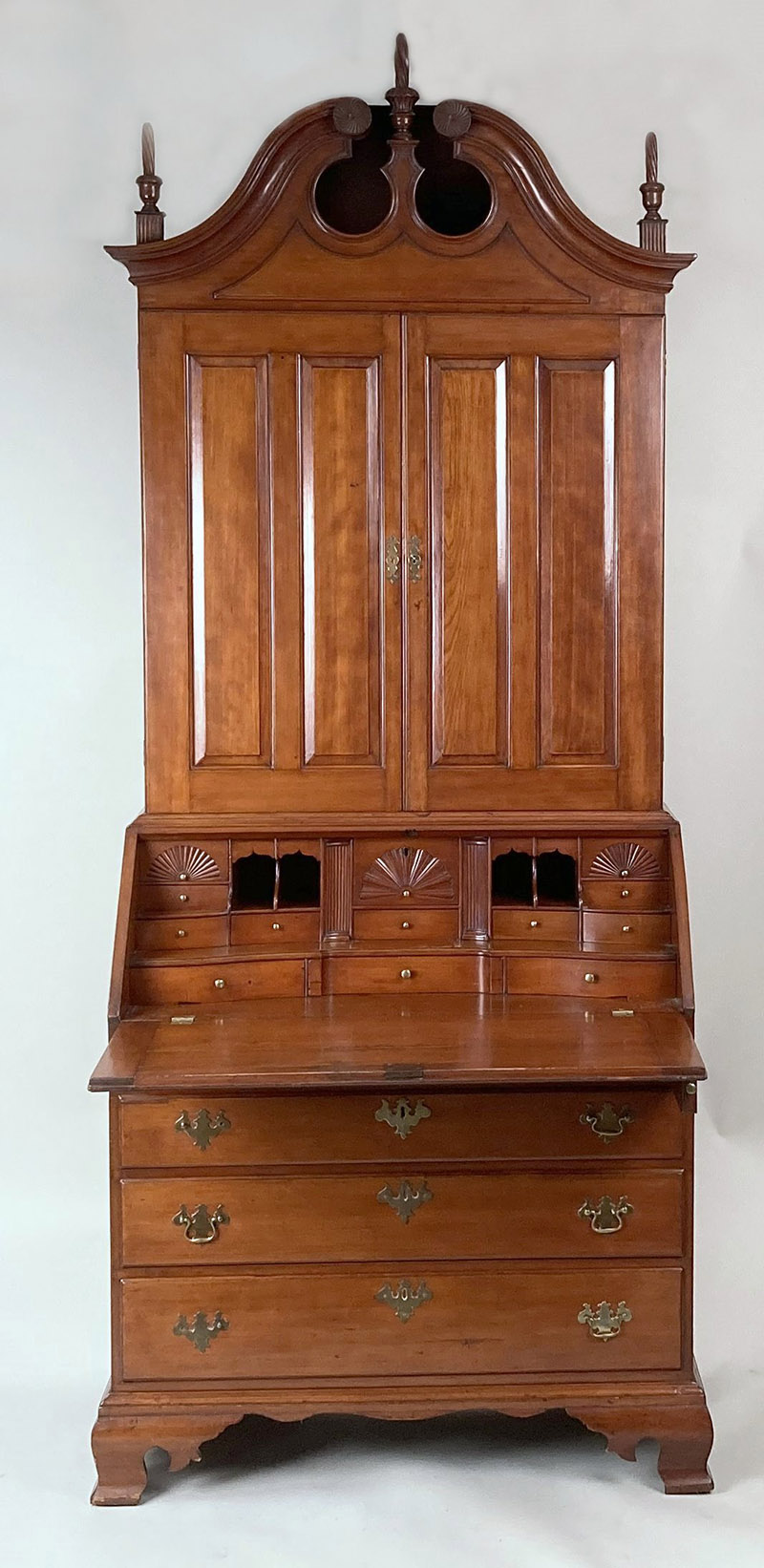 Connecticut Chippendale Carved Cherrywood Secretary Desk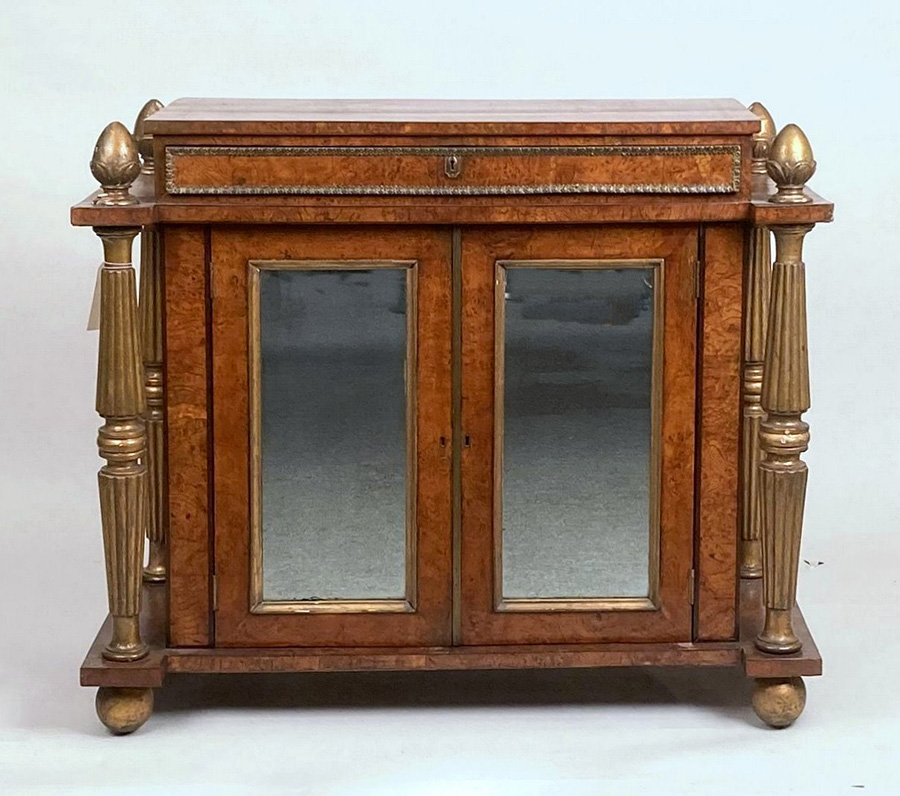 Baltic Burl Walnut & Gilt Neoclassical Cabinet



Estate Paintings of Eugene Francis Savage (Am. 1883-1978); West End NYC Eclectic Estate; and Several Other Fine Estates Are Also Being Sold

Woodbury, CT – On Tuesday, May 23rd Schwenke Auctioneers will offer the Estate of Muriel Gantz, Greenwich CT as the first section of its Anniversary Fine Estates Auction. John and Muriel Gantz began collecting in the mid-1960's, and for over forty years they frequented show and shops in New York and New England building a distinguished collection of American and English Furniture and folk art, decorative arts and important fine art. They were dedicated clients of Connecticut dealers John Walton, Jerome Blum and Marguerite Riordon; The Old Print Shop in NYC; and Richard Green Fine Art in London, to name but a few. Like many collectors, they kept detailed records of their purchases and spent countless enjoyable hours documenting those items and seeking out new acquisitions. The Estate of Muriel Gantz comprises three hundred lots and well over five hundred items which were lovingly displayed for many years in their replica 18th century home.

The balance of the sale includes over 130 lots from a West End NYC estate with interesting and eclectic European furnishings and fine art; over 50 lots comprising the estate paintings of Eugene F. Savage, noted American muralist who lived the later part of his life in Woodbury, Connecticut; and more than 200 select lots from over thirty-five other estates and collections from the tri-state area.

The sale will begin at 11am on Tuesday, May 23rd, and will be broadcast live on Live Auctioneers and Invaluable. Absentee and phone bidding is available by registering directly with Schwenke Auctioneers. Live preview is being held in Woodbury on Tuesday, May 16th from 1pm to 6pm and Thursday, Friday and Saturday May 18, 19 and 20 from 10am to 5pm.

Gantz Estate Collection

John and Muriel Gantz had broad and varied collecting interests. They liked late 17th and early 18th century American furniture, with their taste being molded by John S. Walton, one of the iconic dealers of their era. Other mentors for American furniture and folk are were Marguerite Riordan, Stonington CT and Jerome Blum, Lisbon CT. The couple also favored early English furniture, and especially early English staffordshire and prattware, many items being acquire from Suchow and Seigel, NYC, Leo Kaplan Ltd. NYC and Edward Steckler, Windham, CT.

Perhaps the most outstanding aspect of their collection is a large group of fine British artworks, many bought from Richard Green Fine Art, London. They also acquired works from other well-known dealers and also from Sotheby's and Christies, where they acquired several fine artworks.

The Schwenke firm is privileged to be offering two outstanding works by Charles Spencelayh RMS, HRBSA (British, 1865-1958). First is an oil on board titled "As Good As New", depicting an older gentleman in a somewhat unkempt possibly home workshop, fixing a late Regency style dressing mirror. Signed lower right. Sight size: 12" high, 10" wide. Provenance: Bonhams, London; Richard Green, London, with the Green label attached verso and documented with the original bill of sale. The second Spencelayh work is a larger detailed oil on canvas depiction of well-attired older gentleman in his art and antiques adorned office, reading his bank statement, titled "Overdrawn At The Bank", signed lower left "C. Spencelayh" with inscription verso. Frame size: 29 1/2" high, 25 1/4" wide; sight size: 24" high, 20" wide. Provenance: Bemrose and Sons, Derby; Richard Green, London, purchased 1998, also with original bill of sale.

Five works by Edgar Hunt (British 1876-1953) are on offer from the Gantz estate, four with Richard Green provenance but also another titled "In The Barnyard" an oil on canvas, signed lower right, sight size 12" high, 16" wide, provenance Red Fox Fine Art, Middleburg, VA.

Purchased from Vose Gallery in Boston is a fine work by Thomas Hewes Hinckley (Am. 1813-1896) "Blue Hills From The Dedham Side", oil on canvas, mounted on masonite, circa 1848. Frame size: 19 1/2" high, 25 5/8" wide; sight 14' high, 20" wide. Signed and dated lower right: "T.H. Hinckley/1848". Provenance: Vose Gallery, Boston as "Blue Hills, Milton Mass."; ex collection Theodore Chadwick; ex collection S.E. Sprague, Boston (1848).

In total, more than thirty fine artworks are being sold for the Gantz estate, and the offerings include numerous American school paintings and many folk art paintings, textile works, watercolors and other works on paper.

Foremost among the American furniture being sold is an Eastern Connecticut carved cherrywood secretary desk, the upper section having arched bonnet top with pinwheel carved rosette terminals, molded cutout center, applied paneled scrollboard, raised double-panel doors and a shelved interior; swirl carved urn finials on reeded plinths; the lower section having fall front revealing fitted stepped amphitheater interior with three fan carved drawers, two fluted and pilastered document drawers flanking a prospect door; four drawer base with scalloped base molding and ogee bracket feet, circa 1770. Dimensions are 97" high,38" wide, 20" deep. Provenance: Soames Family, Lowell, MA; ex collection Dr. Samuel J. Phillips, NY; John Walton, Inc. Important other American furniture a is a cherry reverse serpentine chest with molded notch corner top, blocked ends and ogee bracket feet with "C" scrolls; five Connecticut bannister back arm chairs; a Pilgrim century ash "Brewster" arm chair; a New York Chippendale carved mahogany claw and ball foot serpentine game table; a figured maple tray top New Hampshire tea table; a rare American Queen Anne walnut fire screen; a Newport RI shell carved Queen Anne walnut balloon seat side chair; and a very rare New York State tiger maple and gumwood/cherry 17th century small tap table in original finish.

The collection also includes a pair of Bermuda cedar Queen Anne side chairs and a Bermuda cedar Queen Anne lowboy. English furniture includes a fine Queen Anne slipper foot walnut tray top tea table; a George II carved mahogany double top turret corner game table; an early Queen Anne double dome mirrored door fall front secretary desk; and a 17th century walnut paneled front two-part ball footed chest.

Estate Paintings of Eugene Francis Savage (Am. 1883-1978)

The Savage estate collection comprises over 45 significant individual artworks consigned by a descendant of the artist. Eugene Francis Savage (1883-1978) was an American realist and surrealist painter known for his mural, genre, figural and landscape works. He studied at the American Academy in Rome, the Corcoran School of Art, and the School of the Art Institute of Chicago, and taught at Yale School of Fine Art. Savage was born in Covington, Indiana. In 1915, while studying at the Chicago Art Institute, he won the Rome Prize in painting, enabling him to study at the American Academy in Rome, where he received a bachelor of arts degree. Later he received Bachelor of Arts (1924) and Master of Fine Arts from Yale University. Savage subsequently taught at the Yale School of Art and Architecture for twenty-eight years, where he was the Leffingwell Professor of Painting & Design.

Murals by Savage are on the campuses of Purdue, Columbia and Yale Universities. At Yale, he oversaw the decorative painting of Sterling Memorial Library and painted the library's Alma Mater mural. His work is also featured in government buildings in Connecticut, the Elks National Veterans Memorial in Chicago, the new Post Office Building (now William Jefferson Clinton Federal Building) in Washington, in Indiana and the renovated Court of Appeals Hall, Albany, New York (1959). He also did the Great Hall murals in the Hall of State at Fair Park for the 1936 Texas Centennial Exposition in Dallas, Texas.

Savage was commissioned by the Matson Navigation Company to paint nine 4 by 8 foot Hawaiian-themed murals in Hawaii. They were completed in 1940, but never installed in the company's ships, which had been converted to troopships. In 1948, lithographs based on these murals were used as menu covers on Matson's flagship, SS Lurline. In 1935 and 1953 Savage visited Florida, where he painted the experience of the Seminole in their Everglades, taking note of the intrusion of modern civilization into what seemed to be a Garden of Eden pastoral existence. These paintings were done at the same time the effort was under way to create the Everglades National Park.

He became an associate member of the National Academy of Design, 1924 and National Academician, 1926. Savage also served on the U.S. Commission of Fine Arts from 1933 to 1941 and was a member of the American Academy of Arts and Letters, to which he was elected in 1936.

Many of the works being offered from his estate are studies for some of the noted murals as well as others, and several are from his works done in Hawaii and in the Seminole area in Florida. Foremost among the works is a sizable oil on canvas, signed and dated 1960, titled "Truth and the Seven Deadly Sins", a fully realized composition originally conceived as one panel of a mural in the Queen's County Courthouse NYC, representing the triumph of truth over error and transgression, with various sins represented. An exhibition label from The Century Association, NY is attached verso. The work measures 74" high, 67" wide.

Other significant works include "Means Of Communication", oil on canvas signed lower right, study for Communication Building, New York World's Fair, 1939. Unframed: 45" high, 30" wide; Mural Study Finance Building, Harrisburg PA, oil on canvas, unique mural study with allegorical scenes of industry and labor, unsigned. Unframed size: 36" high, 78 1/2" wide; Mural Study Queens County Courthouse, oil on board, now mounted on plywood with wood batten ends. 18 1/2" high, 38 1/2" wide. Savage collaborated with George Davidson in the installation of the mosaic murals. Davidson may have been a private student or assistant of Savage while the latter served as William Leffingwell Professor of Painting at Yale University from 1928-1953; and Mural Study "Just And Unjust Taxes", an important study for the mural at Covington, Indiana Courthouse (Savage was born in Covington), together with an unsigned charcoal/graphite on paper sketch of the mural. Signed lower right. Frame size: 65" high, 71" wide.

Works from the Seminole group include "The Hunter", a depiction of a Seminole archer hunting cranes, graphite and charcoal on paper, signed and labeled verso (partially legible). 28" high, 24 1/2" wide; and "Everglade Scene w/ Seminoles" charcoal on paper laid to masonite, signed lower left, dated 1935. 33" high, 33" wide. Hawiian themed works include "Hawaiian Landscape With Nude Maiden", oil on canvas signed lower left, estate stamp verso, frame size: 27 1/2" high, 31" wide.

Savage painted several works in and near Woodbury during the later part of his life when he resided in Woodbury. One of those works being sold is "Southford Falls", a hanging scroll oil on canvas, signed lower right, dated '69 with Century Association Exhibition label verso, scroll size 54" high, 31" wide; sight ize 24" high, 16" wide.

West End Avenue NYC & Various Other Estates, Collections

The other 300 plus estate lots include Asian decorative arts, American, English and Continental furniture and decorative arts, folk art and American country furniture, early English & other sterling silver, jewelry, fine art, miscellaneous decorative arts, and estate oriental rugs. Eclectic furniture from the West End NYC Estate include a Continental heavily carved oak round extension dining table with four figural caryatid carved legs and central carved pedestal, 30 3/4" high, 60 3/4" diameter with four leaves; an early oak Continental credenza, with two doors, later painted and gilt surface, 37" high, 63 1/2" wide, 25 1/4" deep; a Biedermeier carved and figures birch inlaid abbatant with an ornate inlaid interior; an early Italian inlaid walnut prie dieu, with various marquetry and penwork details centering the Virgin Mary, 35" high, 25 1/4" wide, 19 1/2" deep; and a Baltic burl walnut and gilt Neoclassical cabinet 37' high, 45" wide, 20 1/2" deep.

Several important artworks are being sold for the estate, namely an oil on canvas shipwreck scene, signed lower right "E J Doussier" and also on stretcher, frame size: 32 1/2" high, 47" wide; an unsigned oil on canvas of a clown, manner of Bernard Buffett; a large framed portrait of a lady after Angelica Kauffman; an oil on canvas genre scene of a British antiques emporium, attributed to Hubert von Herkomer (Br. 1849-1914): a large oil on canvas of sheep in a pasture, signed DeBuel; a fine genre interior scene of a couple with young child, Albert Neuhuys (Dutch 1844-1914) (Johannes Albert Neuhuys), signed lower left, Chas. Kupner & Weiss Galleries label verso, frame size 42 1/2" high, 50 1/2" wide.

Notable items from among the other estates and collections include Salvador Dali (Spanish 1904-1989) four prints from the "Playing Cards Suite". Includes Jack, Queen, King and Ace of Diamonds. Lithographs in colors on Arches paper. Each pencil signed and marked for edition 52/150, each also accompanied by authentication documents from Salvador Dali Research Center, NY; three important 18K gold jewelry pieces from a collector in Westport CT; an important NY classical marble top pier table from the Levy Gallery, NYC and attributed to Duncan Phyfe; a wonderful Regency brass bound calamander writing box, from a collector in NYC, along with a modernist pair of Tiffany & Co. sterling candlesticks and an oil on canvas folk art portrait of a boy by Lilia Carrillo García (Mexican 1930-1974) and ZAINI (Indonesian, 1926-1977) modernist abstract composition, signed lower right "Zaini", frame size: 40" high, 27"wide; from a Litchfield county gentleman there is a large 19th century watercolor on paper, a view from West Point looking north to Pellepel Island, a charming detailed work with people, sailboats, side-wheelers, mountains, trees and clouds, frame size: 31 5/8" high, 44 1/4" wide; a pair of miniature brass sunumbra lamps, 12 1/2" high; with shades 17 3/4" high, 7" diameter; and a silver plated canoe trophy, by J.W. Tufts, Boston.

A Chinese neolithic earthenware pot is selling on behalf of a Washington CT collector, as well as an interesting, somewhat humorous early English school portrait of a gentleman with sideways gaze. frame size 31" high, 27" wide. A New Jersey gentleman has on offer a pair of early toleware coach lights with original brackets; two framed Hirschfeld lithographs, one of Marcel Marceau; an as found American tall clock by Alex Willard of Ashby, Massachusetts; and three unique wrought iron furniture items which according to family tradition were made by Casper Faude, local metalsmith/artist who worked in Reading PA in 1920's.

The sale ends with several lots of estate oriental carpets including Persian, Caucasian and Turkoman room and scatter sized rugs, and other regional and modern rugs of varying sizes. Most notable among the carpets and related textiles is a very large Chinese Art Deco garden panel carpet, with unusual multiple field medallions and corner shields, 22' 1" long, 12' 1/2" wide.

The catalog for the sale is viewable at www.woodburyauction.com. Absentee and phone bidding are available for this live-online auction by registering directly with Schwenke Auctioneers. The sale will be broadcast for live internet bidding on Live Auctioneers and Invaluable. Live "early bird" preview will be held Tuesday, May 16th from 1pm to 6pm and Thursday, Friday and Saturday May 18, 19 and 20 from 10am to 5pm. Please consult the firm's website for additional information or call Schwenke Auctioneers at 203-266-0323.