We are actively seeking consignments of antique furniture, paintings, folk art, and accessories. Contact:
info@woodburyauction.com
or call (203) 266-0323.
Second Anniversary Auction Brings Standing Room Only Crowd
Posted May 25, 2011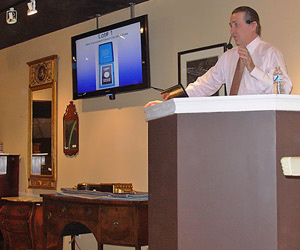 Woodbury, CT ?On Saturday, May 21st a packed audience delivered strong support for Woodbury Auction's Anniversary Sale. Owner/auctioneer Tom Schwenke and associate auctioneer Mike Tomasiewicz hammered down over 100 lots per hour, finishing 440 lots in less than five hours. The sale, held at the auction house's temporary gallery at 670 Main Street South in Woodbury, comprised fine and decorative art and American and European furniture from seven estates and over 60 individual consignors from Connecticut, New York, Virginia, California and New Jersey.

Prices for fine American furniture were strong. One of the prime lots in the sale was a rare New Jersey inlaid mahogany tall clock with a silvered dial by Aaron Lane of Elizabethtown, never before offered for public sale. The clock, which descended in the consignor's family directly from the original owner ?thought to be John H. Smock (1781-1865), a Monmouth County, New Jersey resident ?was sold to a private collector from New York for $30,420. A walnut Queen Anne dressing table, which descended in the family of William Pinkney of Maryland, was knocked down for $8,775.

A Plains Indian decorated deer hide fetched $5,850 from a phone bidder in California, and a finely worked decorated Native American basket sold for $660.

A pair of Asian carved ivory figures of a man and woman peaked at $15,400, selling to a collector in the room. Another carved ivory grouping of dressing table items sold well above the estimate at $2,160.

A pair of engraved Federal andirons, attributed to Charleston, South Carolina, were claimed by a prominent New York designer for $6,435. A Bergmann cold-painted bronze of a praying Arab, from the Estate of Jerome Zeifman, jumped well above estimate, selling to a European buyer for $1,800.

A rare local sampler, wrought by Elvira Curtiss of Woodbury in 1815, was bought by Woodbury dealer David Schorsch for $1,755, bidding for The Seabury Society-Glebe House Museum. A lot of five Wallace Nutting photographs, including scenes in and around Spruce Bank Farm in Woodbury, were snapped up for $500. The lot had been consigned at the last minute by members of a long-standing Woodbury, Connecticut family now living in Ohio.

Twentieth century items also fared well in the sale. A Leica Elmar camera from 1932 brought $1,050 from an absentee bidder, a mid-century wood engraving by former Woodbury resident Clare Leighton (1898-1989), went for $1,635, and 3 duck decoys, including an early 1900s example, paddled out at $1,800.

The sale featured many fine art lots including paintings, prints and drawings by various listed artists from the 19th and 20th centuries. A pastel on paper by Michele Cascella was won for $2,925 by an Italian art dealership bidding on the phone and a previously unknown equestrian oil on canvas by Richard Newton, Jr. went out at $2,340, while an original Maxfield Parrish watercolor cut-out from 1920 brought $5,265.

Absentee and phone bidding was brisk at the sale, according to Schwenke. The sale was also conducted live on the internet through Live Auctioneers, and by the morning of the sale over 750 bidders had registered to compete via the internet, telephone, absentee bidding and bidding in the room.

Woodbury Auction's next sale, an Opportunity Auction ?Decorative Arts Sale, is scheduled for June 29th at 6:00 pm. This auction is also being held at Woodbury Auction's temporary auction hall at 670 Main Street South. For information or to discuss consignments, please email info@woodburyauction.com or call Woodbury Auction at 203-266-0323. All prices quoted include the buyer's premium.