We are actively seeking consignments of antique furniture, paintings, folk art, and accessories. Contact:
info@woodburyauction.com
or call (203) 266-0323.
Woodbury Auction Holds Evening Opportunity Sale June 29th
Posted July 8, 2011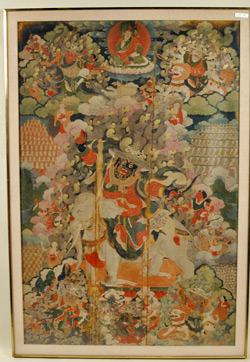 19th Century Framed
Tibetan Thangka - $19,305

Woodbury, CT ?The Opportunity Auction ?Decorative Arts Sale held by Woodbury Auction on Wednesday evening June 29th offered up many surprises. This was the first evening sale held by the Schwenke auction firm, and it was dubbed "Woodbury Auction Wednesday? By all accounts, the sale provided attendees with plenty of evening excitement as the 410 lots on offer were sold at a pace of over 100 lots per hour.

Highlights of the evening included a 19th century Tibetan Thangka which soared above estimate to fetch $19,305 from a New York dealer bidding on the phone from India. Other Asian lots faring well were a pair of framed Asian paintings on fabric, probably Chinese 19th century, peaking at $7020, a colorful porcelain brush pot at $500, a large Meiji period Japanese hibachi at $644, and an Asian lacquered tabletop shrine which went for $526.

Several Hudson River landscape paintings from a local estate went out at prices ranging from $936 to $5265. An interesting pair of bronze cherub form lamps attracted interest, selling to a phone bidder for $1287, while an 1890's vintage Louis Vuitton steamer trunk with inside label knocked down at $1287. A cast iron three tiered fountain from a New Jersey estate found a buyer at $1404, and a pair of modernist composition lamps from a Westport, CT collection left the block at $877. A Georgian style crystal chandelier, a late sale arrival from a local Woodbury estate, attracted several bidders with the winner paying $4095 on the phone.

Tiffany sterling silver lots included an elongated vase which hammered at $2,520, a set of eight butter plates brought $1,085 and a gravy boat fetched $240. Other silver lots included a continental .880 silver four piece tea set which fetched $1755,

Woodbury Auction's next sale is an Important Estate Auction scheduled for Saturday, September 17th.

All prices quoted include buyers premium.