We are actively seeking consignments of antique furniture, paintings, folk art, and accessories. Contact:
info@woodburyauction.com
or call (203) 266-0323.
Jewels Sparkle at Woodbury Auction's Holiday Fine Estates Auction

Posted December 3, 2011
Woodbury, CT – Woodbury Auction held its Holiday Fine Estates Auction on Saturday, December 3rd at 6:00 pm, which featured a single owner collection of sterling silver hollowware and flatware and more than 45 lots of fine estate jewelry. Also on the block was a group of American furniture with Southern accent, mid-century modern furniture and decorations, selected Asian items, and assorted decorative objects and oriental rugs.

Owner-auctioneer Thomas Schwenke noted that the sale was held in the evening to avoid conflict with the Saturday daytime hours of the inaugural Fairfield County Fine Art & Antiques Show which Woodbury Auction had sponsored. "Some of our regular bidders were not able to attend the sale due to holiday parties" he noted,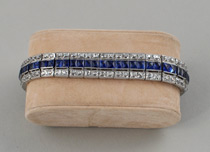 "but many astute buyers attended the preview, returned for the auction, and competed for what they wanted to own. The sell-through rate for the jewelry lots was over 95%, and we passed only three of the one hundred nineteen silver lots, which is a testament to the quality of the goods and the skill of our staff in cataloging and estimating."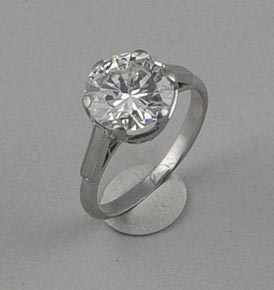 Top lot of the sale was a stunning Art Deco platinum, diamond, and blue sapphire bracelet, signed Hennell, which peaked at $23,400 to an anxious buyer in the room. The same private collection yielded a wonderful Art Deco platinum jeweled charm bracelet with six platinum figural charms which fetched $9,945 to the phone. An Art Deco platinum diamond & sapphire evening watch by E. Gubelin brought $8,700 to a bidder in the room, and a platinum and diamond solitaire engagement ring, 2.85 carats, was hammered down to a phone bidder for $9,945. A free form style 14K yellow gold ring with a vintage mine cut 1.5 carat diamond was claimed by an absentee bidder for $3,360, while a platinum, diamond and sapphire cocktail ring sold to the phone for $2,400.

Asian items also did well, as a rare pair of diminutive celadon jade bowls went out at $4680, while a choice peking glass overlay snuff bottle was claimed for $1521.

Highlights of the sterling silver lots offered on behalf of a single owner included a pair of George III silver entree dishes and covers, Joseph Hardy, London, 1818, selling for $3,360. Other noteworthy silver lots included a Chinese Export large silver creamer by Leeching, circa 1850, which fetched $510 to the internet; a Chinese Export silver trophy bowl by Hung Chong Co. which sold to a bidder from Holland for $1,476; an Irish silver teapot, James Fray, Dublin 1842, at $1,020; a William IV Irish silver footed bowl by Edward Power, Dublin, 1831, for $540; a George III silver cake basket, Craddock & Reed, London, 1814, selling for $1,020; a George III silver three piece tea set, Charles Price, London, 1817, fetching $1,020; a William IV silver cake basket, Barnard Bros., London, 1834, bringing $840; a George III Irish silver salver, William Homer, Dublin, 1770, at $450; a George III Irish silver large sauceboat by Matthew West, Dublin, 1788, claimed at $510; a George IV Irish silver mug by William Nowlan & William Law, Dublin, 1827, for $240; a stunning pierced openwork George III silver cake basket by William Plummer, London, 1776, selling for $1,800; a George III silver oval salver by Crispin Fuller, London, 1814, at $900; a George III silver salver by John Crouch and Thomas Hannan, London, 1779, fetching $520; and a fine pair of William IV silver candlesticks, T.J. & N. Creswick, Sheffield, 1833, going out at $960.

A sterling silver flatware service by Wallace, in the Putnam pattern, circa 1912, sold for $1,920, and a partial American sterling silver assembled flatware service, Tiffany & Co., circa 1885-1902, in the English Kings pattern, comprising 86 pieces weighing 166 troy ounces, went to a phone bidder for $5,400.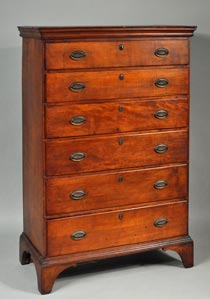 Top furniture lot of the sale was a choice New England Chippendale six drawer maple tall chest in an old finish, claimed for $2,640 by a private collector bidding on the phone while attending a party elsewhere. American furniture with Southern provenance sold well, including a late 18th century inlaid cherry Chippendale slant front desk with yellow pine secondary woods, ogee bracket feet and original hardware which went for $1,053, a Hepplewhite huntboard which was claimed by a Southern dealer for $1,920, and an inlaid walnut tall clock with painted dial and case with fluted quarter columns and an old finish which brought $2,280.

Three signature cards from The Riggs National Bank of Washington, D.C., one Jacqueline Bouvier Kennedy - October 23, 1953; one Mrs. Lyndon B. Johnson - January 25, 1949; one Dwight D. Eisenhower - March 2, 1927 and Mamie D. Eisenhower - July 3, 1942, estimated at $100-$200, surprised at $780 to an eager phone bidder.

A geometric design oriental runner led the group of carpet lots, knocked down to an absentee bidder for $540. A group of vintage Schuco toys with a catalog sold for $360, and a basket-full of vintage teddy bears fetched $350, both lots claimed by absent internet bidders.

Consignments are now being accepted for the firm's Winter Fine Estates Auction scheduled for Sunday, February 12th at noon. For information, please call 203-266-0323, or visit the website at www.woodburyauction.com. All prices quoted include buyers premium.