We are actively seeking consignments of antique furniture, paintings, folk art, and accessories. Contact:
info@woodburyauction.com
or call (203) 266-0323.
Alexander Calder Sterling Brooch Shines At Woodbury Auction Early Fall Fine Estates Auction
Calder Brooch Tops Estimate, Edna Hopkins Woodblock Surprises, and British Campaign Collection Outperforms
Posted September 17, 2012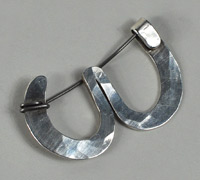 Alexander Calder Sterling Silver Brooch
$22,140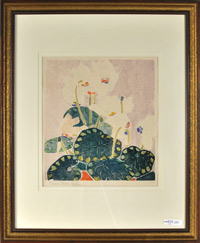 Edna Hopkins Woodblock
$9,840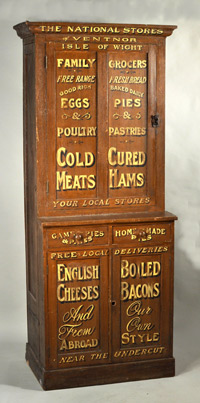 English Folk Art Grain Painted Cupboard
$5,700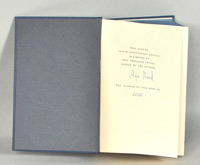 "Atlas Shrugged", signed
$748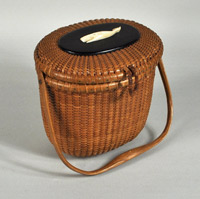 Jose Reyes Nantucket Basket
$2,935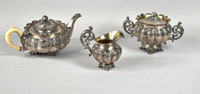 Continental Silver Three Piece Tea Set
$2,706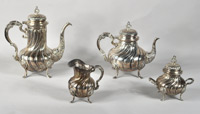 Four Piece Sterling Silver Tea or Coffee Set
$3,565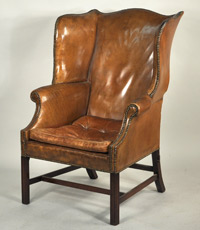 George III Leather Wing Chair
$2,214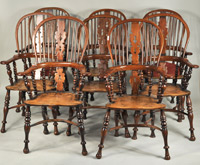 Set of 8 Windsor Arm Chairs
$4,200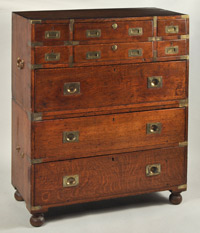 Brass Mounted Oak Campaign Chest
$1,845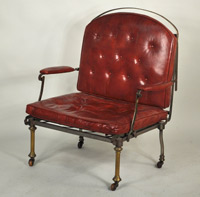 Rare Brass & Leather Campaign Chair
$2,337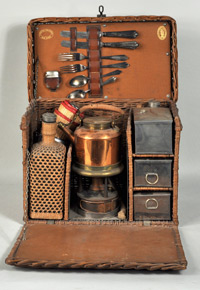 Brooks Brothers Picnic Case
$523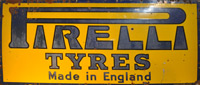 Large Tin Pirelli Tyres Trade Sign
$360



Woodbury, CT – On Sunday September 16th Woodbury Auction presented its Early Fall Fine Estates Auction with a diverse offering of 537 lots of estate material from three prime estates and numerous other estates and consignors. A standing room only crowd was present in the saleroom to compete for the eclectic material on offer. According to Thomas Schwenke, owner/auctioneer, the sale was over 96% sold. He indicated that in this sale the firm experienced nearly 100% increase in participation on the internet with almost 700 bidders competing online during the sale and over 2200 live internet bids placed, resulting in over 45% of the catalog lots selling on the internet and over 1300 internet underbids being logged. Schwenke volunteered "…our internet clerk, my daughter Margaret, did an absolutely amazing job handling the huge volume of internet bidding activity in this sale".

The top lot of the sale was the Alexander Calder hand hammered sterling silver brooch which fetched $22,140 from a bidder on the phone. Estimated at $12,000 to $18,000, the brooch was sold for an existing Woodbury Auction consignor who decided to offer the piece subsequent to the firm's notable sale of two other original Calder jewelry pieces in its Spring Fine Estates Auction held on June 17th. Like those pieces, the brooch had been a personal gift from the artist - in this case to Winifred McCulloch, a prominent New Yorker with social connections to Calder - and had never before been offered for sale. The brooch was in the form of McCulloch's first initial "W", and she had bequeathed the specially conceived pin to the consignor in 1962. Calder, the noted prolific artist and sculptor whose home and workshop were in Roxbury, Connecticut, was known for gifting jewelry pieces to his friends during the course of his career.

The big surprise of the sale was a small framed woodcut print by Edna Hopkins, drawn from a New Haven, Connecticut estate. Modestly estimated at $60-80, the print inspired fierce competition from absentee bidders, internet bidders, and several bidders present in the room. The successful bidder claimed the prize through the internet for a final total of $9,840. As he knocked down the print, auctioneer Schwenke quipped from the podium "I guess we were a bit conservative on that one!"

Other noteworthy lots from included an English grain painted folk art cupboard which sold for $5,700 after lively bidding from several bidders in our audience. A signed limited edition of Ayn Rand's "Atlas Shrugged" went for $748, and a Jose Formoso Reyes Nantucket Friendship Basket hammered for $2,935.

Jewelry and silver performed well, reflecting the recent increase in precious metal spot prices. A lot of four diamond rings went to a Live Auctioneers' bidder for $738, a three piece Continental Silver tea set sold for $2,706 to the internet, and a four piece Sterling Silver tea/coffee set brought $3565 after brisk bidding in the room.

The large collection of British campaign furniture and country furniture outperformed expectation at all levels. Drawn from the Great Barrington estate of Edward Adolph, former part owner of British Country Antiques in Woodbury, the collection included a leather upholstered Chippendale style wing chair which fetched $2,214 to a determined phone bidder, a set of eight yew wood Windsor arm chairs knocked down for $4,200 to an absentee bidder, an oak brass bound campaign chest selling to the phone for $1,845, a diminutive Queen Anne oak lowboy going to the same buyer for $900, and a brass and leather campaign form folding daybed sold for $2,337 to the internet.

The Adolph collection included over two dozen grouped lots of vintage leather cases and automotive related picnic gear, and a like number of group and box lots of Bentley automotive memorabilia, catalogs, parts and signs. Top lots included a vintage Brooks Brothers wicker picnic case which went to a internet bidder for $523, a group of assorted automobile parts which included a Jaguar hood ornament sold for $450 to an absentee bidder, and a large tin Pirelli Tyres trade sign went for $360.

Woodbury Auction's next sale is set for December 9th, and additional consignments for that sale are being accepted through mid-November. Phone inquiries should be directed to 203-266-0323 and further information is available on the internet at the firm's website www.woodburyauction.com.