We are actively seeking consignments of antique furniture, paintings, folk art, and accessories. Contact:
info@woodburyauction.com
or call (203) 266-0323.
Fine Estates At Woodbury Auction's Early Fall Sale - Sunday, September 16th at 11AM
Alexander Calder Sterling Silver Brooch, Fine Bronzes, Silver, British Campaign Furniture and Bentley Motorcar Memorabilia Featured
Posted August 23, 2012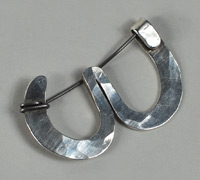 Alexander Calder Sterling Silver Brooch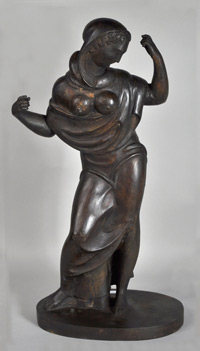 Elie Nadelman, Bronze Draped Female Figure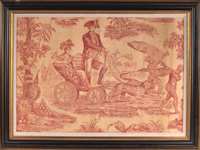 "The Apotheosis of Franklin"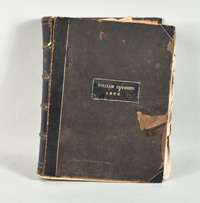 Civil War Era Sheet Music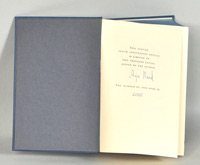 "Atlas Shrugged"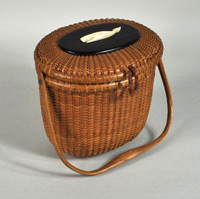 Jose Formosa Reyes Nantucket
Lightship Basket Purse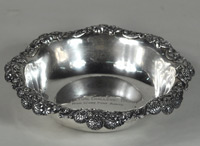 Tiffany & Co. Sterling Fruit Bowl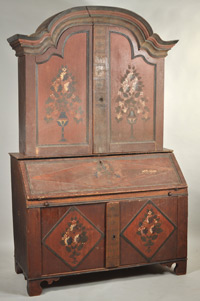 Scandinavian Dome Top Secretary



Meissen Porcelain Monkey Figure



Woodbury, CT – On Sunday, September 16th over 500 lots of fine and decorative arts from estates and consignors from Connecticut, New York, New Jersey, and Massachusetts will cross the block at Woodbury Auction. The sale is being held at 11:00 am in the firm's auction hall at 710 Main Street South, Middle Quarter Plaza, in Woodbury. Inspection times are Sunday, September 9th, noon to 5:00 pm, Thursday, September 13th, noon to 5pm, Friday, September 14th, 10 am to 7 pm, Saturday September 15th, 10am to 5pm, and 8am to 11am day of sale. Extended preview Friday evening will feature wine and cheese from 5pm to 7pm.

Among the highlights of the auction is an original sterling silver brooch by Alexander Calder, whose workshop was in Roxbury, Connecticut. The brooch, never before offered for sale, was given by the artist in the 1960's to Winifred McCulloch, noted New York scholar and educator, and was bequeathed by McCulloch to the consignor. According to Thomas Schwenke, owner/auctioneer, the item -- fashioned in the form of Winifred McCulloch's initials -- was consigned after the firms successful marketing of two original Calder sterling silver jewelry pieces in the June 17th Annual Spring Fine Estates Auction.

Several bronzes are on offer in the sale, including two notable works from a Connecticut private collection, one attributed to Elie Nadelman (Poland 1882-1946), a bronze draped female figure, semi-nude with arms raised, 22 ½" high, set on an oval base inscribed "JNO Williams Inc. - Bronze Foundry, N.Y." and an abstract mythological bronze "Leda And The Swan", 11 1/2" high, by Rubin Nakian (Am. 1897-1986), on a rectangular base, inscribed "RBW Inc.", foundry mark for Roman Bronze Works, Inc., New York.

Among the rarest lots in the sale is a framed toile fabric section from original English yard goods in red and white, entitled "The Apotheosis of Franklin" showing General George Washington driving a leopard-drawn chariot with an allegorical figure of America holding a plaque inscribed "American Independence 1776".

Local Woodbury history buffs will find delight in William Cothren's personal bound collection of Civil War era sheet music, comprising 102 pieces of music for piano and voice, including an extremely scarce copy of the Stephen Foster's work "Maggie by My Side" together with other patriotic songs of the era, many with pictorial covers and signed, overall 300 pages, together with a hand written index.

Also on offer is a signed limited Tenth Anniversary edition of "Atlas Shrugged", numbered 1000 of only 2000 copies, signed by Ayn Rand on the limitation page, published by New York: Random House, 1967, in original blue cloth and original slipcase.

Nantucket interest is represented by a Jose Formosa Reyes Nantucket lightship basket purse, the lid with ivory whale on an ebony plaque.

Fine sterling silver lots to be sold include a Schofield Co. boxed sterling silver partial flatware service in the Elizabeth Tudor - Hammered pattern, comprising 97 pieces total, 108.85 ozt weighable silver; a Schofield Co. round footed bowl in the Balto-Rose pattern, 16.54 troy oz.; a Tiffany & Co. sterling silver fruit serving bowl with foliate edge in the Clover pattern, engraved "New England Pony Club - Perpetual Challenge Trophy - High Score Pony Award", weighing 25.38 troy oz.; and several fine pieces of Mexican sterling silver hollowware.

Other noteworthy lots include a large group of British campaign furniture and a collection of vintage leather automobile cases and picnic cases from the Adolph estate. Adolph was a co-owner of British Country Antiques in Woodbury for many years, and was a noted Bentley motorcar enthusiast. The sale also features numerous lots of Bentley memorabilia, catalogs, books, tools and automobile parts and paraphernalia from the extensive Adolph collection.

Among the many fine pieces of period furniture in the sale are an 18th century paint decorated Scandinavian dome top secretary with applied molded decoration in original untouched condition, previously in storage for many years, and a vigorously figured tiger maple miniature American chest.

The sale also features fine antique porcelain, including a Meissen porcelain monkey figure, a pair of Meissen covered vegetable dishes, a pair of reticulated Paris porcelain pots, a pair of Rosenthal "paper bag" vases, and several Staffordshire figures. Asian porcelains include a pair of large enameled urns on stands, a rare Asian pierced porcelain lantern, a large early Chinese porcelain vase, and several Imari porcelain chargers.

The catalog for the sale is viewable at www.woodburyauction.com. Absentee and phone bidding are available for this live gallery auction, and the sale will be broadcast live through Live Auctioneers. To register or arrange for absentee or phone bidding, please call Woodbury Auction at 203-266-0323.