We are actively seeking consignments of antique furniture, paintings, folk art, and accessories. Contact:
info@woodburyauction.com
or call (203) 266-0323.
Rare Georgian Slab Table At $41,480 Tops Woodbury Auction's Spring Anniversary Sale
Posted June 16, 2014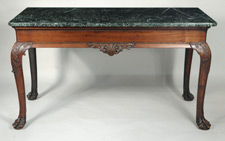 Rare Georgian Carved Mahogany Slab Table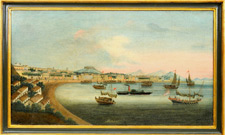 China Trade Painting Port of Macao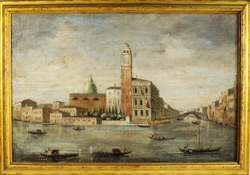 Venice, Manner of Canaletto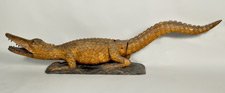 Folk Art Carved & Painted Alligator




Simon Willard Federal Mahogany Gilt Banjo Clock



Woodbury, CT – A rare Georgian marble top carved mahogany serving table was the top selling lot at Schwenke's Woodbury Auction Spring Anniversary Fine Estates Auction held Sunday, June 8th. The table was consigned by a local gentleman who had inherited the table from British ancestors many years ago. Bidding on the lot was fueled by six phone bidders, including bidders from England, Ireland and Scotland, as well as three bidders from New York and multiple bidders on two internet platforms. After several minutes of spirited competition, the lot was finally knocked down by Auctioneer Tom Schwenke for $41,480 to a private buyer from New York City.

Second top lot of the sale was a framed oil on canvas Chinese export port scene of Macao, 20 1/2" high by 33" wide, which sold for $10,800 to a house phone bidder from the West Coast. Other paintings fared well, including a framed view of Venice, in the manner of Canaletto, which returned to Italy at $2,520, and a framed oil on canvas by Ernest Parton, New York (1845-1933), titled "Net Casting - Lake Scene", which was signed and dated 1879. The work, 17" high by 32" wide, sold to an absentee bidder for $2685.

Furniture and folk art performed well in the sale, with an amazing American folk art carved and decorated figure of an alligator selling to a determined phone bidder for $7,200. A Rand McNally globe on an art deco carved stand sold to an internet bidder from Long Island $4,687 while an Art Nouveau carved walnut writing desk peaked at $3,625 to an internet bidder from Australia. A fine marble top French directoire commode realized $2,520 to an absentee bidder.

A rare small size Pennsylvania walnut Queen Anne hanging wall cupboard returned to Pennsylvania at $2,800. The cupboard had an arched top with dentil moldings above a snipe hinged door with inlaid star points and diamond inlays and inlaid with date "1742".

The sale featured several clocks, including tall clocks and banjo clocks. The top clock lot was a signed Simon Willard banjo wall clock from a Long Island estate which sold to an absentee bidder for $3,000.

Also included in the sale was a group of rare Indo-Persian antique weaponry, including swords, sabers, spears, percussion guns and other weapons. The group performed above estimate, with individual lots selling for a low of $380 to a high of $1560.

Woodbury Auction's next auction is scheduled for Sunday, July 20th, when there will be two separate specialty auctions held at different starting times. Beginning at noon the firm will auction a single owner collection of Chinese Antiquities comprising over 150 lots of furniture, pottery, bronzes, baskets and other Chinese decorative arts. Preview for that sale will be in the firm's North Gallery with the sale beginning in the main gallery at 12:00 noon. At the completion of that first auction, and after a short intermission, a second auction will commence with over 200 lots of Native American decorative arts, fine sterling silver, decorations and oriental carpets. Preview for that sale will be held in the firm's new Showcase Gallery, but also will be sold in the main auction room. Absentee and phone bidding will be available for this live gallery auction, and the sale will be broadcast live on the internet through multiple platforms. For more information please visit the firm's website www.woodburyauction.com. To inquire about consigning to this sale, please call Woodbury Auction at 203-266-0323.