We are actively seeking consignments of antique furniture, paintings, folk art, and accessories. Contact:
info@woodburyauction.com
or call (203) 266-0323.
Calder Jewelry, Royere Lighting, Important Statuary and Fine Art Featured at Woodbury Auction Spring Fine Estates Auction
Also American Furniture, Sterling Silver, Oriental Rugs and Musical Instruments
Posted May 25, 2012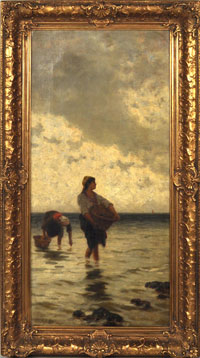 Josef Israels, O/C Women Gathering Shellfish




Original Porter Garden Telescope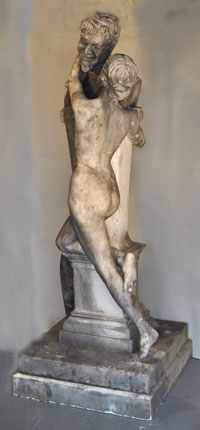 Oscar Lenz, Marble Sculpture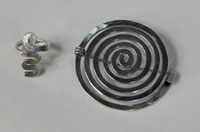 Alexander Calder Jewelry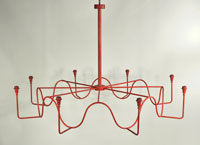 Poss. Jean Royer, Undulation Serpentine Chandelier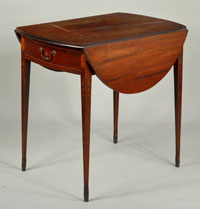 Important Federal Inlaid Mahogany Pembroke Table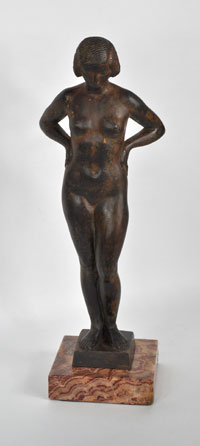 Paul Manship, "Nude Study" Gilt Bronze



Woodbury, CT – On Sunday June 17th Woodbury Auction presents its third anniversary spring fine estates auction with a strong offering of over 480 lots of fine and decorative art and American and Continental furniture from seven estates and over seventy individual consignors from Connecticut, New York, New Jersey, Massachusetts, Texas and California.

This anniversary sale is being held at 11am in the firm's auction hall at 710 Main Street South, Middle Quarter Plaza, in Woodbury. Preview times are Thursday, June 14th noon to 5:00 pm, Friday, June 15th 10am to 7pm, and Saturday, June 16th 10am to 5pm. An extended preview with wine and cheese will be open from 5:00 pm to 7:00 pm Friday evening. Preview is also available from 8:00 am on the day of sale. An old fashioned barbeque will be served on Sunday during the auction.

Among the highlights of the auction are two original pieces of silver jewelry by renowned local sculptor Alexander Calder, whose workshop was in Roxbury, Connecticut. The items, a spiral brooch and a ring, have never been offered for sale, having been given by the artist to the consignor, a local Woodbury resident, in 1953. According to Thomas Schwenke, owner and auctioneer, the items were discovered as a a result of the firm's Consignment Event held in April.

Other noteworthy lots from local sellers include a rare marble sculpture by noted American sculptor Oscar L. Lenz, who worked in Providence, Rhode Island. The monumental work depicts the adoration of Pan by a female nymph and is in as found condition. According to the consignor, the sculpture descended from the Perry family home in Newport, Rhode Island and has been in storage for some time.

One of the rarest items in the sale is an original art nouveau style bronze Porter Garden Telescope, serial number 27. The garden telescope was designed in the 1920's by Russell W. Porter, father of amateur astronomy in America, founder of the Springfield Telescope Makers, and an instructor at MIT. One of the fewer than 20 known surviving examples is in the collection of the Smithsonian Institution.

Several mid-century modern pieces are on offer, including a grouping of wrought iron serpentine wall sconces and a rare and unique wrought iron circular serpentine 53" diameter chandelier, all attributed to the renowned French designer Jean Royere. The items have been in storage for several years after being removed from a Connecticut location where they were installed in the 1950's.

The sale also features many fine art lots including a framed oil on canvas of two peasant women gathering shellfish, by Josef Israels (1824-1911) a Dutch artist, a unique painted taxicab by graffiti artist LA II, a recently discovered oil on canvas of a harbor scene by Harry Chase (1853-1889), an American artist working in Europe, and two works by Ernest Hennings, which were recently found in a Chicago attic. Hennings painted in Taos, New Mexico and sold works through Marshall Field & Company in Chicago. The sale includes over 100 paintings, prints and drawings by various other listed artists including works by Marc Chagall, Le Corbusier, Joseph Newman and many others.

Fresh to the market formal American furniture lots include a recently discovered Federal inlaid mahogany pembroke table, possibly from Litchfield, Connecticut, a rare Sheraton carved mahogany game table attributed to the workshop of Duncan Phyfe in original untouched condition, and a Hepplewhite inlaid mahogany swell front chest with drop panel, probably made in Portsmouth, New Hampshire.

Silver lots to be sold include a unique sterling silver presentation cup from Yale University, several sterling silver flatware sets including Dominick & Haff, Gorham and Towle, and from the estate of Jane Coler in Woodbury is a rare Tiffany & Company sterling silver ivory handled presentation trowel given to Bird S. Coler as Commissioner of New York City Department of Welfare and inscribed to commemorate the New York City Cancer Institute, Roentgen Pavilion, dated May 20, 1925.

Several bronzes are also featured, including two fine Bergman cold painted bronzes, one a lamp form "Carrying the Princess", as well as a gilt bronze figure "Nude Study" by noted American sculptor Paul Howard Manship, who is best known for his famous Prometheus Statue at Rockefeller Center in New York City.

The sale also includes over fifty estate oriental carpets including Persian and Caucasian room and scatter sized rugs, and other regional Asian rugs of varying sizes.

The catalog for the sale is viewable at www.woodburyauction.com. Absentee and phone bidding are available for this live gallery auction, and the sale will be broadcast live through Live Auctioneers and Auction Zip. To register or arrange for absentee or phone bidding, please call Woodbury Auction at 203-266-0323.