We are actively seeking consignments of antique furniture, paintings, folk art, and accessories. Contact:
info@woodburyauction.com
or call (203) 266-0323.
Spirited Bidding and Strong Prices for American Country Furniture and Folk Art at Schwenke Auctioneers-Woodbury Auction April 21st Sale
Posted April 21, 2013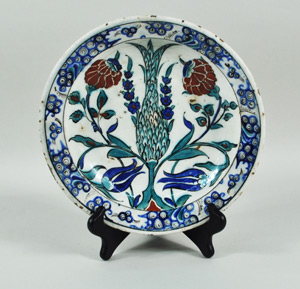 Iznik Pottery Charger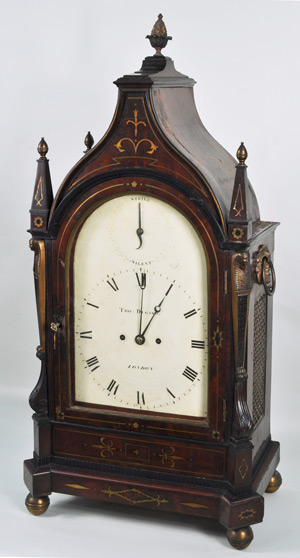 Georgian Bracket Clock, Dugard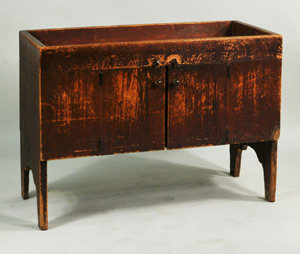 Early Red Painted Dry Sink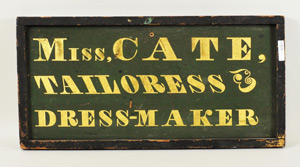 Painted & Gilded Dressmaker's Sign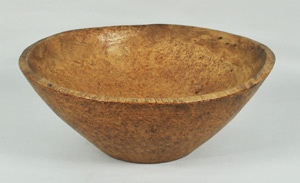 Native American Hand Carved Burl Bowl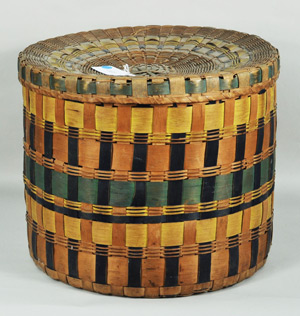 Native American Basket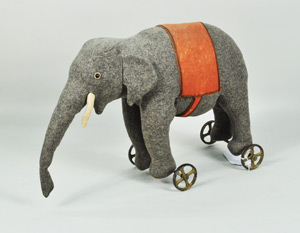 Felt Stuffed Elephant Pull Toy



Woodbury, CT – On Sunday, April 21st, Thomas Schwenke's Woodbury Auction presented its Americana, Folk Art & Decorative Arts Auction to a standing room only crowd in the saleroom and over 600 online internet bidders.

An Iznik pottery charger had tremendous interest with seven phone bidders, internet interest and bidders in the room, and after brisk bidding it hammered for $9600 to a London buyer. A Thomas Dugard Georgian bracket clock sold on the phone to a European bidder for $1320.

American painted country furniture brought strong prices, with an early red painted dry sink fetching $3009; a Queen Anne painted oval tea top table selling for $2388; a primitive American red painted candle stand going to an online bidder for $1968; an American country pine apothecary cupboard also selling to an online bidder for $1968; and an American country cupboard with original gray paint sold in the room for $1680.

Wooden advertising signs performed well with a painted and gilded wooden dressmaker's sign selling in the room for $2700; a carved and painted wood and wrought iron barber pole sign hammering at $1680, and a painted barbershop sign bringing $1560 after much pre-sale interest.

Several Native American items sold above estimate with a possibly Native American hand carved burl bowl going to the internet for $1353, and a large Eastern Woodlands Indian basket hammering for $840.

Children's toys, miniatures and other cast iron toys sold well with a felt stuffed elephant pull toy bringing $570; four wheeled horse pull toys sold online for $553; and a folk painted hobby horse galloping away for $861 to an online bidder.

The firm's Anniversary Spring Fine Estates Auction will be held Sunday, June 9th, featuring property from various estates and consignors from Litchfield County, Connecticut and Westchester County, New York; the Native American collection of a New York gentleman; an estate collection of folk art carvings by John Vivolo (1886-1987) a Connecticut folk artist and featuring the Aronson Collection of American Folk Art. Phone inquiries should be directed to 203-266-0323 and further information is available on the internet at the firm's website www.woodburyauction.com.