We are actively seeking consignments of antique furniture, paintings, folk art, and accessories. Contact:
info@woodburyauction.com
or call (203) 266-0323.
Woodbury Auction Offers Up October 1st Double Header – Early Bird and Annual Fall Important Estate Auction

Posted September 15, 2011
Woodbury, CT – Woodbury Auction's Annual Fall Important Estate Auction was held Saturday, October 1st at 10:00 am. The sale, comprising 345 lots from over 30 estates and consignors from the tri-state area, was held at the firm's new saleroom at 710 Main Street South, Middle Quarter Mall, in Woodbury. The firm also held an early non-internet auction of 110 estate lots which were knocked down in 45 minutes to an anxious group of buyers who had braved the early soaking rain to claim their share of that offering.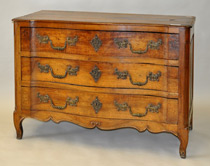 The main sale included several local estates, according to owner-auctioneer Thomas Schwenke, including the remainder of the contents of the historic Seven Hearths property in Southbury and a cache of French provincial furniture and accessories released from storage after more than thirty years. That estate provided several highlights of the sale, including an 18th century walnut commode which hammered down for $5265 to the phone, a provincial walnut trestle table claimed on the phone for $2520, and a group of Grand Tour souvenirs which fetched $1800, also from a phone bidder.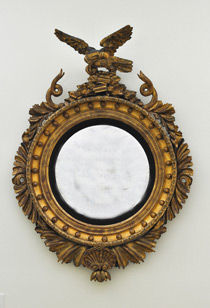 A very fine Regency carved and gilded convex mirror left the block at $3600, selling to a phone bidder in Savannah, and a Georgian carved mahogany pitch pediment secretary sold to a West Coast bidder for $3000. A rare Roxbury, Massachusetts mahogany banjo clock by Edgerly and Polsey was claimed by a phone bidder in New England for $1170. An American Federal inlaid mahogany secretary from Baltimore sold to a bidder in the room for $5100.

An elaborately decorated Sicilian goat cart – or Caretto Siciliano – dating to the 19th century, peaked at $819, while a group of four contemporary dolls surprised at $1800 to the phone. An oil on canvas by Bruno Zupan depicting a Connecticut lobster fishing port also was claimed by a phone bidder for $1020, while a fine framed Hudson River oil on canvas was bought for $3120 by a Live Auctioneers bidder. A three volume set of McKenney & Hall, Indian Tribes North America, also went to the phone for $1080.

Important sterling silver lots were sold, including a 167 piece sterling silver service by Dominick & Haff which went out at $3802, and a rare American coin silver serving tray by William Adams, New York circa 1830-35, which fetched $2700.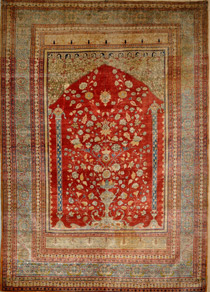 Among the oriental carpets offered was a fine silk Tabriz prayer rug from another Connecticut estate, which sold at $2574.

The firm's next scheduled sale is a Holiday Fine Estates - Jewelry and Silver Auction, currently set for Saturday, December 3rd at 6pm. Consignments are currently being accepted for that auction, and those interested may call Woodbury Auction at 203-266-0323.