We are actively seeking consignments of antique furniture, paintings, folk art, and accessories. Contact:
info@woodburyauction.com
or call (203) 266-0323.
Woodbury Auction Offers Antique Valuation Day at Crosby Commons

Posted August 27th
On August 19th, 2011, Woodbury Auction LLC conducted a valuation day fundraiser event benefiting Crosby Commons at Wesley Village in Shelton, CT. Wesley Village provides housing, health care and supportive services for resident independent and assisted living tenants. Six representatives of Woodbury Auction's appraisal team were on hand from 1:00pm to 4:00pm to provide private impromptu valuations on a variety of items including porcelain, toys, silver, paintings, furniture and more. Attendees paid $10 for the valuations and all valuation proceeds were for the benefit of Crosby Commons.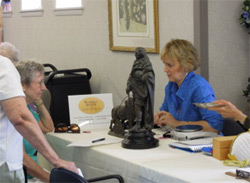 Annie Longley values a Bronze.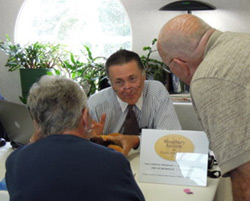 Tom Schwenke values an
Antique Steiff Puppet.

Woodbury Auction is the auction services division of Thomas Schwenke, Inc. located in Woodbury, Connecticut. The firm conducts on-site estate sales, performs qualified estate valuations and appraisals, and holds quarterly auctions. Woodbury Auction's next sale, the Annual Fall Estate Auction, is scheduled for Saturday, October 1st at the firm's new saleroom location at 710 Main Street South, Middle Quarter Mall, in Woodbury.

Thomas Schwenke is the firm's founder and a recognized antiques authority with over 40 years experience. He recently successfully completed a 15-hour course and examination on the Uniform Standards of Professional Appraisal Practice (USPAP), the congressionally recognized set of appraisal standards promulgated by the Appraisal Foundation.

For more information please email info@woodburyauction.com or call 203-266-0323 and speak to a Woodbury Auction representative.